The donation will support the new Electro-Mechanical Engineering Technology degree program.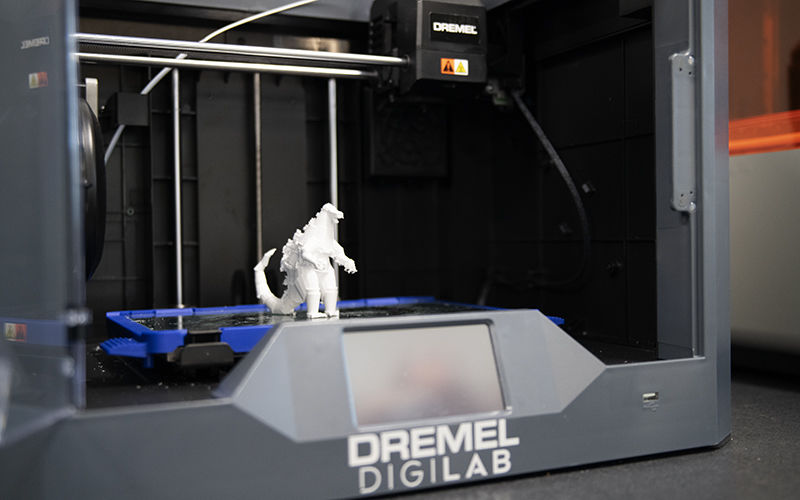 LEMONT FURNACE, Pa. — Ford Business Machines has donated a 3D printer to the recently renovated Engineering and Arts Suite at Penn State Fayette, The Eberly Campus.
The printer, a Dremel DigiLab 3D45, includes a self-leveling glass build plate that reaches up to 100 degrees celsius for enhanced print adhesion. It joins a lab of Ultimaker 3D printers installed in the new suite, which opened last year.
"Increasing the number of machines accessible to students will expand our classroom and summer camp capabilities," said Nathaniel Bohna, associate teaching professor of engineering. "The Dremel printer will expose our students to new types of filament and software in 3D printing."
The donation comes shortly after a new program announcement. The first cohort for the bachelor of science degree in electro-mechanical engineering technology (EMET) began classes this fall semester. The program, the first of its kind at the Fayette campus, features hands-on curricula and culminates in a long-term senior project, which will be bolstered by the new technology.
"We are pleased to make this donation in support of the new EMET degree and Penn State Fayette, and we look forward to the future of the program in the region," said Joshua Gerson, vice president of operations at Ford Business Machines.
This gift will advance "A Greater Penn State for 21st Century Excellence," a focused campaign that seeks to elevate Penn State's position as a leading public university in a world defined by rapid change and global connections. With the support of alumni and friends, "A Greater Penn State" seeks to fulfill the three key imperatives of a 21st-century public university: keeping the doors to higher education open to hardworking students regardless of financial well-being; creating transformative experiences that go beyond the classroom; and impacting the world by fueling discovery, innovation and entrepreneurship. To learn more about "A Greater Penn State for 21st Century Excellence," visit greaterpennstate.psu.edu.