Scholarship donors met the student beneficiaries and their families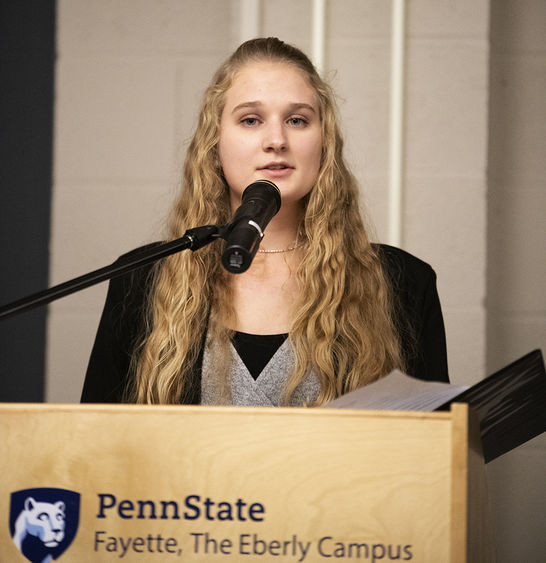 LEMONT FURNACE, Pa. — Penn State Fayette, The Eberly Campus, hosted the 11th annual Scholarship Donor Dinner to honor student recipients of sponsored scholarships and awards on Nov. 15.
Lori Omatick, director of development at Penn State Fayette, welcomed an audience of sponsors, members of the campus advisory and alumni boards, and students and their families for a celebratory dinner and short program.
"This annual event is dear to our community, allowing our donors to meet the very students who directly benefit from their generosity."

— Charles Patrick, chancellor
Freshman pre-medicine student Nicole Bush shared her experience as a recipient of the Dr. Nathan Viswanathan Memorial Scholarship, established in 2017 in honor of the late Fayette chemistry professor.
"These scholarships mean everything," she said. "They have given us such a great opportunity for a future that we have been hoping for for a very long time, a future where we can all continue making a difference in our world."
Bush serves on the Academic Affairs Committee as a Senator for Student Government and is also a member of the THON team. She plans to complete the final two years of her program at University Park before applying to medical school.
Over 200 students were recognized for outstanding academics, service, and more with over sixty endowed scholarships and awards.
Robert E. Eberly Jr., president of The Eberly Foundation, spoke on behalf of the donors. The Eberly family supports the campus, which bears its name, with the Eberly Family and Eberly Family in Business Scholarships.
Dean Julian, director of enrollment management at Fayette, presented certificates to the student recipients. Charles Patrick, campus chancellor and chief academic officer, delivered closing remarks.
"I want to express a collective thank you to our donors for their support," said Dr. Patrick. "This annual event is dear to our community, allowing our donors to meet the very students who directly benefit from their generosity."