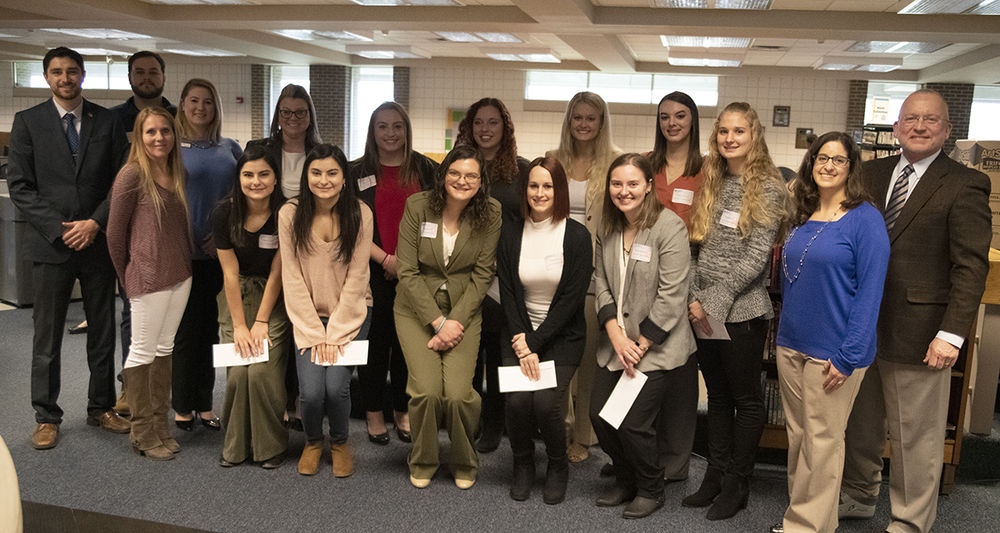 LEMONT FURNACE, Pa. — Penn State Fayette, The Eberly Campus, held the Fall 2018 Learning Fair on Dec. 6 at the campus library to showcase and award undergraduate research and class projects.
A total of 115 students displayed visual presentations of 14 research projects and 72 class projects completed under the guidance of faculty advisers over the course of the fall semester. Each project examined topics in relation to courses in integrative arts, psychology, human development and family studies, marketing, theater, and humanities.
Guest judges included Nicole Brosky, emerging markets loan officer for PNC Bank; Tiffany R.M. Guittap, vice-president/retail market manager of Scottdale Bank and Trust; Douglas Sanner, sales account executive for Ford Business Machines; and Keeley Forrestel, executive director of East End United Community Center.
Undergraduate Research Awards
First Place, Samantha Long
"Battling PTSD: The Treatments and Outcomes Among Servicemembers" and "Self-Regulation May Moderate the Relationship between Negative Life Events and Student Academic Performance" (Course: PSYCH 490 and 496, Instructor: Aris Karagiorgakis)
Second Place, Brittany King
"Is Your Relationship Doomed? Personality Traits that Predict Divorce" (Course: PSYCH 490, Instructor: Aris Karagiorgakis)
Third Place, Taylor Burkholder
"Computational Chemistry Research of Nanographenes" (Course: CHEM 294, Instructor: Julio Palma)
Class Project Awards
First Place (tie), Nicole Bush
"Mental Health in Higher Education" (Course: ENGL 30, Instructor: Lindsey Simon-Jones)
First Place (tie), Johnna Calvert, Hailie Rusko, Jessica Wolfe
"Cow Insider" (Course: BIOL 110, Instructor: Carol Evans)
Second Place (tie), Robert Conti, Evan Ruda
"iPhone Repair Overview/Service" (Course: MKTG 422, Instructor: Peter Eberle)
Second Place (tie), Emily Franks
"How Do the Different Techniques of Beatboxing Help Create a Distinct Sound?" (Course: AMST 226N, Instructor: Jay Precht)
Second Place (tie), Sarah Franks
"Did 'Yo! MTV Rap' Benefit Rappers and the Popularity of Hip-hop?" (Course: AMST 226N, Instructor: Jay Precht)
Third Place, Ryan Porupski
"Doing Business with the Government" (Course: BA 495A, Instructor: William Gardner)
"Our faculty is eager to involve students in undergraduate research because it allows the students a vision beyond the classroom," said Dr. Julio Palma, assistant professor of chemistry. "The Learning Fair is a multidisciplinary celebration of a semester of those accomplishments."
The Spring Learning Fair will be held from noon to 1:30 p.m. on Thursday, April 25, 2019, in the campus library.