Fayette's contribution ranks No. 1 among Penn State campuses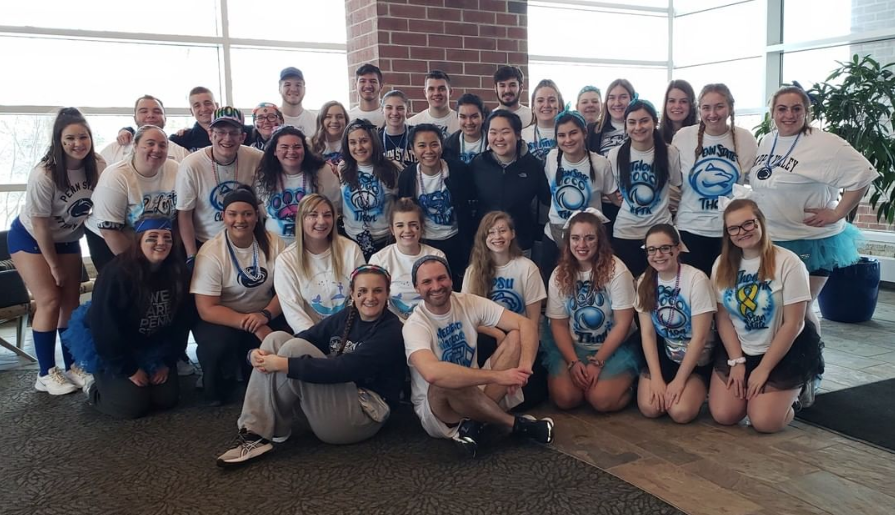 LEMONT FURNACE, Pa. — Fifty students from Penn State Fayette, The Eberly Campus have generated $70,867.37 in donations for the annual Penn State IFC/Panhellenic Dance Marathon (THON), held Feb. 15 to 17 in the Bryce Jordan Center at University Park.
THON, a yearlong effort to raise funds and awareness in the fight against pediatric cancer, culminates in a two-day, forty-six hour dance marathon each February.
Established in 1977 by Penn State University, THON is the largest student-run philanthropy in the world, generating over $157 million for Four Diamonds at Penn State Hershey Children's Hospital since inception. All donations are allocated to treatment costs for pediatric cancer patients and cancer research.
Funds raised during the 2018-19 cycle totaled $10,621,683.73. Penn State Fayette's contributions ranked the highest across the commonwealth campuses, with Behrend following at $57,155.67. Fayette continues a tradition of leadership in the effort following a record contribution of $93,943 in 2016.
"Since the team's inception in 1998, a cumulative amount of $1,323,175.56 has been raised for pediatric cancer research. Furthermore, in its 22 year history the team has had one third place, six second places, and 15 first places." said Chad Long, director of student affairs and a founding member of Fayette's THON team. "What the students across the University do each year to raise money for pediatric cancer is simply magical. Their hard work, dedication, and enthusiasm are a true inspiration to everyone in the University community, and around the world."
Participants included: Kaylee Aaron, Damian Alicea, Mary Allison, Brandon Bell, Abi Bennington, Austin Bixler, Sarah Bupp, Nicole Bush, Madison Cochran, Julia Crucio, Brandon Demchak, Julie DiMatteo, Sarah Earnesty, Emily Franks, Sarah Franks, Ryan Gesso, Maria Gresh, Emily Grubach, Noah House, Lyndsey Huhn, Gwyneth Komula, Icee Leapline, Shane Leskinen, Katlyn Miller, Jessica Nicholson, McKinley Orndorff, Alaina Peterman, Devin Pisarski, Maria Pyle, Morgan Pytlak, Hayley Riba, Hailie Rusko, Amber Russell, Alex Shafley, Kyle Slavic, Preslie Stoken, Andrea Suter, Jarrod Sutton, Ly Thanh, Kristina Tomechko, Taylor White, Jessica Wolfe and Grace Yoo.
The campus will celebrate the success of the THON team with an annual Recognition Dinner on Feb. 21. View a photo gallery of the event.