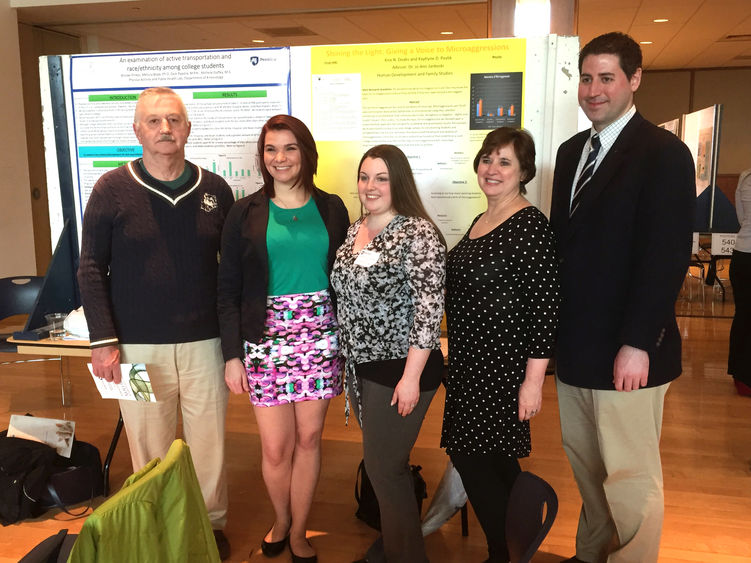 LEMONT FURNACE, Pa. — A group of student researchers from Penn State Fayette, The Eberly Campus won the University Libraries Award for Information Literacy's grand prize at the 2016 Undergraduate Exposition. The exposition, held April 6, communicates and celebrates the participation of undergraduate students from across the University in research and creative endeavors. Students from all Penn State campuses are eligible to enter research posters in the Undergraduate Exhibition.
The award-winning poster from the Fayette campus originated in spring 2015 in HDFS 312W Empirical Research, a core class within the human development and family studies program. This course is designed to introduce students to research in social and behavioral sciences and teach basic skills.
After reading through peer-reviewed journals, the class decided to conduct its research on microaggressions, which are brief, everyday exchanges that are denigrating to certain individuals because of their group membership. Associate Professor JoAnn Jankoski said she and all her students enrolled in that section of Empirical Research completed the Social and Behavioral Subject Research Course and became approved researchers through the University's Institutional Review Board. Once approved, the group continued working on its research protocol, which the Office of Research Protection approved last July.
"This was about 15 students who had a passion to understand what microaggressions are and how they are being played out on a college campus," said Jankoski.
Team members included Teresa Bower, Sarah Cook, Janelle Cooper, Taylor Davis, Kira Doaks, CJ Gaddis, Suzzanna Goodwin, Alyssa May, Meghan McGee, Matthew McKenna, Mallory Pasquarette, Kaytlyne Povlik, Alicia Williams, Bethany Wombacker, and Tamra Yates.
After their HDFS 312W course ended, the entire class wanted to see the project through to completion and continued working on the research throughout the fall. They disseminated surveys, conducted interviews with students at a rural college campus, and analyzed the data.
At Penn State's Undergraduate Exposition, two representatives of the team, Kira Doaks, of Avella, and Kaytlyne Povlik, of Normalville, displayed a poster and gave an oral presentation on their research for three judges. Along with their description of the project, titled "Shining the Light on the Unspeakable: Giving a Voice to the Lonely World of Microaggressions," the two presenters were also evaluated on the content and display of the poster.
In the end, their hard work was rewarded with the University Libraries Award for Information Literacy's grand prize, which is given to the team that has best used library resources to conduct its research. Along with certificates, the winning team received $500, donated by John Sr. and Kimlyn Patishnock.
Reflecting on the yearlong project, Povlik said, "It was a fun experience. We got to grow personally and professionally."
Both Povlik and Doaks were pleased to have won for something other than social sciences in the very competitive University Exhibition, which has a number of academic categories.
"We didn't win in our category, but were given an even better award," said Doaks. "Without the help of all the library staff and our advisers at Penn State Fayette, we wouldn't have been able to do this."