Petra Mitchell sees opportunities for growth in manufacturing in southwestern Pennsylvania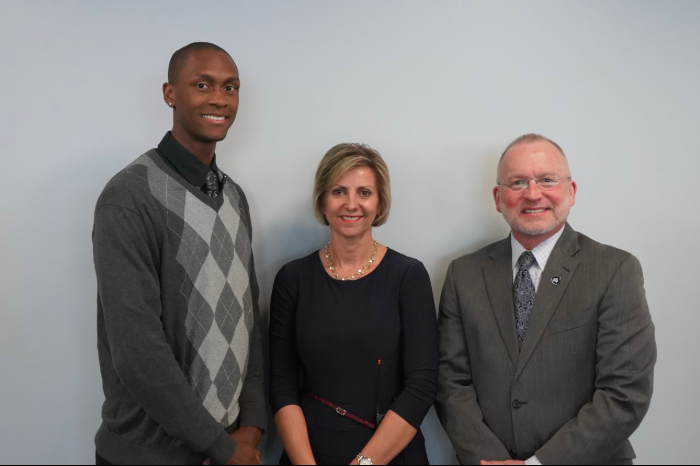 LEMONT FURNACE, Pa. — Penn State Fayette, The Eberly Campus, hosted Petra Mitchell, president and CEO of Catalyst Connection, on March 20 in the latest installment of the CEO Conversations series. Iman Young, a sophomore business major, moderated the discussion.
Catalyst Connection is a nonprofit economic development organization dedicated to helping manufacturers with business growth and job creation. Mitchell's experience in manufacturing operations, technology acceleration, and business development spans 30 years.
"My parents came to the U.S. from Slovenia so my father could work," said Mitchell. "Manufacturing paved the way for our immigrant family to build a comfortable, middle-class life."
Before joining Catalyst Connection, Mitchell worked for GE Aircraft Engines, now GE Aviation. She holds a bachelor of science in mechanical engineering from the University of Dayton and a master of science from the University of Cincinnati. She is on the board of directors of the Advanced Robotics in Manufacturing Institute, Leadership Pittsburgh, and Pennsylvania Industrial Resource Center Network. She is a former member of the board of the Pittsburgh branch of the Federal Reserve Bank of Cleveland and is the honorary consul for the Republic of Slovenia.
"Southwestern Pennsylvania has the potential to be one of the top innovation economies in the world, in part due to our world-class research assets, like Penn State Fayette," said Mitchell. "It's the perfect time for new business startups and workforce training. Think fast, because the opportunities are here and now."
Mitchell cited the present era as the fourth industrial revolution, combining the physical, digital and biological worlds.
"Innovations like 3D printing have the potential to truly revolutionize manufacturing in this region," she said.
The CEO Conversations series, sponsored by Ford Business Machines, is free and open to the public. The next installment will feature Jeff Erdely, co-founder of SESCO Enterprises, at 12:15 p.m. on Wednesday, April 17, in the Student Center at Penn State Fayette.