James Tyler Garlick, 2016, now serves as a Connellsville-area officer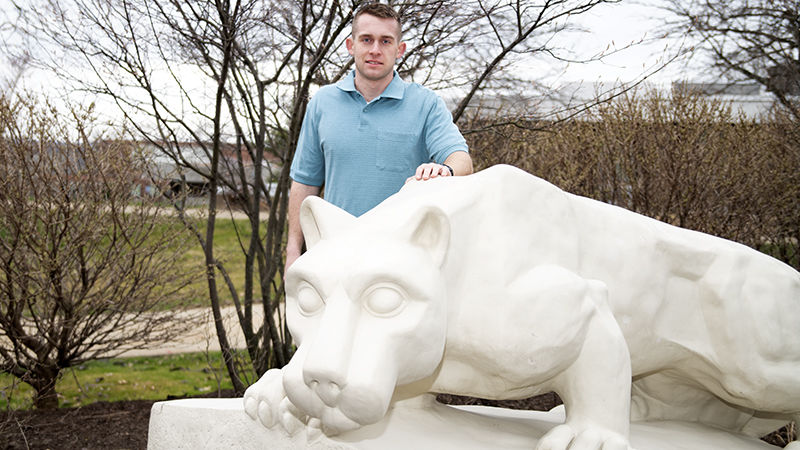 LEMONT FURNACE, Pa. — James Tyler Garlick, a graduate of Penn State Fayette, The Eberly Campus, has published scholarly work on drug prevention programming in collaboration with Judith Sturges, associate professor of administration of justice.
Garlick, originally from Point Marion, Pennsylvania, now serves as a Connellsville-area police officer. He graduated in 2016 with a bachelor of science degree in administration of justice.
The research is detailed in a paper titled, "Reality Tour: Adult Attendees Perceptions about a Community Based Drug Prevention Program," published in the December 2018 issue of Juvenile & Family Court Journal. Sturges and Garlick presented their findings at the American Society of Criminology conference, in Washington, DC, in 2017.
"Our most significant finding, from my perspective, is that effective drug abuse prevention must be a multifaceted approach," said Garlick. "Research has shown that prevention program success depends on proper treatment, prevention efforts among youth, and proper enforcement."
Garlick went on to complete a graduate degree in criminology at Indiana University of Pennsylvania in 2017, where he continued work with Sturges. The research and composition took over a year to complete.
"Dr. Sturges facilitated the entire process. First impressions are everything, and my initial experience with research was top-notch at Penn State Fayette. I learned skills that I apply every day as a police officer, from critical thinking to effective writing."

-- Alumnus James Tyler Garlick, who attended Penn State Fayette, The Eberly Campus
"[Garlick] was an excellent choice to assist in this level of research," said Sturges. "His focus and dedication to do his best made it possible for this publication to be a major contribution in the field of substance abuse prevention, an issue which is important not only in our local community but in our country."
Garlick plans to earn a doctorate degree and teach at the police academy and at the university level in the future.