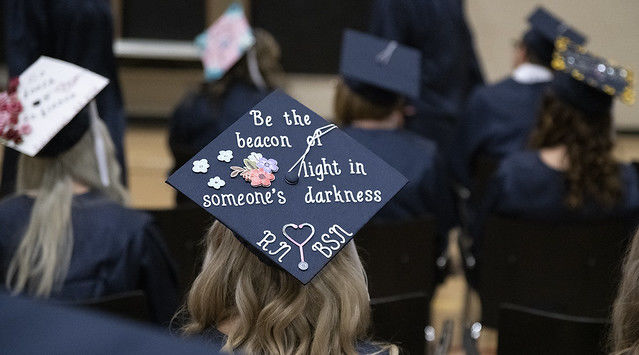 LEMONT FURNACE, Pa. — Charles Patrick, chancellor and chief academic officer of Penn State Fayette, The Eberly Campus, conferred academic degrees on 119 candidates for graduation during Fayette's 49th commencement ceremony on May 4 in the campus Community Center. The event's honored speaker was Gina Watts.
For 10 years, Watts served as a full-time faculty member at Penn State Fayette, in the human development and family studies program. In 2017, she become the first youth development director of the John Maxwell Team, leading the launch of the Global Youth Initiative, which has hosted 650,000 youth at free leadership development events in more than 60 countries around the world.
"Whether you are in default mode, unsure of what your next steps, or in design mode, confident in your plans for the future—I want to challenge you," said Watts. "Never stop working. Never stop learning. Never stop growing. Never stop pursuing. Never stop serving. How much more could we accomplish, how much time would not be wasted, if we were more intentional about our lives and finding our purpose?"
Since 2001, Watts has served as a leader on more than 20 boards and developed three nonprofit organizations. She tours local schools and youth groups to help young students identify their personal and professional goals, serves as deputy director for the Mercy and Justice Ministry at Vineyard Columbus, and manages the Lillian's Legacy Scholarship Fund at the Community Foundation of Fayette County.
"Whether it's a big change or a small change, change is going to happen in your life. Don't be afraid. Or if you are afraid, embrace it and turn it into the energy you need to manage the transition," said Watts. "Take risks. Embrace change. Navigate the transitions. And if you can't do those things, by all means necessary, serve."
The Albert Gallatin High School Army Junior R.O.T.C. gave the presentation of the colors, and the National Anthem was performed by the V.F.W. Post 8543 Band. Janet Ritenour, lecturer of nursing, served as commencement marshal.
Samantha Long, recipient of a bachelor of science degree in Psychology, gave the student response. Long graduated summa cum laude at the top 2 percent of her class.
"The professors, faculty and staff at Penn State Fayette have helped shape us into the people we were meant to become. Penn State Fayette has prepared me in more ways than I can say," said Long. "Be proud of yourself. Be proud of who you are and what you've accomplished because this, right here, is a huge accomplishment."
To view and download photos from the 2019 Commencement Ceremony, visit the Penn State Fayette Flickr album. 
The following candidates for graduation, by degree, participated in Penn State Fayette's commencement ceremony:
Associate Degree in Business Administration
Gonzalez, Keara
Wilson, Kaitlyn
Bachelor of Science Degree in Business Administration
Belovich, Kaylee
Bryson, Crystal
Bukovac, Ashley
Conti, Robert
Henry, Tyler
Huhn, Lyndsey
Jones, Marissa
Kiggins, Joann (Veteran)
Kline, Hannah
Maurin, Cody
Miller, Laura
Moussignac, Stanley
Ostrowski, Amanda
Porupski, Ryan
Potter, Russell
Pratt, Jordan
Rockwell, Justin
Ruda, Evan
Sheranko, Rebecca
Sidon, Marvin
Volosin, Shelly
Yothers, Colin
Associate Degree in Electrical Engineering Technology 
Addis, Jaryn
Bohna, Jacob
Jarrett, Hunter
Ludrosky, Michael
Nolan, Matt
Radvansky, Jeffrey
Silbaugh, Eric
Wellington, Cory
Bachelor of Science in Computer Engineering
Bachelor of Science in Human Development and Family Studies
Barber, Sarah
Brant, Meeghan
Byers, Josetta
Groover, Nicholas
Harosky, Christopher
Lawrence, Mackenzie
Medvec, Jerrica
Nickle, Bryan
Peebles, Tyler
Riley, Tanner
Rusi, Niyonkuru
Associate degree in Letters, Arts, and Sciences
Sparks, Tristan
Zaksek, RaeLynn
Associate Degree in Physical Therapist Assistant
Dues, Jamar
Grimm, Shelby
Hollingworth, J'mier
Hughes, Joshua
Morgan, Nicholas
Plachta, Trevor
Thomas, Derek (Veteran)
Bachelor of Arts in Administration of Justice
Guseman, William
Hepler, Emma
Muirhead, Skylar
Bachelor of Science in Administration of Justice
Durst, Robert
Fischer, Misty
Lynch, Gunnar
Spiker, Brianne
Tabacsko, Lucas
Bachelor of Arts in Corporate Communication
Bachelor of Science in Nursing
Adamrovich, Lynn
Anderson, Sarah
Blystone, Erica
Bonus, Kayla
Burncheck, Kara
Carnes, Nicole
David, Kayla
Debolt, Emily
Dreistadt, Hannah
Federer, Cassandra
Grimm, Cody
Grimm, Terry
Guard, Katherine
Harper, Tracy
Howell, Taylor
Johns, Savannah
Johnson, Brittany
Johnson, Kaitlyn
Kuykendall, Taylor
Legarth, Christina
Lembo, Nicole
Lynn, Miranda
Mascioli, Corin
McNeish, Christian
Miller, Heather
Mitchell, Laura
Morton, Austin
Nedley, Kristin
Orndorff, Alyssa
Peck, Haley
Petrush, Cheryl
Ponek-Foreman, Kelley
Repsher, Tina
Rummell, Brennan
Rusch, Maura
Shondelmyer, Megan
Show, Donna
Siba, Alexandria
Solis, Myra
Stremp, Brittney
Templeton, Tiffany
Thompson, Amber
Umbel, Erica
Vitez, Robinette
Volansky, Summer
Wade, Abigail
Weaver, Michelle
Wesolowsky, Geriann
Williams, Holly
Yanosky, Angela
Zipnock, Jonnee
Bachelor of Science in Project and Supply Chain Management
Bachelor of Arts in Psychology
King, Brittany
Lackey, Kaitlyn
Bachelor of Science in Psychology
Hrimnock, Brooke
Long, Samantha
McCarty, Katherine