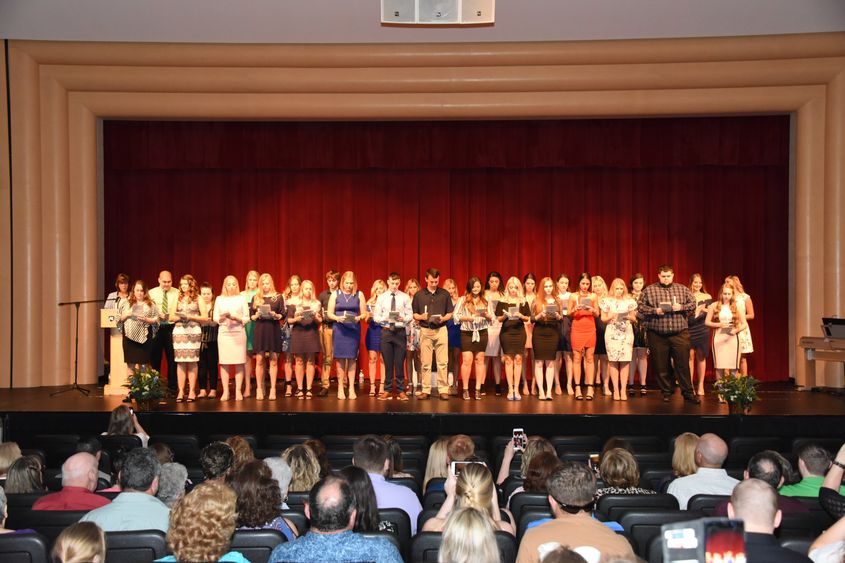 LEMONT FURNACE, Pa. — Penn State Fayette, The Eberly Campus, honored 30 graduates from the second cohort of the Bachelor of Science in Nursing program on May 3 in an annual pinning ceremony.
Penn State Fayette enrolled the first cohort of the BSN program in the fall of 2014, following the discontinuation of the Associate Degree in Nursing program.
The traditional pinning ceremony invites each student's honored guest to place an official pin on the graduate's lapel while their personal statement of gratitude is read.
Rebecca Ambrosini served as keynote speaker. Ambrosini holds a master of science in nursing and received the 2019 Outstanding Alumna award from Penn State Fayette. She is a member of Penn State's College of Nursing and the Dean's Advisory and Development Committee.
Kayla Bonus and Abigail Wade were selected by their classmates as student representatives for the event.
"I am so proud to be a member of this graduating class," said Bonus. "I have seen each of my classmates demonstrate empathy, compassion, leadership, and teamwork during clinical and in the classroom. Many of us have already accepted RN jobs in the surrounding areas to continue to spread the incredible, compassionate nursing care Penn State has taught us."
Participants included:
Sarah Anderson
Kayla Bonus
Nicole Carnes
Kayla David
Hannah Dreistadt
Cassandra Federer
Cody Grimm
Terry Grimm
Taylor Howell
Savannah Johns
Taylor Kuykendall
Nicole Lembo
Miranda Lynn
Christian McNeish
Laura Mitchell
Austin Morton
Kristin Nedley
Alyssa Orndorff
Haley Peck
Brennan Rummell
Maura Rusch
Megan Shondelmyer
Alexandria Siba
Tiffany Templeton
Amber Thompson
Erica Umbel
Summer Volansky
Abigail Wade
Geriann Wesolowsky
Holly Williams