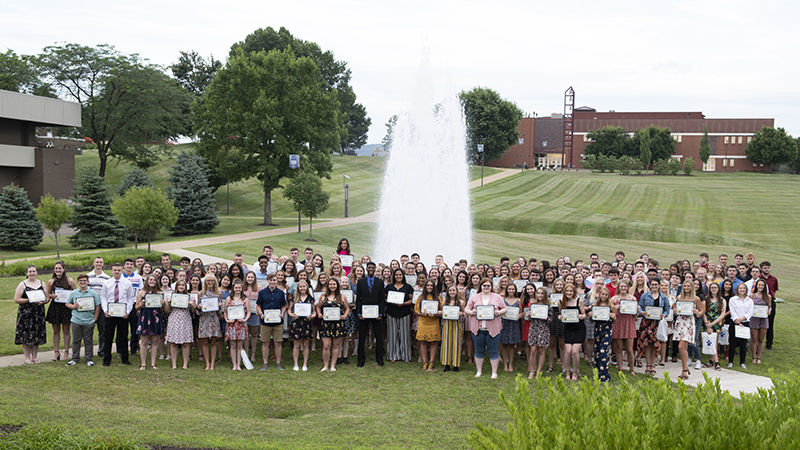 LEMONT FURNACE, Pa. — A record 182 students from area high schools were inducted into the Penn State Fayette and United Bank 4.0 Club in the ninth annual ceremony at Penn State Fayette, The Eberly Campus on June 16. Friends and family packed the community center to celebrate.
The 4.0 Club recognizes students from 15 local high schools who have completed their sophomore, junior or senior years with a cumulative grade-point average of 4.0 or higher.
Speakers included Charles Patrick, chancellor and chief academic officer; Dean Julian, director of enrollment management; Dave Meredith, associate professor of engineering; and Sara Grimplin, a 2016 Uniontown Area High School graduate and a nursing student at Penn State Fayette.
A full gallery of photos from the event are available to view and download on Penn State Fayette's Flickr page. 2019 4.0 Club inductees included:
Albert Gallatin High School
Cameron Clark
Jacob Elias
Camden Kovach
Bryce Landman
Bret Gordon Leskinen
Maximus C. Miller
Haley Lynn Miller
Haley Moats
Lauren N. Pegg
Alexia A. Pritchard
Asia Revak
Emily Rosie
Brandy Sickles
Stephanie A. Sobek
Maria Sutton
Romona Thompson
Sierra N. Tracy
Austin Turner
Faith Walters
Belle Vernon Area High School
Vienna Bertram
Sarah Bury
Sam Desai
Dawson Dimitroff
Kya Green
Gianna Laurita
Isabella Laurita
Gianna Maria Lorenzo
Emily Rose Lynch
Emma R. Michaud
Jaielene Nieves
Erik Michael Pietrantoni
Malena Lynn Rodriguez
Bella Ruozzi
Michaelina Angeline Sauritch
David Shernisky
Madison Shrump
Bethlehem Center High School
Savannah Coyle
Sarah Hess
Nathan Kalamaras
Alissa Minerd
Jessica Samol
Elizabeth Trump
Brownsville Area High School
Madison Alexis Adams
Beth Ann Arnold
Jenna Bodnovich
Kylie Bodnovich
Lydia Carney
Blake DeCarlo
Talia Nicole Dellarose
Chai Gabrielle Diggs
Ryheem Dove
Helena Harris
Delaney Harvey
Donata E. Heckman
Declan Johnson
Nicholas Keeney
Ashton Grace Repoksy
Nicholas Seto
Bekah Ulery
Victoria Wellington
Kaitlyn N. Whitlock
Claire Zelner
California Area High School
Charleroi Area High School
Madison Duhon
Samantha Fleming
Emma Grace Gilpin
Eden Lazar
Sam Leonetti
Faith Martin
Jamie L. Protz
Connellsville Area High School
Adriana Rose Andrus
Amy Burkus
Parker Carte
Hunter Claycomb
Cayden Conn
Sophie Detwiler
Andrew J. Holt
Elizabeth Jackson
Madison Kay Kinneer
Kiara Laws
Gregory James Lincoln
Maggie Means
Nathan Mongell
KayLeice Mowery
Lauren Nedrow
Makenzie Pindro
Mackenzie Ann Taylor
Charley Paige Tyrrell
Emily Ukasik
Chase Weaver
Kenadee R. Whipkey
Allison M. Zavatchan
Frazier Area High School
Ryan J. Balentine
Lauren N. Bilski
Angela Ciliberti
Sara Davies
Skyllar L. Domonkos
Sage Harger
Chase Hazelbaker
Timothy John Katic
Isabella Kudyba
Samuel D. Leonard
Justin Novak
Nick Novak
Wayne Peffer
Nicholas M. Sinal
Joshua E. Skotnicki
Anna Stewart
Briona Faith Thompson
Brianna Ulery
Sydney Varga
Zane Whitehead
Geibel Catholic High School
Zachary Allamon
Ryan Thomas Anderson
Josie Bittner
Paige Bogozi
Sophia Angelina Gaggiani
Cole D. Kendall
Caroline Konieczny
Morgan Motycki
Taylor Joyce Ramsey
Echo Wren Shaffer
Matti Lee Trimbath
Jefferson Morgan High School
Zoe A. Burkett
Cameron J. Cernuska
Savanah Clark
Brittany Lee Nelson
Laurel Highlands High School
Carson Broadwater
Dante E. Capuzzi
Joseph Casteel
Jason Cooper
Abigail Filitsky
Hallee Greene
Kaylea Gallagher
Giavanna Gulino
Greg Hensh
Kaitlyn Kulenovic
Alyssa J. D. Lambert-Alonso
Sophie A. Machesky
Madalyn Anne Marinelli
Mia Rose Marinelli
Logan W. Miller
Maria J. Mrosko
Derek Nastasi
Jordan O'Brien
Nolan Pesuti
Jonathan Quarrick
Parker S. Radolec
Tara Rankin
Nicole Renee Rates
Jaclyn V. Rider
Jenna Schnatterly
Cameryn Simpson
Hannah Marie Sutton
Kaitlyn Tajc
Madison Wheeler
Kaia Zungri
Monessen Senior High School
Dylan Borne
Cammi Kovach
James Maurice Thomas III
Quenten J. Zboyovsky
Southmoreland High School
Ryan Cameron
Hanna Cornish
Julia Renee Davis
Sarah DuBrul
Sara Hamm
Makayla A. Harvey
Marissa Renee Hribal
Michaela Kiehl
Alissa Marie Keyser
Paige Ladowitz
Lin Lin
Mikayla E. Miller
Bryton T. Montgomery
Rachel Pezzano
Olivia Price
Kaylea Wright
Trinity High School
Courtney Boardley
Bailey A. DeWalt
Emily Ewbank
Madyson Frazee
Benjamin Hardy
Ethan Iams
Bayli Miles
Luke Phillis
Alyssa Rager
Uniontown Area High School
Kaitlyn Adams
Lizzie Clare Ball
Koti Humberston
Josephine Maher
Joshua B. Miller
Madelyn Myers
Karleigh Risha
Adena Marie Rugola
Jayden Thomas
Noah Trimmer
Lyndsi Urani
Bridget S. White