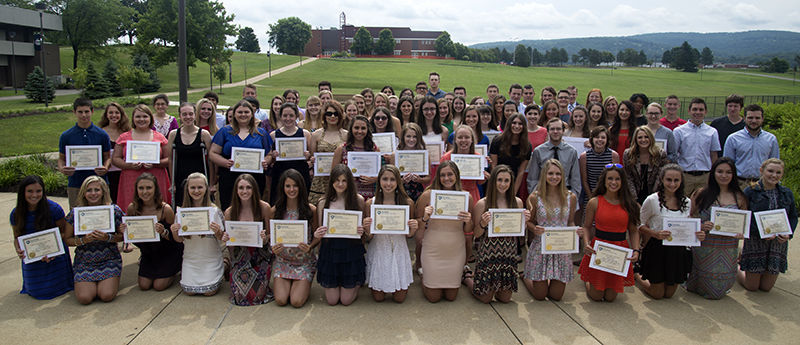 At a ceremony held July 16 at Penn State Fayette, The Eberly Campus, 130 high-achieving southwestern Pennsylvania high school students joined the Penn State Fayette and United Bank 4.0 Club. The 4.0 Club recognizes local students who have completed their sophomore, junior or senior year with a cumulative 4.0 grade-point average.
The program featured two speakers, both of whom distinguished themselves academically in high school and at the Fayette campus. Katie Smaniotto, a Penn State Fayette alumna from Smithfield, went on to earn two master's degrees and works as a school counselor at Greene County Career and Technology Center. Uniontown resident Kirstan Webb, a graduate of California High School, will be a junior this fall at the Fayette campus.
Another former student at the Fayette campus represented United Bank. Tim Kelley, assistant vice president for commercial lending, attended Penn State Fayette on the 2+2 program, which enabled him to study at Fayette for two years before finishing his degree at University Park.
The 2016 Penn State Fayette and United Bank 4.0 Club inductees are:
Albert Gallatin High School: Rachel Beaumariage, Allyn Bezjak, Nathaniel Bricker, Tiffany Burden, Caleb Dankle, Leah Dice, Luke Dice, Joseph Embacher, Ireland Hawk, Madelyn Kisner, Wyatt Krater, Chelsie LaRose, Hunter Matthews, Katelyn Myers, Carissa Pegg, Kaitlyn Podlogar, Nicholas Podlogar, Bailey Turner, Hannah Umble, Colby Uphold and Jessica Wesolowsky;
Belle Vernon Area High School: Jordan Hartman, Griffin LaCarte, Mark Lovett, Katharine Ruhl, Erin Sassak and Margaret Schmidt;
Bethlehem Center High School: Michael Elliott;
California Area High School: Marissa Bitonti, Morgan McBurnie, LeeAnna Roberts and Dakota Staley;
Charleroi Area High School: Maria Claybaugh, Sierra Short, Jessica Day, Katelyn Valla and Emily Lacarte;
Connellsville Area High School: Luke Bruner, Sadie Knopsnider, Madeline Cramer, Coalby McNair, Abigail Crampo, Howard Metzgar, Chloe Guie, Derek Orndorff, Allison Hauer, Hannah Rimel, Hollie Hiles, Jake Ritenour, Sydney Hull, Ally Wilson and Nicholas Jacobyanksky;
Frazier High School: Alicia Ciliberti, Avery Matthews, Stacy Hartz, Rebecca Nicholls, Jenna Kennedy, Abigail Smith, Annya Kossol and Sarah Stiffy;
Geibel Catholic High School: Sidney Anderson, Anh Le, Katherine Bassett, Grace Nowicki, Maggie Ewing, Kaylin O'Wade, Patrick Grundy, Sydney Palya, Hannah Judy, Abbey Sitko, Gabrielle Kolencik, Julie Wachtel, Lauren Kosslow and Carley Ward;
Jefferson-Morgan High School: Erin Confortini, Jamie Lawrence, Emma Frank and Karley Wilson;
Laurel Highlands High School: Todd Brown, Macy Miller, Kristin Bane, Abigayle Phillan, Julie Capuzzi, Sarah Proud, Nina D'Andrea, Connor Rapp, Lindsay Filcheck, Elizabeth Rockwell, Teresa Fischer, Emily Rohm, Luke Gabriel, Alivia Rolaf, Amanda Gregg, Casey Russell, Melina Izzi, Hunter Scott, Rowan Jalso, Elizabeth Seaton, Taylor Kodrick, Haley Sutton, Gwyneth Komula, Courtney Wanson, Ashley Krause, Lauren Wilhelm, Brynn Lilley, Jenna Wingrove, Cameron Lizza, Miranda Yocabet, Joshua Miller and Amy Yuhas;
Southmoreland High School: Hannah Clark, Maria Schultheis. Morgan Conty, Allie Shreffler, Samantha Gray, Grace Vivio, Alison Huffman, Kimberly Weinman and Anastazia Polakovsky;
Turkeyfoot Valley High School: Hannah Metheny and Selena Spittal;
Uniontown Area High School: Jack Kilinger, Karleigh Risha, Evan Klatt, Jeremy Saliba, Giovani Marian and Emily Sharp;
Washington High School: Toni Maurer and Steven Shallcross; and
Waynesburg Central High School: Sara Breakiron and Janvi Patel.