Event is an opportunity for scholarship donors to meet student beneficiaries and their families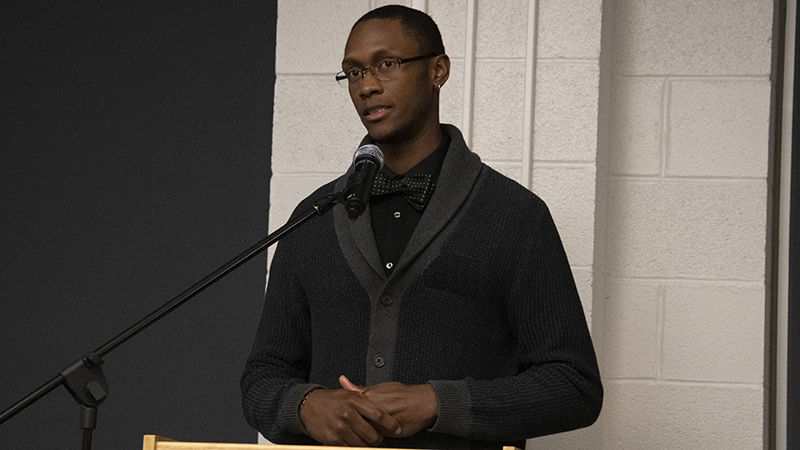 LEMONT FURNACE, Pa. — Penn State Fayette, The Eberly Campus hosted the 12th annual Scholarship Donor Dinner to honor student recipients of sponsored scholarships and awards on Nov. 14.
Terry E. McMillen, president of McMillen Engineering and benefactor of the Terry E. and Denise E. McMillen for Engineering scholarship, delivered the invocation. Lori Omatick, director of development at Penn State Fayette, welcomed an audience of sponsors and students and their families for a celebratory dinner and short program. The Honorable Linda Cordaro, judge for the Fayette County Court of Common Pleas, spoke on behalf of the donors.
Iman Young, junior business student and United States Army veteran from Silver Springs, Maryland, received the Eberly Family Scholarship in Business after enrolling at Penn State Fayette and joining the men's basketball team.
"Financial aid wasn't enough for my tuition, my parents were in no position to help me financially, and my military benefits didn't cover my upfront costs," he said. "This scholarship has taken a tremendous amount of pressure off of me as a nontraditional student worried about his future."
Iman serves as vice-president of the Student Veterans Association and the Business Club, and he is a member of the Student Government Association, Student Faculty Senate, and THON team. "With the help of this scholarship, I have been able to become more involved on campus for the simple fact that I don't have to work as much to make my way through college," he said.
Over 300 students were recognized for outstanding academics, service, and more with over 60 endowed scholarships and awards.
"I want to express a collective thank you to our donors for your support and especially for joining us this evening to meet the very students who have directly benefited from your generosity," said Charles Patrick, chancellor and chief academic officer at Penn State Fayette. "The generous support of this community, reflected here this evening, is for many students the margin for accessibility to Penn State University."