Kaylee Aaron wins $1,000 for research on evolutionary psychology and social media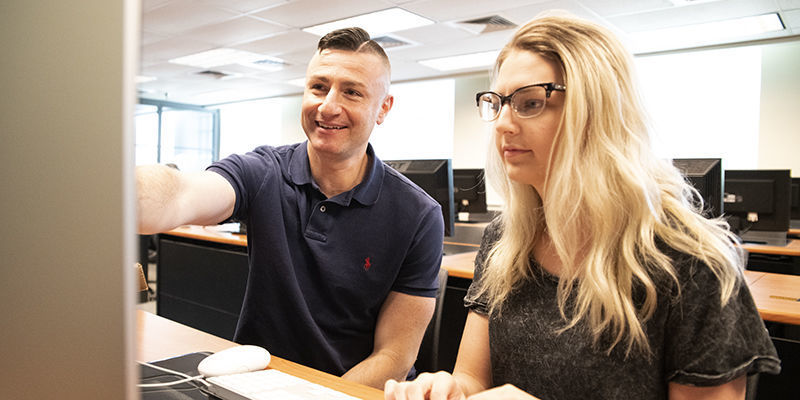 LEMONT FURNACE, Pa. — Kaylee Aaron has been awarded the 2020 Student Excellence Award by Penn State Fayette, The Eberly Campus, for her undergraduate research, "Need for Status: An Evolutionary Explanation for Mental Health Issues from Social Media Use."
How do social status and status striving relate to mental health problems caused by social media? Aaron became interested in this research question while taking a course on evolutionary psychology.
"Social status is how we rank among others in our society. Status striving was important for our ancestors to obtain the resources needed to survive and reproduce," she said. "We hypothesized that students who spend more time on social media will score high in status striving, social comparison and depressive symptoms, and that these will correlate positively."
In 2019, Aaron was awarded an Erickson Grant from the Office of Undergraduate Education, totaling $3,500, to pursue her research. Aris Karagiorgakis, assistant teaching professor of psychology, served as Aaron's undergraduate research adviser. "Aris helped me with the grant process, Institutional Review Board approval, and statistical analysis, and he was there to help me brainstorm ideas," said Aaron.
Aaron surveyed 81 students across four Fayette classrooms using a variety of assessment tools to measure status striving, social comparison, depressive symptoms, wellbeing, and social media use.
"After we ran our data, we found five significant correlations among the variables, which was exciting," she said. "We found that social comparison and status striving can be used to understand the relationship between social media use and depressive symptoms. Our findings can be explained from an evolutionary perspective, but future testing is critical for strengthening this argument."
"The results mean we are homing in on a critical variable that can help us explain why people feel so bad about themselves the more time they spend on social media," said Karagiorgakis. "Our data supported, replicating previous studies, an evolutionary explanation: we can't help but compare ourselves and our lives to others."
This year's Student Excellence Award finalists were Taylor Roleau, for her research titled "Is Cognitive Behavioral Therapy a More Effective Treatment than Exposure Therapy?" and Michael Elliott, for his research "The Effects of Bullying and Victimization in Childhood." They, along with Aaron, presented their findings at a virtual campus colloquium on April 21.
Student Excellence Awards
The Penn State Fayette Student Excellence Awards were established to encourage scholastic excellence and to recognize academic achievement by Fayette campus students. The awards are administered by the Undergraduate Research Committee and sponsored by the campus Advisory Board. Each year, a winner and two finalists are selected to receive $1,000 and $500 awards, respectively. The winner's name is engraved on a permanent plaque on the Penn State Fayette campus.
"The competition follows the common path of scholarly projects: first an abstract serves as the proposal, then a paper is written, and finally the project is shared orally with one's peers," said Gib Prettyman, associate professor of English and honors coordinator. Prettyman facilitates the Student Excellence presentations.
Eligible students must have completed at least 30 credit hours at the Fayette campus within the past four academic years and have achieved a cumulative GPA of at least 3.67. Students may receive the award only once.
Submitted papers are assigned a point value, from 0.00 to 4.00, and the authors of the three highest scored papers advance to the colloquium, where they are similarly scored for the quality of their presentations. The finalist with the highest overall score is selected.
The 2020 Student Excellence Awards were judged by Don Liddick, associate professor of administration of justice; Maureen Ittig, assistant teaching professor of human development and family studies; Theresa Lee, lecturer of psychology; Jay Precht, associate professor of history; and Stacy Sekely, associate teaching professor of physical therapist assistant.