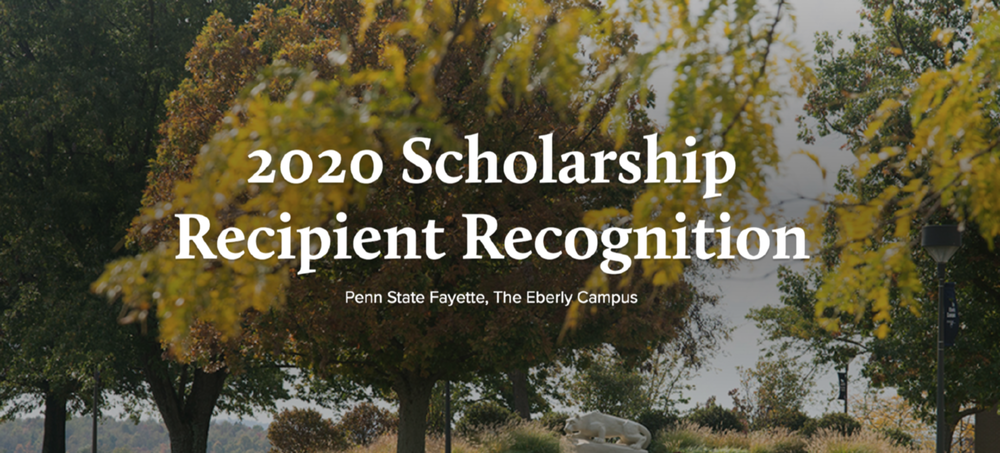 LEMONT FURNACE, Pa. — Penn State Fayette, The Eberly Campus celebrated recipients of sponsored scholarships and awards with a recognition event — a virtual one, in lieu of the campus's annual scholarship donor dinner — for the 13th consecutive year.
"We are very pleased to recognize our scholarship recipients and generous donors for the 13th consecutive year," said Lori Omatick, director of development. "Although our format may look different this year, our pride and gratitude are stronger than ever."
The virtual recognition includes video remarks and acknowledgment of over 300 student recipients of awards and memorial, trustee, internal, and Open Doors scholarships.
"The scholarships I have received over the last four years at Penn State Fayette have drastically impacted my experience," said senior psychology major Kaylee Aaron. "Since I never had to worry too much about paying for school, I had to work only part-time, which allowed me to maintain a 3.99 grade-point average. I had time in my schedule to work on an undergraduate research project, which was quite successful and has been the highlight of my academic journey at Penn State Fayette."
Aaron, a resident of Rillton, Pennsylvania, was awarded the 2020 Student Excellence Award for her undergraduate research, titled "Need for Status: An Evolutionary Explanation for Mental Health Issues from Social Media Use," which was funded by an Erickson Grant totaling $3,500.
Rebecca Ambrosini, joined by her husband, Al, offered remarks on behalf of the donors. "We are both first-generation college graduates with degrees from Penn State. We are both retired now and humbled to say our careers have been very successful. Giving back to our families, community, and alma mater is one of our passions — and we believe in our duty."
"In no small part, the generosity of our donors is the reason many students can afford to attend Penn State," said Charles Patrick, chancellor and chief academic officer. "For that, we say a heartfelt thank you — and to everyone, thank you for your continued enthusiasm and support for Penn State Fayette."
These gifts advance "A Greater Penn State for 21st Century Excellence," a focused campaign that seeks to elevate Penn State's position as a leading public university in a world defined by rapid change and global connections. With the support of alumni and friends, "A Greater Penn State" seeks to fulfill the three key imperatives of a 21st-century public university: keeping the doors to higher education open to hardworking students regardless of financial well-being; creating transformative experiences that go beyond the classroom; and impacting the world by serving communities and fueling discovery, innovation and entrepreneurship. To learn more about "A Greater Penn State for 21st Century Excellence," visit greaterpennstate.psu.edu.