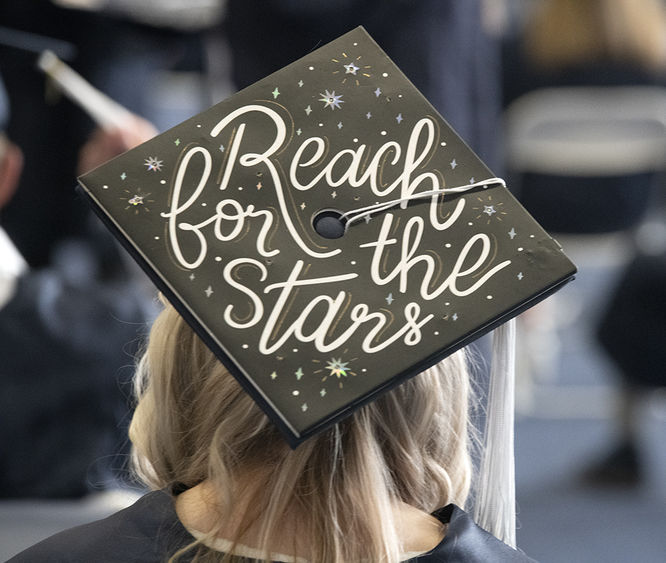 LEMONT FURNACE, Pa. — Charles Patrick, chancellor and chief academic officer of Penn State Fayette, The Eberly Campus, conferred academic degrees on 71 candidates for graduation during the 51st commencement ceremony on May 8 in the campus Community Center.
The in-person ceremony, along with celebrations across all Penn State campuses and colleges, marks the University's return to safe gatherings after the 2020 spring commencement was adapted to a virtual format due to COVID-19 restrictions.
The event's honored speaker was Paula Congelio, vice president of finance and chief financial officer at West Virginia University. Congelio graduated from Penn State in 1983 with a bachelor of science degree in accounting.
In her address to the class of 2021, Congelio said, "You've been forced to pivot and adapt for a very long time now, and so have the faculty and staff here at the campus. Everyone came together for the good of the University. It allowed you to be here today to receive your degree and continue with your future."
"You may work remotely or in a hybrid model for years to come," she continued. "You may have interviewed remotely and accepted a job without ever shaking a hand. You may work from home for the first several months or long term. We've seen and proved that there are new ways to teach, to learn, to test, to interview, to work and to thrive."
To accommodate limited seating in the Main Arena, friends and family without tickets were able to watch a livestream of the ceremony. Free internet access was provided in designated parking lots on campus.
Graduates with distinctions included Kaylee Aaron (bachelor of science in psychology) and Iman Young (bachelor of science in business administration), summa cum laude; Danielle Jones (bachelor of science in administration of justice), magna cum laude; and Zachary Lindsey (bachelor of science in administration of justice), cum laude.
The following candidates for graduation, by degree, participated in Penn State Fayette's commencement ceremony:
Associate degree in business administration
Gabrielle Fronczek
Jarred Provance
Bachelor of science in business administration
Andrew D'arrigo
Ryan Demchak
Jared Gaddis
Noah Hansen
Hope Hixson
Hannah Hockin
Dominic Marghella
Ross Mazer
Jeffrey Sarnelli
Bailey Stapleton
Garrett Stevenson
Rebecca Stull
Craig Weaver
John Yohman, Veteran
Iman Young, Veteran
Associate degree in electrical engineering technology
Bachelor of science in human development and family studies
Nicole Baker
Melissa Bochnak
Julia Crucio
Miki Porterfield
Alexis Williams
Associate degree in physical therapist assistant
Casey Falcon
Mark Heim
Michaela Krueger
Emily Lacey
Trevor Laskody
Allison Robinson
Hannah Stefancin
Kara Wilson
Bachelor of arts in administration of justice
Bachelor of science in administration of justice
Damian Alicea
Dominique Bartholomai
Andrew Haywood
Danielle Jones
Zachary Lindsey
Troy Lux, Jr.
Brock McCulloch
Geoffrey Salitrik
Bachelor of arts in corporate communication
Jordan Decker
Carlie Durst
Noah House
Bachelor of science in nursing
Olivia Ansell
Olivia Binda
Lynze Bunda
Derek Evans
Emily Grubach
Machaela Hall
Samuel Hlatky
Kaley Kanuch
Kylie Keedy
Icee Leapline
Kensi Martray
Marie Morrison
Katelyn Myers
McKinley Orndorff
Morgan Pytlak
Alivia Rolaf
Taylor Rouleau
Paige Sherbondy
Nicole Sova
Andrea Suter
Anthony Tuchek
Jeremy Welsh
Felicity Yauger
Bachelor of science in project and supply chain management
Bachelor of science in psychology
Kaylee Aaron
Brandon Demchak
Sara Halbert
Tyler Zelenick
A full gallery of photos from the 51st commencement ceremony can be viewed and downloaded on Flickr.