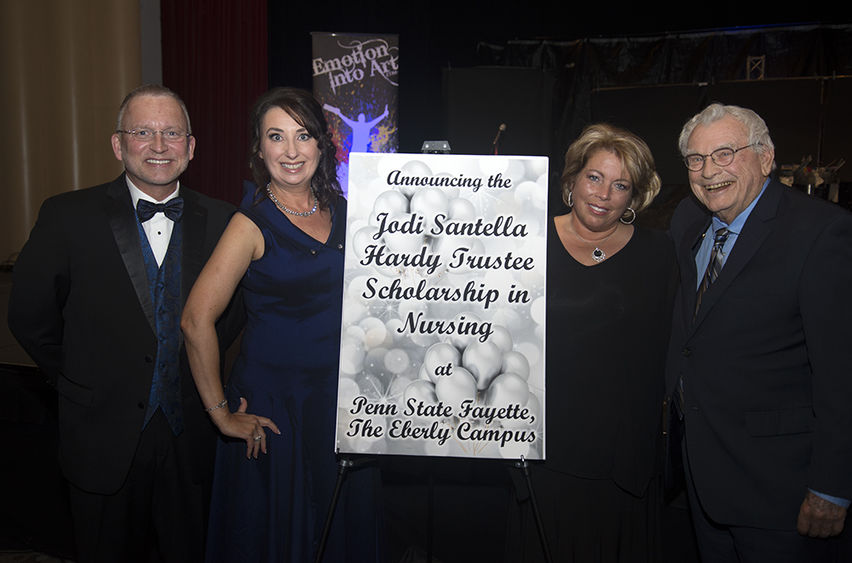 LEMONT FURNACE, Pa. — Penn State Fayette, The Eberly Campus raised approximately $197,000 for scholarships at the inaugural Benefit Fayette, held on Saturday, Oct. 15. The evening's highlight was the announcement of a $100,000 gift from Nemacolin Woodlands Resort and 84 Lumber founder Joe Hardy in honor of his wife, Jodi, a 1998 nursing graduate of the Fayette campus.
Hardy's donation will form the principal of the Jodi Santella Hardy Trustee Scholarship, which will benefit Fayette campus nursing students with financial need. Earnings on the principal of trustee scholarships are matched in perpetuity by Penn State. It is anticipated that the Jodi Santella Hardy Trustee Scholarship will provide four students with more than $2,000 each per year.
"More than 90 percent of students at the Fayette campus qualify for financial aid, and 50 percent are from the first generation in their family to attend college," said Lori Omatick, director of development at Penn State Fayette. "The funds raised tonight, both endowed and non-endowed, are much needed and will be greatly appreciated for years to come."
"We were very pleased to have such strong support from our faculty, staff and alumni, and the community at large. It was great to see everyone coming together to support students with financial need," Omatick continued.
After Omatick announced Hardy's early birthday gift to his wife, Santella Hardy took the microphone. Holding back tears, she said, "This is a very generous gift on the part of my husband. I practiced bedside nursing for 25 years, so this is rewarding and fulfilling for me. I can't thank him enough."
Explaining the motivation for honoring his wife in this way, Hardy said it was because "she feels a tender love for the whole nursing program."
Hardy has been a major supporter of Penn State Fayette. He was campus chairman of the recently completed "For the Future Campaign," which raised more than $4 million, and has previously funded an endowment for the arts by a gift through which the Maggie Hardy Magerko Theatre was named in honor of his daughter.
The Magerko Auditorium provided the perfect setting not only to announce the Santella Hardy scholarship, but it also served as an entertainment venue for Benefit Fayette's "performance speed-painter" Tom Varano. During his energetic "Emotion Into Art" show, Varano created canvases of the Penn State logo, Mario Lemieux, and Bruce Springsteen — upside down using his fingertips, palms, and multiple brushes.
His three paintings — plus another still to be created — were later auctioned off by professional auctioneer Tony Quarrick, with the proceeds going toward scholarships. Guests also had opportunities to bid on items in a silent auction.
The evening's entertainment included music by Pittsburgh's Joel Lindsey and dancing to his Boulevard of the Allies band, as well as an expansive dinner catered by the Historic Stone House.
Benefit Fayette's gold sponsor was the First Energy Foundation, which was joined by silver sponsors CRH Catering Inc., Walter Mucci Construction Inc., Neubauer's Flowers, as well as by bronze sponsors Carmen and Paula Congelio, Terry and Denise McMillen, Nemacolin Woodlands Resort, University Commons, the Penn State Fayette Alumni Society, and the Herald-Standard.
Charles Patrick, chancellor and chief academic officer at Penn State Fayette, said the campus decided to institute a scholarship fundraiser after the success of last year's 50th anniversary Golden Gala. "Benefit Fayette is a wonderful opportunity for Penn State Fayette to gather with our community friends," Patrick said. "We had a great evening of music, art, delicious food, and shared laughter."
"The campus extends a heartfelt thanks to the community for their support of student success through scholarships," added Patrick. "Their generous contributions aid in providing access to students by making the world-class Penn State education more affordable."
Penn State's alumni and friends are invaluable partners in fulfilling the University's land-grant mission of education, research and service. Private gifts from alumni and friends enrich the experiences of students both in and out of the classroom, expand the research and teaching capacity of our faculty, enhance the University's ability to recruit and retain top students and faculty, and help to ensure that students from every economic background have access to a Penn State education. The University's colleges and campuses are now enlisting the support of alumni and friends to advance a range of unit-specific initiatives.