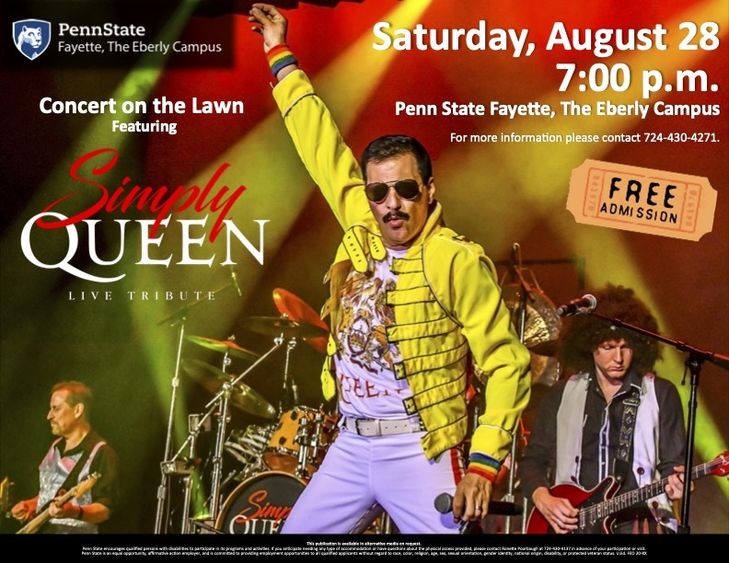 LEMONT FURNACE, Pa. — Penn State Fayette, The Eberly Campus will hold the sixth annual Concert on the Lawn on Saturday, Aug. 28, which will feature a 7 p.m. performance from tribute band Simply Queen and a fireworks display directly following the show.
"The annual Concert on the Lawn has become a highly anticipated event in our region," said Charles Patrick, chancellor and chief academic officer. "After a year of postponement, we are looking forward to welcoming our community back onto campus and safely celebrating the beginning of a new academic year."
According to the band, "Simply Queen faithfully recreates the grand scope of Queen's live shows, both musically and visually, capturing the experience that filled stadiums around the world."
All students, faculty, staff and visitors — regardless of vaccination status — are required to wear masks when inside University buildings.
Penn State Fayette will continue to closely monitor and follow University, state and federal guidelines for public health safety, and event details are subject to change. Visitors should consider and evaluate how their own vaccination status impacts the level of risk they are comfortable accepting before visiting campus.
The event is free of charge and open to community members, who may begin entering campus at 6 p.m. Coolers are prohibited. Parking is limited; carpooling is encouraged. The concert will be held on the campus lawn, rain or shine.
For event information, contact 724-430-4271. Visit simplyqueen.live to learn more.