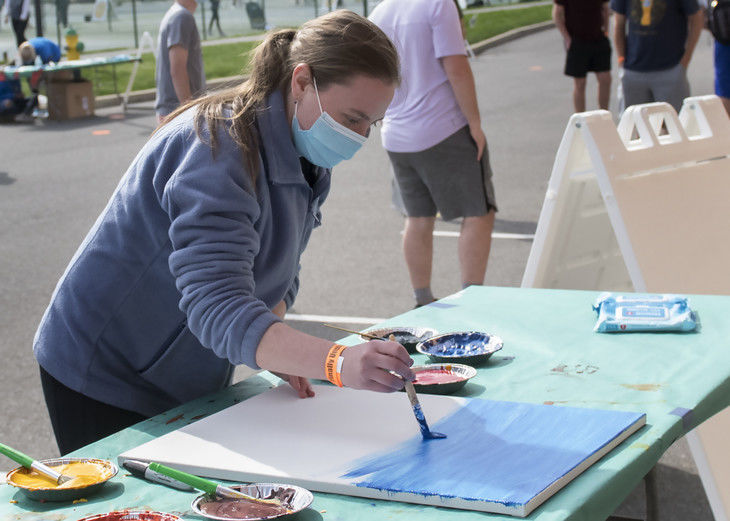 LEMONT FURNACE, Pa. — Maria Schultheis, an alumna of Penn State Fayette, The Eberly Campus, has received an honorable mention in the 2021 University Libraries' Undergraduate Research Award: Excellence in Information Literacy category for "The Future of Photovoltaic Technology: Using Amino Acids as Molecular Electronics."
Before transitioning to University Park in the spring of 2020 to study animal science, Schultheis began undergraduate research with Julio Palma, assistant professor of chemistry. At Fayette, Schultheis' work earned her first place at the 2019 Fall Learning Fair, a prestigious Erickson Discovery Grant in 2020, and a spot in the inaugural summer mentorship program for entrepreneurial research at the Fayette LaunchBox.
She also received the President's Freshman Award and the President's Sparks Award, presented annually to Fayette students with cumulative grade-point averages of 4.0 or above.
"My research with Dr. Palma involves the study of amino acids and their potential applications in molecular electronics and solar panel technology," she said. "One thing we discovered was that electron transport and ultimately the ease with which an amino acid could act as a molecular electronic is directly determined by amino acid identity in terms of charge."
Schultheis is from Bullskin, Pennsylvania. At University Park, she participates in the Pre-Vet Club and Small and Exotic Animal Club, as well as the Reproductive Research Team. She expects to graduate in 2022 and plans to attend veterinary school and open her own animal practice.
"Maria is an enthusiastic student that has excelled academically in many disciplines, and I have had the pleasure to be her scientific research adviser," said Palma. "In fact, she has been involved in several research projects and we are in the process of writing a couple of scientific articles that we intend to publish. Maria is a role model and a leader, and I am positive that we will continue to hear about her success in the future."
Schultheis credits the 2+2 Program, which allows students to begin the first two years of more than 275 majors at any Penn State campus before transitioning to another, for many of her opportunities.
"The 2+2 Program is not only a wise step financially, but Fayette provides a nice transition between high school and college that I think can be lost if you start immediately at a big university campus," she said. "By attending Fayette first, I was able to make connections with professors and participate in once-in-a-lifetime opportunities very early in my college career."