Steve Strange, Penn State class of 2006, named executive director of East End United Community Center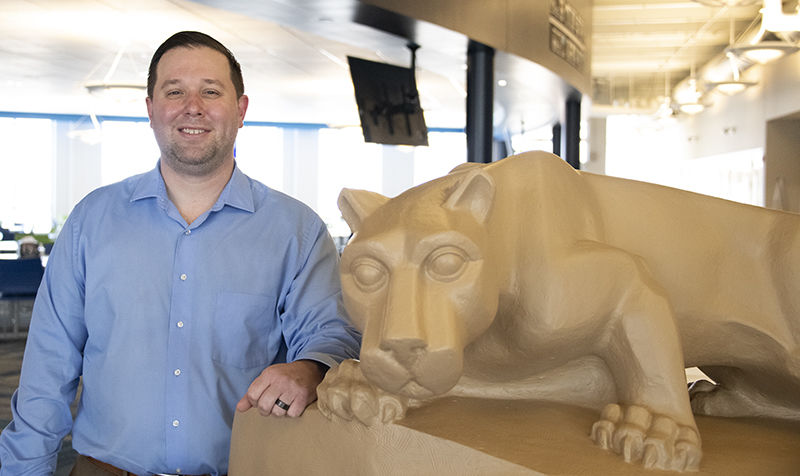 LEMONT FURNACE, Pa. — Penn State Fayette alumnus Steve Strange has been named the executive director of the East End United Community Center (EEUCC) in Uniontown.
Strange grew up in Hopwood, Pennsylvania and attended Laurel Highlands High School. He graduated from Penn State in 2006 with a bachelor of science degree in sports journalism after completing the first two years of his degree at the Fayette campus.
"I recommend Penn State's 2+2 plan to everyone," said Strange. "The Fayette campus is a perfect bridge from high school to the larger university experience. Without Fayette, the transition would have been difficult for me."
Strange worked at Nemacolin Resort before relocating to Florida, where, he said, he discovered a passion for teaching.
"When I taught physical education in elementary school, I learned how to talk to children, how to form a bond and speak the language of an eight-year-old," said Strange.
Missing friends and family, he returned to Pennsylvania in 2012 and spent four years working in the coal mines, like his father.
"I became mentally and physically burnt out, so I had to swallow my pride and start fresh in my mid-30s to try and carve out a route in education again," he said. "Penn State taught me resilience — to build back stronger."
In 2019, he was working as a substitute teacher when he found an opening at East End United Community Center for an after-school teacher. He would be quickly promoted to director of the after-school program, which serves Margaret Bell Miller, Albert Gallatin North, and Albert Gallatin South middle schools.
The East End United Community Center serves the East End neighborhoods of Uniontown, where 45% of residents are people of color and nearly 40% live well below federal poverty guidelines. The center provides after-school programming, childcare and family services, truancy prevention, nutrition programming, diaper and clothing banks and more.
Strange served as interim executive director before accepting the role permanently in September of 2021. Under his direction, EEUCC started a partnership with Fayette County Behavioral Health to provide mental health services to community members. Additionally, Strange secured funding to provide continuity for after-school programming. He said he hopes to continue to expand services and facilities in the future.
"The mission of EEUCC is to serve the community," he said. "There are so many in our community who need help in tangible ways — like with housing, food, transportation — as well as with mental health, or even ways to socialize. The most vulnerable populations among us are no different from anyone else."
Strange lives in Hopwood with his wife, Katie; stepson, Jackson; and son, Stevie. For more information on the East End United Community Center, visit EEUCC.org or call 724-437-1660.
"Penn State taught me resilience—to build back stronger."

—Steve Strange , Executive Director, East End United Community Center