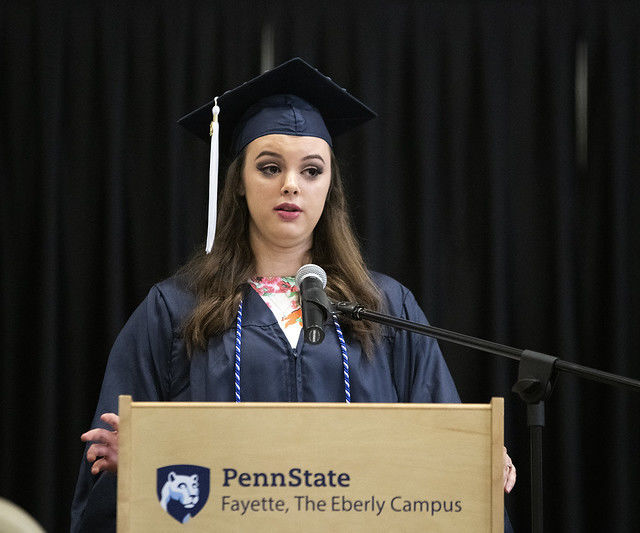 LEMONT FURNACE, Pa. — Samantha (Long) Mitchell, from Connellsville, graduated from Penn State Fayette in 2019 with a bachelor of science in psychology. Today, she is pursuing a doctorate in clinical psychology at Palo Alto University in California.
As a student, Mitchell received an Erickson Discovery Grant in 2018 from the Office of Undergraduate Education at University Park. The grant, worth $3,500, helped to fund her research on the effects of self-regulation and trauma on student academic performance, completed under the mentorship of Aris Karagiorgakis, assistant professor of psychology.
"The psychology program emphasizes writing and research, two critical skills for graduate level work," said Karagiorgakis. "(Mitchell) was exceptional because she earned and took advantage of every opportunity provided to her."
Mitchell's work won her first place in the Fall 2018 Learning Fair. She went on to present her research at the Undergraduate Research Exhibition and the National Conference on Undergraduate Research in 2019.
She is the recipient of numerous campus awards. A member of the Phi Kappa Phi Honor Society, she received the Information Literacy Award and the President Sparks Award in 2018. In 2019, she won Psychology Student of the Year, the Student Excellence Award, and the Evan Pugh Scholar Award.
She also traveled to Rome, Italy with a group of Penn State Fayette students and faculty in 2019 to study the psychology of religious belief. Later that year, she delivered the student response at her commencement ceremony. In 2021, her research with Karagiorgakis was published in Modern Psychological Studies.
"Dr. Karagiorgakis helped me develop professionally. He introduced me to research in the field of psychology. He also helped me discover that I would be a great candidate for graduate school. He taught a class on the necessities needed to apply to graduate school, which really helped me in the process," she said.
Mitchell expects to earn her doctorate degree in 2026. As a clinical psychologist, she hopes to work with children, adolescents, and young adults who have experienced trauma.
"Penn State Fayette provided me with foundational knowledge and experiences that some of the other students in my Ph.D. program do not have — such as the opportunity to do undergraduate research and be a teacher's assistant. Not a lot of my peers can say they've published research in a scientific journal," said Mitchell.