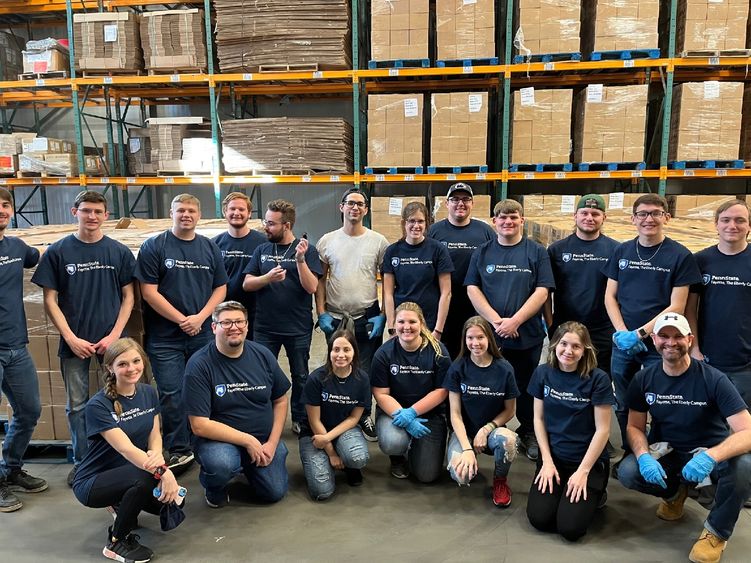 LEMONT FURNACE, Pa. — Twenty students from Penn State Fayette, The Eberly Campus traveled to Washington D.C. to complete a service project for The Salvation Army and Capital Area Food Bank during the annual alternative spring break trip.
In over 120 collective volunteer hours, Fayette students worked as a team to clean and sort through several storage rooms at The Salvation Army, organizing office materials, supplies, books and files. At the Capital Food Bank, students packed 1,600 boxes of nonperishable food items.
Capital Area Food Bank works to provide the Washington metro-area with access to healthy food and food education to solve hunger and hunger's companion problems, including undernutrition, heart disease, and obesity. The food bank serves over 540,000 community members each year.
Over the course of the three-day trip, students took a tour of the National Archives Museum, the National Museum of African American History and Culture and the Smithsonian Museum of Natural History. Additionally, they took a scooter tour of the National Mall, including visits to the White House and popular memorials and monuments.
"After two years of isolation and lack of in-person contact, students were able to reconnect with one another and create long-lasting bonds while giving back and serving the needs of others," said Chad Long, director of student affairs. "The work completed at both the Salvation Army and Capitol Food Bank had a tremendous impact on thousands of individuals in need."
This is Fayette's fourth-annual spring break service trip in D.C., paid for, in part, by the student-initiated fee.
"Both organizations' missions are truly selfless, as they work tirelessly to provide for those who are in need. It was a satisfying and purposeful trip," said Maria Catalina, president of the Student Government Association. "I gained a new perspective of how community organizations truly impact those who rely on them, and it makes me want to become even more involved with our own community."