Two performances of 'Black Maria Will Wait' are free and open to the public on April 22 and 23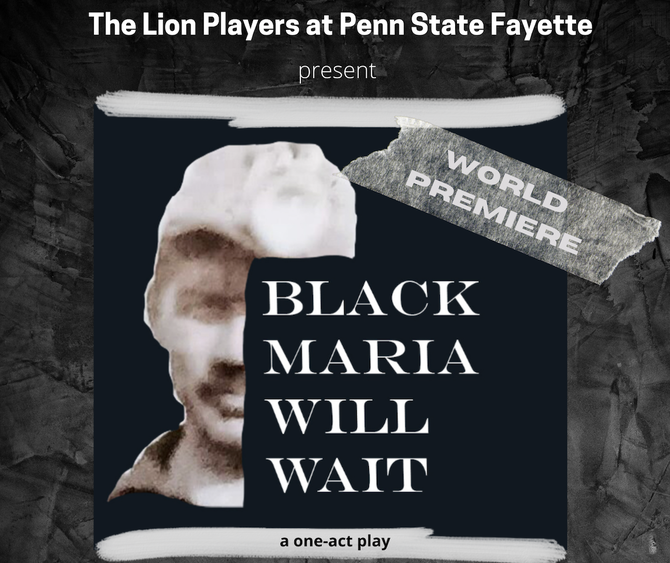 LEMONT FURNACE, Pa. — The Lion Players, the student theater group at Penn State Fayette, The Eberly Campus, will sponsor the performance of "Black Maria Will Wait," a one-act play set in Fayette County, on April 22 and 23.
"Black Maria Will Wait" is written by Brad Radcliffe, and directed by Daniel A. Krack, assistant teaching professor of English and faculty advisor of the Lion Players. The two began collaborating on the production in 2020 to honor the lives of local coal-mining families.
The play, titled after the horse-drawn carriage that traditionally carried a deceased miner's body back to his home, is set locally in the 1970's. A young woman named Cindy Baker (Chelsea N. Conway) reads through a series of letters left to her by her late mother, Melissa (Lista Lucas). As Cindy reads through the letters, she discovers the intense love her coal miner father, Lewis (Josh Brady), had for his wife. Cindy soon understands the sacrifices her parents endured and the true power of love that endures beyond the grave.
"Radcliffe has created a moving and poignant play that serves as a beautiful homage to the sacrifices made by local coal mining families. He used materials from our Coal and Coke Heritage Center, so community members might recognize names and events that are referenced in the play," said Krack. "The cast has done an impressive job of bringing these characters, who are based on real-life people, back to life. Audience members might see their own stories reflected back to them."
Performances
Friday, April 22, at 7 p.m.
Saturday, April 23, at 1 p.m.
Free and open to the public, performances will be held in the Maggie Hardy Magerko Auditorium in the Community Center on campus. The Coal and Coke Heritage Center, located in the campus library, will be open to patrons one hour preceding and following each performance. Donations are welcomed.
About the playwright
Brad Radcliffe drew inspiration for "Black Maria Will Wait" from his lineage of coal miners in southwestern Pennsylvania. Brad has acted in and directed the works of Eugene O'Neill, Tennessee Williams, Edward Albee, Agatha Christie, Samuel Beckett and Arthur Miller. He was Artistic Director for The Actors Group in Jefferson and Elm Grove, Wisconsin. He was a member of the original American Folklore Theater in Washington, D.C. His plays have been performed in Washington, D.C., Virginia and Wisconsin. Radcliffe is a retired addictions therapist and has worked with PTSD combat veterans at Zablocki VA hospital. At present, he is a volunteer "Fun Raiser" for the Paul Newman "Hole in The Wall Gang Camp."
About the director
Daniel A. Krack received his bachelor of fine arts in theatre from the State University of New York at Fredonia, his master of arts in literature and doctorate in composition and applied linguistics from the Indiana University of Pennsylvania. As a director, he has mounted nearly 30 productions including "Titanic: The Musical," "Children of Eden," "All in the Timing," "The Crucible," and "Noises Off!" Krack has appeared on stage across the region as Lenny Ganz ("Rumors," Little Lake Theatre), Michael Minetti ("Six Dance Lessons in Six Weeks," Apple Hill Playhouse), Simon Zealots ("Jesus Christ Superstar," Palace Theater) and Tito Merelli ("Lend Me a Tenor," Actors and Artists of Fayette County). He also portrayed Truman Capote in "Andy Tell Me, Tru" (Pittsburgh New Works Festival) for which he received a Pittsburgh DONNA award nomination in 2007 for Outstanding Lead Actor. He was awarded the DONNA for Outstanding Supporting Actor for his portrayal of Sam in "Cemetery Plot" in 2008 and again, in 2010, for his performance as the Dad in "Shaving Lessons and Half-Windsor Knots" (both written by Pittsburgh's FJ Hartland) for the Pittsburgh New Works Festival.
About the composer
Obe VanderTol was born in The Netherlands and began his musical career at the age of nine by taking lessons on a harmonium and taught himself to play guitar by watching other people. He began his teaching career by teaching music at Central High School, however, during his first semester of teaching, he was drafted by the U.S. Army and spent two years in Washington D.C. during the Vietnam war. While there, he organized a three-piece vocal group, performing at the service club and other venues. VanderTol continued his teaching career at Iroquois Middle School as vocal music director while earning his master of music degree from Western Michigan University in 1978. He retired from teaching after nearly 40 years in 2010. He serves as music director at St. Mark Lutheran Church in Kentwood, Michigan, and teaches choir part time at West Michigan Lutheran High School. He has also written and arranged many songs for adult and children's choirs and is a published composer.