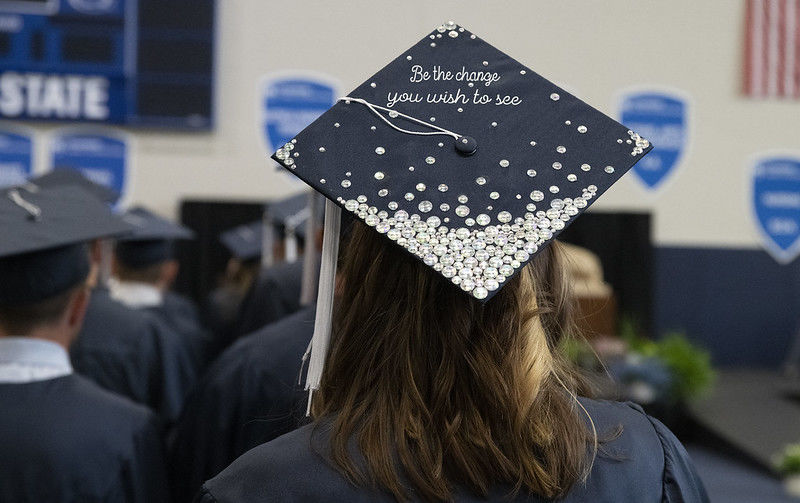 LEMONT FURNACE, Pa. — Charles Patrick, chancellor and chief academic officer of Penn State Fayette, The Eberly Campus, conferred academic degrees on 107 candidates for graduation during the 52nd commencement ceremony on May 7 in the campus Community Center.
The event's honored speaker was Renata S. Engel, Penn State's vice provost for online education. Engel completed two years of her education at Penn State Fayette before graduating with a bachelor of science degree in engineering science from University Park. She holds a doctorate in engineering mechanics from the University of South Florida. Engel is a fellow of the American Society for Engineering Education and the recipient of several national and university teaching awards. In 2001, Engel was recognized as an Outstanding Alumna of Penn State Fayette.
In her address to the class of 2022, Engel said, "I had no idea what awaited me when I left Penn State Fayette, what opportunities would present themselves, and which ones I would latch onto after I graduated. But what I did know was that this campus had invested in me, and that I had knowledge, understanding, and skills that I did not have when I began. And for that, I am grateful.
"Impact is sometimes elusive to identify, but it is the ripple effect. It's what connects us to each other, and generation to generation. My commencement wish for you is that you live your life never underestimating the impact that you may have on someone else's life."
Graduates who have completed the required number of credits at the University and who are in the top 6% of their graduating class were given Cum Laude distinction, including: Kristina Aeschbacher, Abigail Bennington, Steven Fabian, Emily Franks, Gwyneth Komula, Haley Miller, Travis Pettit, and Alan VanSickle.
Komula, who received a bachelor of science in nursing, gave the student response.
"We might very well be the most unique class to ever graduate from Penn State Fayette because we experienced the hardest years of our academic lives in the midst of a worldwide pandemic that radically altered our lives," she said. "If there is anything members of this graduating class have learned, it is that we can learn and excel and succeed even during times of crisis."
A full gallery of photos from the event is available to view and download on Flickr.
The following candidates for graduation, by degree, participated in Penn State Fayette's commencement ceremony:
Bachelor of Arts in Administration of Justice
Bachelor of Science in Administration of Justice
Associate degree in Business Administration
Kaylee Franks
Nicholas Fronczek
Dale Martin
Wyatt Rishel
Marcus Tansmore
Bachelor of Science in Business
Abigail Bennington
Ryan Blair
Drew Erdman
Devan Flanders
Maurice Freeman
Lincoln Gula
Morgan Harford
Thomas Harvey
Hunter Latkanich
Alec McLay
Tavian Mozie
Travis Pettit
Christopher Rendulic
Anthony Sambuchini
Philip Savini
Theodore Speeney
Jacob Stefanick
Alan VanSickle
Robert Wolfson
Bachelor of Arts in Communications
Bachelor of Science in Criminal Justice
Kristina Aeschbacher
Kelsey Holp
Lauren Mastowski
Haley Miller
JTaya Pirl
Hayden Rhodes
Hailie Rusko
Danielle Whittaker
Associate degree in Electrical Engineering Technology
Bachelor of Science in Electro-mechanical Engineering Technology
Bradley Adams
Kayla Barbabella
Steven Fabian
Ralph Fisher, Veteran
Tanner Hauger
Jesse Linders-Heck
Ian Megela
Mitchell Minda
Drew Nickelson
Vincent Patula
Bradley Poling
Kenneth Seliga
Jonathan Taylor
Lacy Zitney
Bachelor of Science in Human Development and Family Studies
Cassandra Blystone
Julie Conn
Emily Franks
Jennifer Kelley
Joelle Rosky
Ahrean Saunders
Associate degree in Letters, Arts, and Sciences
Bachelor of Science in Nursing
Amber Adams
Mary Allison
Jadyn Barnish
Bailey Conaway
Haley Costello
Megan Crawford
Alaina Cubbage
Julie Dimatteo
Cassie Fisher
Maria Gresh
Taylor Howser
Hillary Humbertson
Gwyneth Komula
Olivia Lewis
Haleigh Lindsay
Brandi Lowry
Emily McClaren
Anna Poorbaugh
Hayley Riba
Kirstin Rozell
Brianna Sanner
Emma Shenal
Hailey Siba
Brittany Silbaugh
Mary Stephenson
Preslie Stoken
Chelsey Taylor
Anastasia Tobin
Allex Tressler
Evan Voyten
Kalsie Walker
Madison Yezek
Gabrielle Yourish
Gillian Yourish
Associate degree in Physical Therapist Assistant
Colton Bittner
Joseph Roy
Hunter Sapp
Morgan Sherbondy
Vanessa Simon
Ly Thanh
Drew Yauger
Bachelor of Science in Project and Supply Chain Management
Bachelor of Art in Psychology
Bachelor of Science in Psychology
Holly Chapman
Sarah Franks
Adriana Gebe
Taylor Smith
Blake Victor