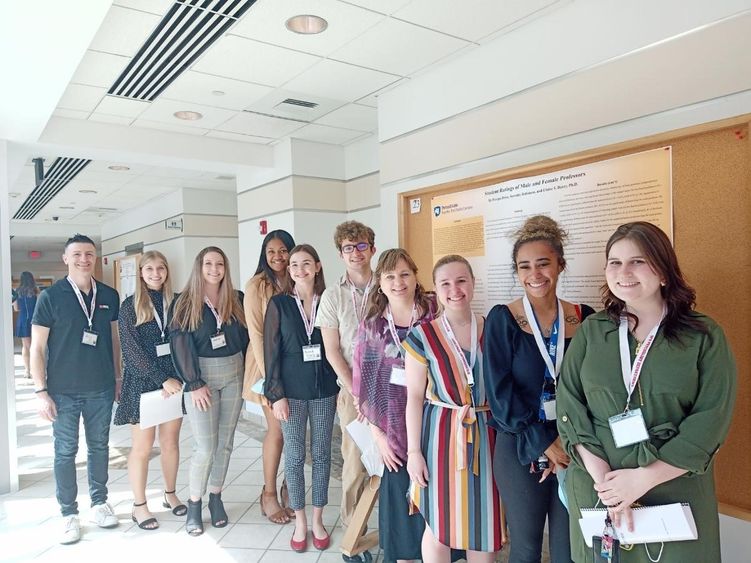 LEMONT FURNACE, Pa. — Eight students from Penn State Fayette, The Eberly Campus, presented undergraduate research projects at the 24th-annual Laurel Highlands Undergraduate Psychology Conference, hosted by St. Francis University in Loretto, Pennsylvania.
Idan Shalev, associate professor of biobehavioral health at Penn State, delivered the keynote address, titled "Biopsychosocial consequences of early-life adversity: new insights from the science of aging."
Psychology research
Sophomore Kenadi Erdely presented "Advertising Health Warnings Successfully to Smokers: Using Habituation to Guide Message Reception," for which she received second place in Fayette's Spring 2022 Learning Fair.
"Smoking remains a prevalent problem for many today, despite several approaches for curbing this health problem. Fear-inducing text appeals and graphic health warnings are two of the methods being used to reduce the occurrence of smoking, but their effectiveness wanes because consumers no longer notice the warnings anymore due to habituation and its wear-out effects," said Erdely. "Habituation research suggests, to dishabituate consumers to the labels, and increase their effectiveness, the text and pictures on the labels should be periodically rotated."
Junior psychology student Kerstin Nutt, from Uniontown, presented "Comparing Treatment Methods for Childhood Sexual Abuse," for which she also received second place in the Spring 2022 Learning Fair.
"Presenting at a conference was exciting and it was a great experience being able to talk with other undergraduate students and faculty within the psychology field," said Nutt. "My experience with undergraduate research is teaching me the skills I will need to find relevant information about trauma therapies when I am a counselor. Additionally, I am learning the skills to continue my education and research as I pursue a Ph.D."
Adriana Gebe presented "How is Perceived Sense of Control Related to Student Stress and Academic Performance?," for which she received the Penn State Fayette 2022 Student Excellence Award, and also "Can Virtual Reality be Used to Successfully Treat Agoraphobia?" Gebe, from Connellsville, graduated this spring with a bachelor of science in psychology.
"This conference was one of the highlights of my entire undergraduate experience," said Gebe. "There are certain graduate programs that require students to have conference experience in order to apply, so attending this conference has opened many doors for me regarding my potential graduate school options. This experience will certainly help me in the future when I will have to do more important presentations, or even present more research at a graduate level."
"In addition to learning to talk to others about their research work and interests, the conference experience allows students to meet like-minded peers from other universities and learn from them," said Aris Karagiorgakis, assistant teaching professor of psychology, who mentored Erdely, Gebe and Nutt. "But, to me, the big picture is that the students get to see how conferences are used to make progress in science."
"The big picture is that the students get to see how conferences are used to make progress in science."

—Aris Karagiorgakis , assistant teaching professor of psychology
Human Development and Family Studies (HDFS) research
Students Mary Byers, Tyler Miller and Ashley Stangroom presented "Student Attitudes about Cheating."
"Participants were given a survey listing 10 questions about their attitudes surrounding cheating and teacher performances of either online or face-to-face classes," said Byers, a sophomore from Uniontown. "The results showed that participants believed it was easier for students to cheat in an online format compared to a face-to-face format, and that they felt more disappointed when cheating occurred face-to-face than online. It was also reported that participants felt that face-to-face professors were more enthusiastic teachers compared to online."
Students Pasepa Driso, Brooke Parvin and Serenity Robinson presented "Student Evaluations of Male and Female Professors," investigating the hypothesis that, according to the abstract, "male professors typically receive higher teaching evaluation scores than female professors, especially in large classes."
"I believe it is important to have students do hands-on research experiences, and present them whenever possible, because research creates new knowledge," said Elaine Barry, associate professor of HDFS, who mentored Driso, Parvin, Robinson, Byers, Miller and Stangroom. "By understanding the research process through skills-based learning, students learn to value critical thinking and how to ask and answer scientific questions with more than just 'book learning.'"