Carlos Rodriguez and Linda Work Rooker named Outstanding Alumnus and Outstanding Fellow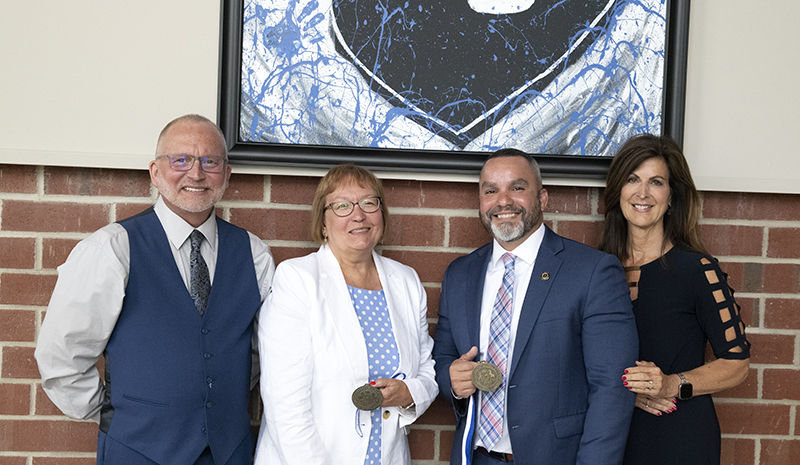 LEMONT FURNACE, Pa. — The Advisory Board of Penn State Fayette, The Eberly Campus has named Carlos Rodriguez and Linda Work Rooker, respectively, as the 2022 recipients of the Outstanding Alumna and Outstanding Fellow awards.
2022 Outstanding Alumnus: Carlos Rodriguez
Established in 1985, the Outstanding Alumnus award honors former students of the campus whose subsequent professional achievement warrants special recognition by their alma mater.
Carlos Rodriguez earned a bachelor of science degree in business administration from Penn State Fayette in 2002. He went on to earn an MBA in project management from Grantham University.
In his position in Penn State's Applied Research Laboratory (ARL) Distributed Engineering Center, Rodriguez worked with Fayette County manufacturers to identify capabilities in manufacturing engineering components for use in ARL's design of the U.S. Navy's Countermeasure Anti-Torpedo Torpedo, part of a defense system that can find and destroy a wake-homing torpedo.
In 2006, Rodriguez relocated to State College, Pennsylvania, to serve as business manager of ARL's Undersea Weapons Office where he oversaw finance, administration and business operations.
In 2009, Rodriguez went to Washington, D.C. to pursue a career in the federal government in budget and finance, holding positions with multiple federal agencies, including the Department of Homeland Security, Office of Personnel Management and Department of Housing and Urban Development.
He held leadership positions where he exercised principal authority for directing and coordinating financial operations activities, including formulation, execution, monitoring and presentation of multibillion-dollar budgets.
Rodriguez retired from the United States Army in April 2020 after 21 years of distinguished service as an engineering officer. He served overseas in multiple deployments to Iraq and Afghanistan in support of the Global War on Terrorism, earning him numerous decorations, including the NATO medal for service, numerous commendation medals, and the Department of State Superior Honor Award, to mention a few.
In 2021, Rodriguez returned to Penn State and is currently serving as assistant vice president and executive director of budget and planning for Penn State's Commonwealth Campuses. He and his husband, Josh, live in Port Matilda, Pennsylvania.
2022 Outstanding Fellow: Linda Work Rooker
Established in 1985, the Outstanding Fellow award honors a community leader whose support of the campus had been so exemplary as to warrant special recognition. In lieu of an honorary degree, this award is the highest honor the campus bestows.
Linda Work Rooker, daughter of the late James E. Work Sr. and Joanne Ferguson Work, was raised on a dairy farm in Uniontown with her brothers Bill and Bob and their late brother Jim.
Rooker graduated from Laurel Highlands High School in 1969 and earned a bachelor of science degree in animal industries from Penn State in 1973. She was a member of Collegiate 4-H, recording secretary of the Block & Bridle Club and member of the 1971 Meats Judging Team and the 1972 Livestock and Horse Judging Team. Linda participated each spring in the Little International Livestock Exposition, conducted by Block & Bridle Club, serving as catalog editor for the 56th Little International.
After graduation, Rooker moved to Kansas City, Missouri, to work as registrar for the American Chianina Association. While there, she met her husband, Keith Rooker. Married for 45 years, their family includes son Kyle and his wife, Jen; son Kevin and his wife, Mandy; and daughter Kristi and her husband, Rob. Linda and Keith Rooker have five grandchildren: Piper, Cohen, Sadie Jo, Wyatt and Kendall.
Rooker recently completed her 39th tax season with H&R Block. She is an enrolled agent with the IRS and, through the years, has been an instructor, office manager and tax professional. For the past 30 years, she has also worked as a bookkeeper and office manager for Radcliffe Law, DeHaas Law and Monaghan & Monaghan.
Rooker is part owner, with her brothers Bill and Bob, of Work Land & Cattle Co. and Work Enterprises Inc. She is a member of Asbury United Methodist Church where she has served on the Finance Committee. She has served as president, vice president and secretary of Uniontown College Club.
Rooker was president and secretary of R. W. Clark PTO, treasurer of LH Football Boosters, secretary of the Laurel Highlands Academic Foundation and co-chairman of LH Community Spirit Day and Advisor, along with her husband, of the PA Junior Polled Hereford Association.
Rooker has had a lifelong involvement with 4-H and the Fayette County Fair. She has been a 4-H leader for over 25 years and is currently the organizational leader for the Fayette County 4-H Beef Club. She has served as president of the Fayette County Extension Advisory Board, treasurer and secretary of the Fayette County 4-H Advisory Board, co-chair of the Fayette County Livestock Sale Committee and a member of the Fayette County 4-H Livestock Scholarship Committee.
She has been a member of the Fayette County Fair Board for 19 years. Her responsibilities currently include serving as board treasurer, co-chair of the Judges Committee, co-chair of the Space Rental, Marketing and Livestock Committees, as well as overseeing the daily operations of the fair office during the summer.
Rooker is a lifetime member of the Penn State Alumni Association and the Penn State Stockmen's Club. She has served on the Advisory Board of Penn State Fayette since 2010. In 2015, she and her husband established the James E. Work Memorial Award to be presented annually to a student who is pursuing an education in agriculture.