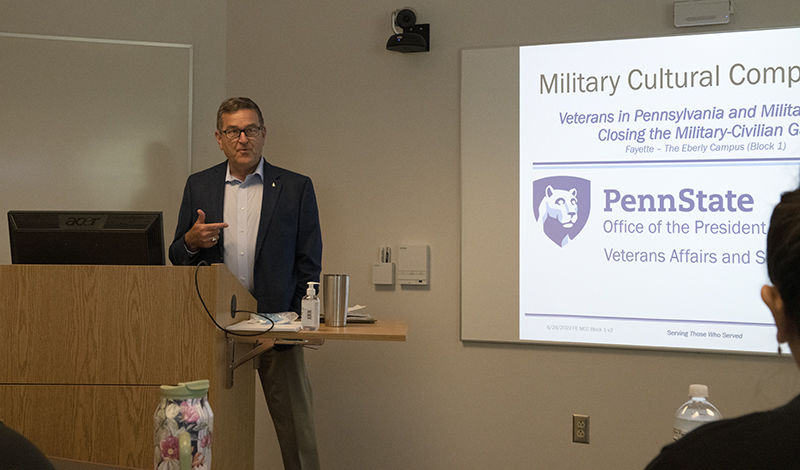 LEMONT FURNACE, Pa. — Penn State Fayette, The Eberly Campus hosted the Veteran Ally Program on June 28 for faculty and staff. The two-hour training opportunity is facilitated by Eugene McFeely, senior director of Veterans Affairs and Services at Penn State.
"The Veteran Ally Program engages participants in topics about our military-connected students at Penn State and creates a campus network of individuals who are passionate about supporting our military-connected students," said McFeely. "The more we know about our different student populations—what strengths they bring to our community and what challenges they face—the better able we are to have meaningful interactions with them and to help them succeed on their higher education journey."
The program explores areas of Military Cultural Competency (MCC), such as service experience, military and veteran myths and stereotypes, and the challenges related to the transition from service to college.
For example, active service members often face interruptions in academic progress and financial aid, and so may require help navigating University resources.
Similarly, student veterans may struggle with the transition from military to civilian life. The average student veteran is between 24 and 28 years old and enlisted directly out of high school. This population is at risk of atrophied academic skills and lack of confidence.
"While in the service, their mission brings purpose, their rank and job provide their place in the hierarchy, their unit provides camaraderie and support, and the shared hardships of service reinforce that bond," said McFeely. "But when they transition back to civilian life, the student veteran must find their new identity in the civilian sector and college."
Service members and student veterans may also sustain physical and mental trauma, such as post-traumatic stress and traumatic brain injury, for which accommodations may be necessary.
"The understanding gained through these conversations helps break down barriers and gaps, empowering our faculty and staff to better serve, support, and advocate for our military-connected students at Penn State," said McFeely. "It is imperative that Penn State take a lead role in stewarding our veterans' transition into the future as well as increase awareness about the many ways that veterans have contributed, and will continue contributing, to our nation and this institution."