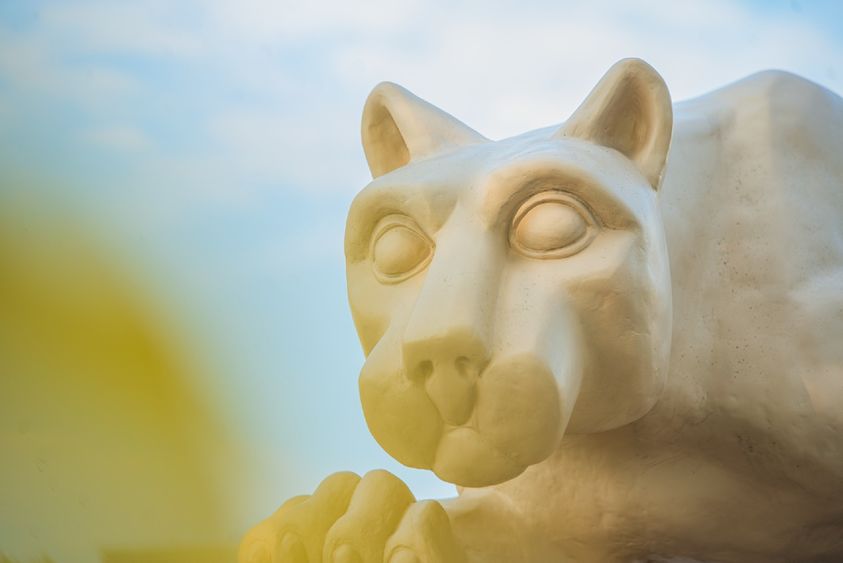 LEMONT FURNACE, Pa. — The Penn State Fayette and United Bank 4.0 Club was established in 2011 to recognize students from regional high schools who have completed their sophomore, junior or senior years with a cumulative grade-point average of 4.0 or higher.
During the pandemic, the campus honored inductees with a virtual recognition program. On July 19, the highly anticipated ceremony and celebratory dinner for guests and families returned to the Community Center.
The event, hosted annually by the enrollment management team, featured guest speakers Chancellor Charles Patrick, alumna Haley Miller and Student Government Association President Maria Catalina.
This year, a total of 242 inductees represented 15 regional high schools. Penn State Fayette and United Bank congratulate the 2022 cohort on their academic achievement:
Albert Gallatin High School
Sydney N. Ardabell
Riley Ann Armstrong
Jason L. Bowlin
Katelyn Burnsworth
Lauren Colgan
Anthony John Crago
Violet Dawn Dubois
Autumn Sierra Raine Foster
Jenna Rae Gibson
Tristan Gribble
Brayden Hellen
Elyse Hughes
Jonah Michael Hughes
Cole Jarrett
Greyson Jarrett
Emily Paige Jobes
Sarah Johns
Ryan Joseph Kefover
Roewynn Kemp
Blair Kotarsky
Mara Addiley Larew
Gabrielle Sophia Marilungo
Laura Beth Mildren
Mia Grace Moser
Ashley Myers
Hudson Gregory Newcomer
Hannah Elizabeth O'Neil
Caiden Clark Rizer
Kaelyn Elizabeth Rozgony
Christopher Santos
Ashli Nicole Shaffer
Gavin Wade Smith
Grayson Lillian Elizabeth Smith
Rachael Rae Smith
Brooke Snyder
James Matthew Enriquez Standish
Mia Elizabeth Swanson
Madison Kathleen Takovich
Savannah Marie Tracy
Caeden Williams
Laney Marie Wilson
Seth Patrick Wolf
Belle Vernon High School
Stephen Michael Anderson Jr.
Braden Andrews
Zachary Bird
Elena Teresa Bobin
Abby Byers
Jaylin Rose Cheesebrough
Alex Chovan
Jack Chovan
Emma Jo Conklin
Gage Ryan Converso
Isabella Marie Formato
Ava Karnes
Ashlyn Kotch
Viva S. Kreis
Sienna Rose Lehner
Luciano Lopez
Martyna Maley
Luke Mastin
Scott Mastin
William Jack Moffatt
Marco Mucci
Jessica Leigh Phillips
Kaleah Renee Reynolds
Kayla Ann Robare
Teagan Schmitt
Lily Alisa Shahan
Abigail Elizabeth Showman
Maria Sophia Spedaliere
Nathan Stanchfield
Cameron James Tilson
Bentworth High School
Yeshua Putra Kyrana Biu
Kathryn Victoria Boidock
Sydney DiNardo
Emily Kisner
Emily Paquet
Addison Quinn
Neshawn Vaden
Vincent Vito
Bethlehem Center High School
Tyler Lee Berish
Evalee Binns
Jordan Francis Centofanti
Callie Nicole Dorsey
Kaylee Greene
Jayce Hundertmark
Justine Hundertmark
Jacob Tyler Makusenka
Casey Lynn Patterson
Anthony Austin Petaccia
Domonik Modesto Revi
Lindsay Grace Richardson
Natalia Jade Sumey
Nicholas Wrenshall
Brownsville Area High School
Talen Theodore Bagwell
Rylie Bednar
Kylie Ann Bodnovich
Alexander Booker
Anna Clister
Azyia Dade
Kylie J. Dennis
Jayden Ava Dillinger
Preston Walker Evanchak
Bryce Fisher
Aaliyah Daelynn Kelley
Logan Alexander Kremposky
Ethan Duane Olesko
Delaney Faith Reposky
Ian Joeseph Ryan
Megan Sawka
Sarah Nicole Sawka
Carolyna Marsell Thomas
Michael Dean Ulery
Carmichaels Area High School
Andrew Jeffery Donaldson
Daniel Hetrick
Haley Marie Sanner
Charleroi Area High School
Alexa Marie Barber
Bella Antonia Carroto
Maggie Cooper
Erica Gray
Laura Lynn Hermann
Madalynn Grace Lancy
Dominic McKita
Connellsville Area High School
Abigail Grace Albright
Colin William Baldwin
Robert Leonard Barron, Jr.
Kaylynn Jodale Bryner
Luke Dowden
Wilson William Garrity
Zoey Elizabeth Hughes
Lukas Alan Joseph
Nicole Knopsnider
Alexander J. Loy
Benjamin Alan Metzger
Jaylee Moorhead
Hailey Christine Murray
Emma Michelle Nicholson
Kennedy Anne Orndorff
William Porter
Sean Ringer
Kristin Rae Sanner
Kaleb Matthew Shultz
Kaelyn Marie Smith
Faith Vinoverski
Frazier High School
Faith Marie Bachinski
Makaylah Bailey
Brayden Anthony Basso
Aubrey Jean Baumiller
Gregory Scott Beal
Olivia Marie Brasil-Paroda
Ryan Celaschi
Brian Patrick Gardner
Breanna G. Gibson
Lucas James Giovannelli
Olivia Louise Girasia
Tanner James Hayes
Taylor Lynn Hazelbaker
Lanie M. Howard
Karmen Amelia Kudyba
Anthony Muccioli
Kenzyee Murphy
Sheila Kaye Nixon
Robert Lee Ohler
Krishna Patel
Wayne A. Peffer III
Adam Ryan Phillips
Sydney Ann Polkabla
Claire Puskar
Talia Julianne Rishel
Luca Bella Ritchie
Zakary Michael Thompson
Delaney B. Warnick
Michael Robert Weister
Hayleigh Nicole Workman
Geibel Catholic Junior-Senior High School
Victoria Anne Brown
Grace Catherine Cline
Elora C. Glad
Amanda May Hoffer
Thomas Kolencik
Emily Elizabeth Manack
Michael John Miller
Tessa O'Nell
Gracie Angeline Rodriguez
Kharisma Rebecca Zylka
Jefferson Morgan Jr/Sr High School
Shawn A. Andrews
Eric Basiorka
Kaileigh Marie Coneybeer
Evan Duke
Jacie Kay Manning
Laurel Highlands High School
Emma Androsik
Delaney Angel
Nathan Luke Ashton
Bailey Cameron Balint
Madison Renee Bellotti
Ethan Butter
Jadeyn Clymer
Zoe Coffman
Richard Cook
Julie Cooper
Ava Crofcheck
Gianna D'Annolfo
Sophia D'Annolfo
Nevaeh David
Sienna Grace Dean
Chloe Milan Deguia
Abigail Dunkard
Cameron Ferris
Haley Rose Filcheck
Nicholas John Fleszar
Yelena Ford
Dominic Georgiana
Christopher James Gesk
Parker Gilleland
Valentina Gulino
Shelby L. Hall
Nicholas Robert Harim
Korbyn M. Henry
Brianna Rose Hensh
Cooper Tomden Hunt
Mia Beth Johnston
Casey Beau Karwatske
Maggie Renee Knight
Ava Marie Kolencik
Austin Michael Koposko
Frank Pete Kula
Timothy John Lacek
Preston Levi Lauffer
Bailey Ann Lemansky
Erilyn Machesky
Mareesa D. Marra
Maddox McAllister
Madison McClean
Addison Claire Milsom
Cecilia Esther Mrosko
Maura Elizabeth Nagle
Mackenzie Nicklow
Madison Nicklow
Braeden O'Brien
Aubriana Elyse Pesuti
Hannah Proud
Harry Radcliffe
Jaden Ringer
Madison Satsatin
Rocco Fred Angelo Schad
Matthew Schwertfeger
Nathan Schwertfeger
Drake Douglas Shaffer
Matthew Powel South
Robert Leo Sterbutzel
Riley Sue Tolbert
Skyler Wilson
Thatcher Wilson
Uniontown Area High School
Emily Marie Angelo
Darian Brewer
Vincent Paul Cossell
Christian William DeVincent
Isabelle Joy Jones
Parker Daniel King
Jocelyn Marie Park
Elizabeth Marie Perkins
Serena Marie Taylor
Washington High School
Geoffrey Marcus Brown
K'Nisha Brown
Cheyenne B. Desmond
Michael Bryan Shallcross
West Greene High School