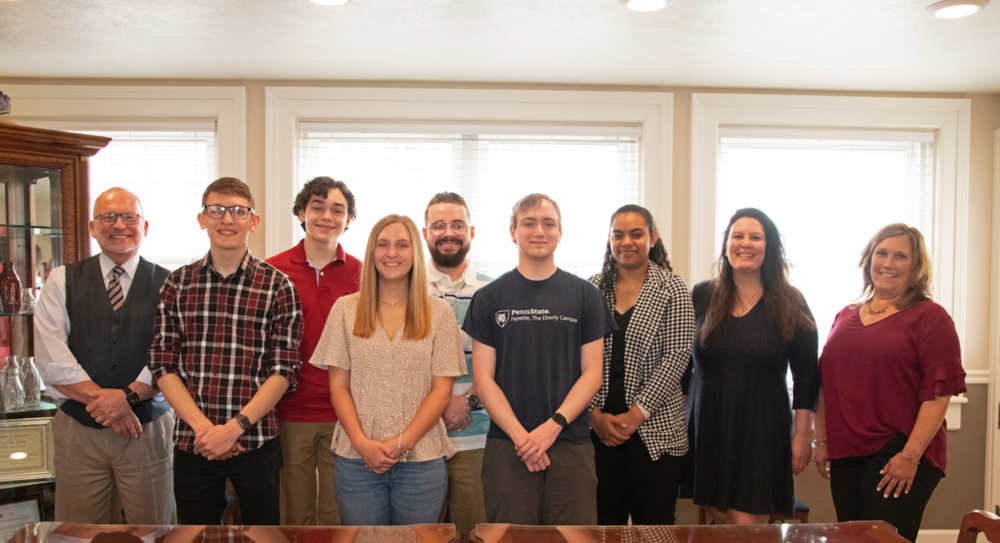 LEMONT FURNACE, Pa. — Six students from Penn State Fayette, The Eberly Campus participated in the third-annual mentorship program at Fayette LaunchBox for six weeks this summer.
Fayette LaunchBox is a no-cost business accelerator designed to help regional entrepreneurs and University affiliates develop their ideas into commercially viable products and services. The facility is a joint venture between Penn State and the Fay-Penn Economic Development Council, under the Invent Penn State program, which encompasses 21 similar accommodations across the commonwealth.
The invitation-only mentorship program, which provides students with microgrants and resources to develop their promising entrepreneurial ideas, is an initiative to generate more technology-based startups in the region.
"This was the first year that we had students build prototypes, attend entrepreneurial training, complete research papers and pitch videos," said Kaplan, assistant teaching professor in corporate communication, who co-directs the Fayette LaunchBox program with Barbara Kolar, director of outreach and continuing education. "Students learned about how to fund a business through crowdfunding, how to market a business on social media and about the lean startup method."
The cohort attended workshops at the LaunchBox facilitated by University and community entrepreneurs, including "What is Crowdfunding?" (Matt Verlinich, Innovation Works); "The Importance of Digital Marketing" (Shannon Sankey, Penn State Fayette); and "Entrepreneurial Planning" (Afshan Khan, Innovation Works); and "Branding" (Rachel Kaplan, Penn State Fayette).
Students submitted weekly journal entries, conferenced with mentors and group members, completed scholarly and industry reading, developed business reports and marketing plans and crafted "investor-ready" video pitches, which will be entered into the 2023 Penn State Startup Competition.
I got to experience different aspects of the research environment, meet people and learn new things to help put myself forward in the future.

—Brandy Sickles , 2022 Fayette LaunchBox Summer Mentorship Cohort
Brandy Sickles, Jacob Levendosky and Matthew D'Annolfo worked as a team under the supervision of Ajaya Warrier, assistant teaching professor of chemistry, to study the photocycloaddition, or light reaction, of naphthalene and maleic acid. Their work previously won first place in the research category of the Spring 2022 Learning Fair.
"I got to experience different aspects of the research environment, meet people and learn new things to help put myself forward in the future. By participating in the Launchbox program, I feel like I have a better feel for what to expect when moving up to University Park this fall," said Sickles, from McClellandtown, Pennsylvania, who expects to graduate in 2024 with a Bachelor of Science in veterinary and biomedical sciences.
Joshua Heller worked under the supervision of Rasoul Milasi, assistant professor in electrical engineering, to research and design an affordable, contactless thermometer for COVID-19 screening. He utilized sensors and microcontrollers to program the system and modeled the prototype using 3D printing technology.
"This mentorship program showed me just how helpful the resources are at the Fayette LaunchBox. It helped me take what I learned in my classes and apply it to a real-life situation, as I used my programming and problem-solving skills that I learned in class to create the prototype for the product," said Heller, from Dunbar, Pennsylvania. He expects to graduate in 2024 with a Bachelor of Science in electro-mechanical engineering technology (EMET).
Joshua Krause used the opportunity to complete a prototype of a simulator that recreates the childhood game "red light, green light" using a motion sensor.
"This program gave me a chance to expand on the concepts of the engineering degree and business minor I am pursuing. It helped me gain knowledge in things that can be beneficial to my process in the future. I now have a direction or some starting guidance on what to do in starting my own business," said Krause, from Connellsville, Pennsylvania. He expects to graduate in 2024.
Salanieta Waqanivalu created a motion detection safety sensor for her swimming pool, which triggers an LED light, buzzer and mobile notification. Professor Milasi advised her, along with Heller and Krause.
"The main highlight of this research was being able to see the visions and goals I had in the beginning come to life. It pushed me to use all my resources to make this product work within the given time period. This experience has helped change the way I think when approaching and solving a problem," said Waqanivalu, who was born in Fiji and expects to graduate with a Bachelor of Science in EMET in 2023.
To learn more, visit https://fayette.psu.edu/launchbox. To request information about Fayette LaunchBox, email [email protected] or call 724-437-7913.