Josephine Pindro, who attended Penn State Fayette for two years before transitioning to the University Park campus, completed her internship experience with support from a Student Engagement Network grant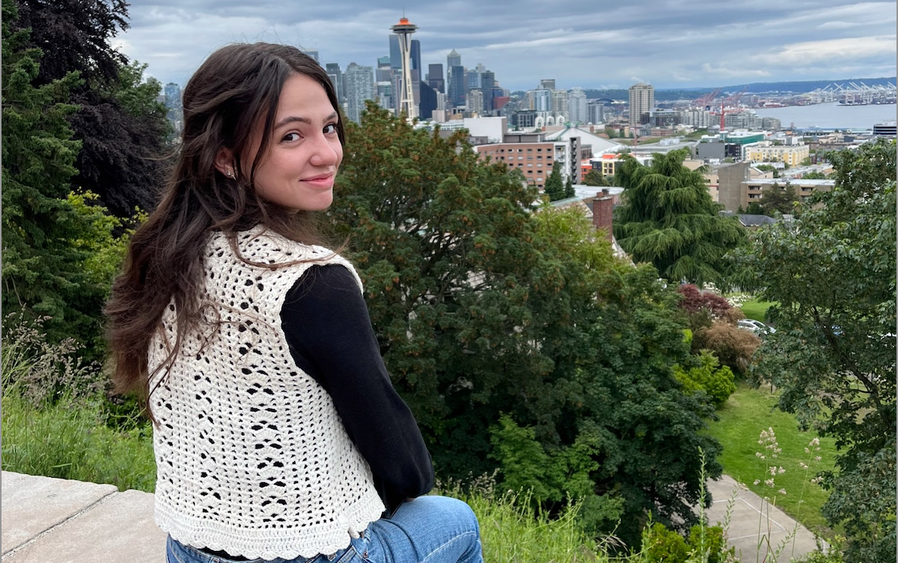 LEMONT FURNACE, Pa. — Engineering student Josephine Pindro received a grant from Penn State's Student Engagement Network to support her internship at Boeing, a leader in aircraft manufacturing, in Washington state this summer.
The Student Engagement Network awards funding to support undergraduate engagement experiences throughout the year, such as research, internships, creative projects, volunteerism, travel and more.
In February, Pindro applied to a local listing for an internship at ArgonST, a subsidiary of Boeing, located in Smithfield, Pennsylvania. She learned that the position would take her across the country to Everett, Washington, where she would work as an industrial engineering intern at the main manufacturing site for Boeing Commercial Airplanes.
"I worked in the Interiors Responsibility Center, which is responsible for the fabrication of the airplane interiors for every program except the 787," she said.
"Every day, I was able to interact with experienced mechanics and engineers to understand how an order for a part from the master schedule went through the process of becoming a completed stowbin, closest or sidewall. I was able to use industrial engineering tools like facilities layout, value stream mapping and work measurement to work on projects."
Pindro was even given the opportunity to tour the Boeing plant and see the components she helped to manufacture be installed on airplanes in final assembly and delivered to customers.
"This experience has enhanced my studies and future career. When I began working in Washington, I had to do a lot of on- and off-the-job learning to catch up on the basic fundamentals of industrial engineering. By the end of the summer, I felt confident in what I had learned at Boeing to start my first semester of industrial engineering classes."
Pindro is from Hopwood, Pennsylvania, and attended Geibel Catholic High School. She studied at Penn State Fayette for two years before moving to the University Park campus, where she expects to graduate in spring 2024 with a bachelor of science degree in industrial engineering.
She plans to move to a city and find employment in industrial engineering or supply chain management at a company that produces consumer projects. As part of her grant terms, she created a poster and video to educate other students about opportunities available through the Student Engagement Network.
Click here to see examples of previously funded projects. Students are encouraged to explore and discover engagement opportunities on the Engagement App, available on the App Store and Google Play.
The application for a spring 2023 SEN grant opens on Nov. 21 and closes on Dec. 18. Notifications for award decisions will be made the week of Jan. 9. For more information, visit the SEN grant program website.
The Student Engagement Network is a joint initiative between Undergraduate Education, Student Affairs, and Outreach and Online Education. The mission of the Student Engagement Network is to advance the power of participation by connecting students with experiences that empower them to make a positive impact as citizens and leaders of the world.