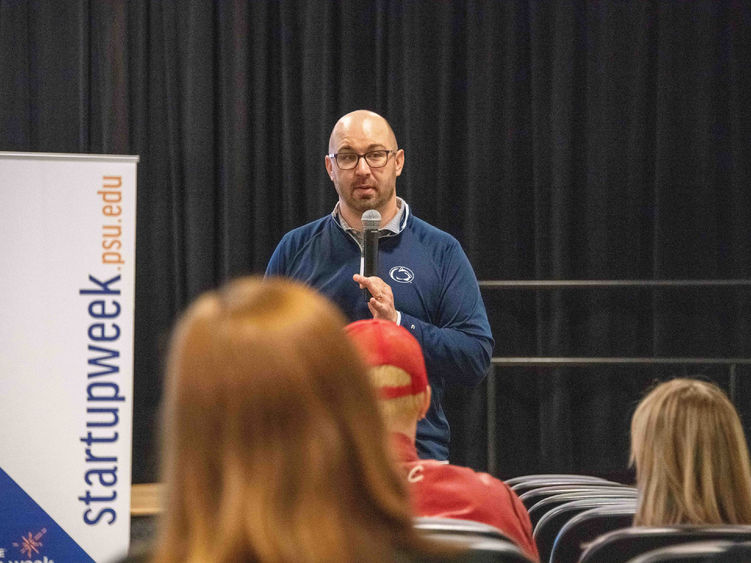 LEMONT FURNACE, Pa. - On March 22, Fayette LaunchBox and the Readiness Institute jointly organized a professional skill-building workshop as part of Invent Penn State Startup Week 2023 at Penn State Fayette, The Eberly Campus.
The event featured Justin Aglio, interim vice president of outreach and executive director of the Readiness Institute at Penn State, who shared his expertise on starting and growing a successful business.
Invent Penn State Startup Week is a week-long event that brings together entrepreneurs, investors, and industry experts to celebrate and support startups in Pennsylvania. The event is organized by Penn State, and it features a range of activities, including keynote speeches, workshops, pitch competitions, and networking events.
"Startup Week presents a valuable opportunity for our students to engage with entrepreneurial concepts. This year, we were fortunate to collaborate with the Penn State Fayette Business Club," said Rachel Kaplan, who is heavily involved in coordinating on-campus entrepreneurial events. "Professor Bill Gardner and Kenadi Erdely, president of the business club, were both instrumental in ensuring the success of this event. One of our primary goals is to encourage students to consider the potential benefits of pursuing entrepreneurship after graduation."
Entrepreneurs and business owners attending the workshop had the opportunity to discover proven strategies and practical tips that could help them take their business to the next level. Whether attendees were just starting out or looking to scale up, the workshop provided a perfect chance to network and gain a fresh perspective on what it takes to succeed in today's competitive market.
Erdely shared her insights on the club's participation in Startup Week and the critical skills students should develop. She said, "When Kaplan mentioned the opportunity for the Business Club to be involved in Startup Week, I knew I had to jump on it. I wanted to embrace different avenues of business this year but had a hard time finding meaningful activities people would actually participate in. This brought about the entrepreneurial side of business I hadn't touched on yet in a format that students don't always encounter."
Erdely believes that while Penn State teaches valuable skills, it is essential to maintain flexibility. "Having abilities like interpersonal skills, communication skills, critical thinking skills, and problem-solving skills are going to be valuable in any future venture. However, being able to adapt those skills slightly to fit the job, the audience, or the task is what will make any businessperson, especially entrepreneurs, thrive."
Overall, the workshop was a great success, with attendees gaining valuable knowledge and new connections. The Fayette LaunchBox and Readiness Institute, as well as the larger Invent Penn State Startup Week event, look forward to hosting similar events in the future and continuing to support local entrepreneurs and business owners.