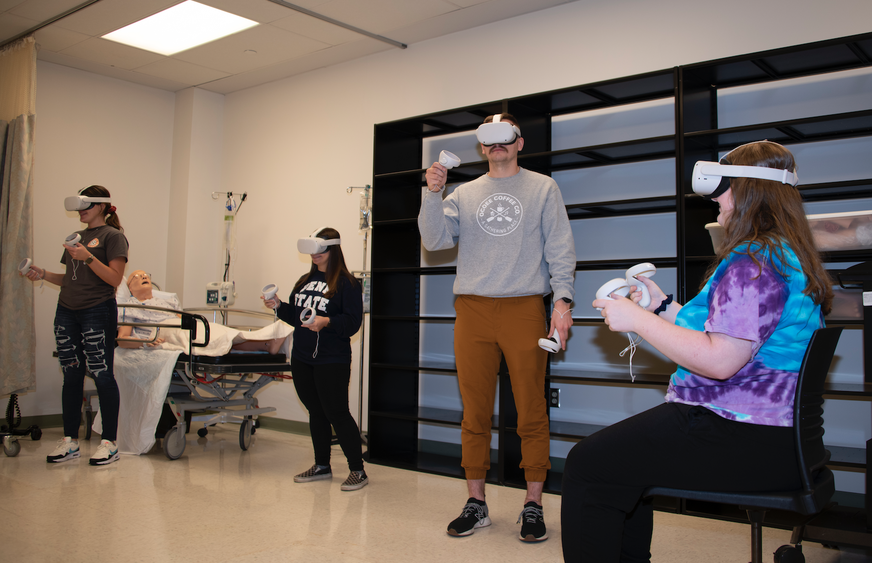 LEMONT FURNACE, Pa. — Students in the Ross and Carol Nese College of Nursing at Penn State Fayette, The Eberly Campus are navigating simulated clinical and cultural experiences using virtual reality technology.
In 2021, the Fayette nursing program was awarded a $5,000 Teaching Transformation and Innovation Grant from the Schreyer Institute for Teaching Excellence, as part of a joint project with the Behrend Campus, to cover the cost of the software.
The campus owns seven Oculus Quest 2 headsets with hand controls, which display 1832 x 1920 pixels per eye to enable multiplayer games, productivity tools and 360-degree videos. Library Services maintains the equipment.
"We have been early adopters in running an integrated nursing experience using virtual reality and used this resource for the first time in the Fall of 2021," said Valerie Vanderhoff, assistant teaching professor and chair of Penn State's Simulation Committee. "We felt that the future trend may be that we need to embrace virtual reality as a supplement to clinical experiences and as a teaching pedagogy. We have several designated spaces on campus for VR engagement."
Vanderhoff has implemented the technology to simulate multiplayer clinical experiences that help students cultivate clinical judgment skills in a safe and accessible setting. Students receive information regarding the scenario they will engage with prior to entering the VR world. In the simulation arena, this step is called pre-briefing. Students then enter into a 20-minute exercise where a student can enter a virtual patient care area and evaluate a patient in distress.
"The student can ask the patient questions, perform a physical examination and review medical history records. The student can then make a plethora of decisions based on this information that will result in a positive or negative outcome for the patient," said Vanderhoff.
If the patient declines, the student will need to administer CPR, intravenous fluids, or oxygen. Details—like a telephone in the room to call a physician or a sink in the corner to wash your hands—enhance the simulation.
An important component of these exercises is reflection, adds Vanderhoff. The student must enter a virtual debriefing room to validate their clinical choices or collaboratively identify deficits.
"It's a really engaging experience," said Abigail Bradley-Rash, a fourth-year student from Lakelyn, Pennsylvania. "I think it helps to build confidence."
Beginning in 2022, Vanderhoff began incorporating VR in the classroom to support the University's justice, equity, diversity and inclusion (JEDI) initiatives. Fourth-level nursing students must select from a menu of 360-degree videos that explore LGBTQIA+, homelessness, immigration, human trafficking, and more.
"The purpose is to expose students to populations that they may not have interacted with or hold bias against," said Vanderhoff. "Students write a reflection paper that examines how these principles can be applied to health care, particularly to expanding access in Fayette County."
"I watched a video that took me under a bridge where people were experiencing homelessness," said Madelyn Albright, a senior from White, Pennsylvania. Student Ben Witt got to walk through Anne Frank's house and stated "The virtual reality helps you understand a different perspective."
In the future, Vanderhoff hopes to utilize advanced VR software to support skill-building — such as Foley catheter insertion — as well as inter-professional education, which engages professionals from various fields and cultures in collaboration and teamwork.
"With VR, we can engage learners from anywhere in the world in real-time learning activities," she said. "Learners can come together from multiple disciplines and cultures to gain knowledge and experience at a fraction of the cost of traveling to a foreign country or a high-level simulation center."