The Artist's Proof: Vinnie Bagwell presents the Rev. James Lawson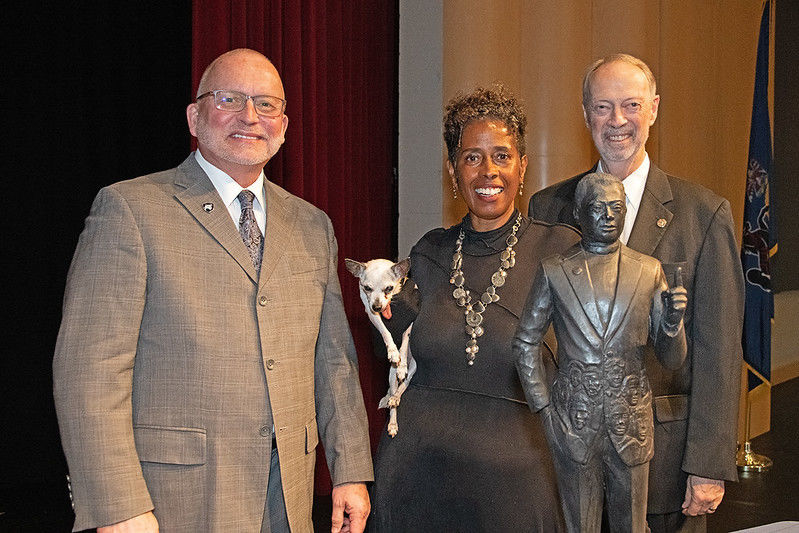 LEMONT FURNACE, Pa. — The Eberly Foundation, in partnership with Penn State, has commissioned a bronze sculpture of prominent Civil Rights icon the Rev. James Lawson Jr. to be installed at Penn State Fayette, The Eberly Campus in late 2023. American sculptor Vinnie Bagwell was selected to complete the work.
On Nov. 4, Bagwell visited campus for a presentation of her one-third-scale maquette design of the life-sized bronze sculpture of Lawson, who joined the event remotely from his home in California.
"I am astonished at this day. I give thanks for it," said Lawson. "I hope this work will represent and embody a sign — a symbol, a hope, a movement — that will transform our land into the imagery of life, liberty and the pursuit of happiness."
About the Rev. James Lawson Jr.
Lawson was born on Sept. 22, 1928 in Uniontown, where his father, the Rev. J.M. Lawson Sr., was a pastor at the John Wesley AME Zion Church from 1928-30. The family moved to Massillon, Ohio, where the young James Lawson grew up and received his ministry license while still in high school. During his first year in college in 1947, he began reading about Ghandi's methods of nonviolent resistance to affect social change.
Following parole from prison in 1952 for refusing to register for the draft according to the U.S. Selective Service Act, he traveled to India for missionary work as a coach and physical education teacher with the United Methodist Church. He returned to the United States in 1956 and continued his studies of Gandhi's methods.
On Feb. 6, 1957, Lawson met Martin Luther King Jr., who encouraged him to lend his nonviolent activism to the expanding civil rights movement in the American south. At that time, Lawson was the only nonviolent organizer and practitioner in the country.
His workshops would empower prominent activists to conduct sit-ins and demonstrations for desegregation across the country — including the Freedom Rides, the March on Washington, Freedom Summer, the Birmingham Campaign, and the Memphis Sanitation strikes where he was a pastor.
Further, Lawson organized the Nashville Student Movement and the Student Nonviolent Coordinating Committee, and he trained many of the future leaders of the Civil Rights Movement — including John Lewis, Diane Nash, Marion Barry, Bernard Lafayette, and James Bevel.
Some of the students, including Nash and then future U.S. Congressman John Lewis, went on to carry out desegregation campaigns in the Deep South using the techniques they had learned from Lawson. He met with Attorney General Robert F. Kennedy, who influenced President John F. Kennedy to declare an executive order that passengers be able to sit anywhere on public transportation.
In 1957, Lawson counseled the Little Rock 9, a group of nine Black students who enrolled at formerly the all-white Central High School in Little Rock, Arkansas, in September 1957, drawing attention to the movement to desegregate schools. In 1960, Lawson was awarded a Bachelor of Sacred Theology by Boston College. He moved to Los Angeles in 1974 and served as pastor of Holman United Methodist Church until his retirement in 1999.
He continued his activism in support of the labor movement, reproductive and LGTBQ+ rights, immigrants' rights and more. In 2004, Lawson received the Community of Christ International Peace Award. In 2021, UCLA's Labor Center's historic MacArthur Park building was officially named the UCLA James Lawson Jr. Worker Justice Center in his honor.
Looking Forward
"It is a true privilege to partner with the Eberly Foundation to honor the legacy of the Civil Rights icon [the] Reverend James Lawson," said Charles Patrick, chancellor and chief academic officer. "For the campus and region, this legacy tribute is an opportunity to share a vision of peaceful activism and to incorporate [the] Reverend Lawson's story into the academic and cocurricular elements of the campus and community," he said.
Bagwell presented her maquette of what will be the life-sized bronze sculpture, which features the young Lawson in a suit emblazoned, in bas-relief, with the faces of dozens of key Civil Rights leaders, including Martin Luther King Jr., and the founding members of the Student Nonviolent Coordinating Committee. Additionally, Lawson's iconic quote, "I am a man" is depicted on the picket signs of protestors.
I am astonished at this day. I give thanks for it. I hope this work will represent and embody a sign — a symbol, a hope, a movement — that will transform our land into the imagery of life, liberty and the pursuit of happiness.

—The Rev. James Lawson Jr.
"This piece will be a destination for learning," said Bagwell. "Visitors will be reminded of some of those most meaningful and rewarding moments in America's growth toward inclusion for African Americans. People will be inspired to reflect upon our quantum leaps in progress as beneficiaries of the work Lawson and others have struggled to accomplish in America."
Robert Eberly Jr., president of The Eberly Foundation, was in attendance, along with prominent community leaders and members of the Penn State Fayette Advisory Board. Members of the audience were invited to ask the artist questions, and a reception followed the event.
The campus plans to invite Lawson to visit the campus for an official unveiling and celebration of the sculpture in 2023. Visit www.fayette.psu.edu/lawson-sculpture to learn more.