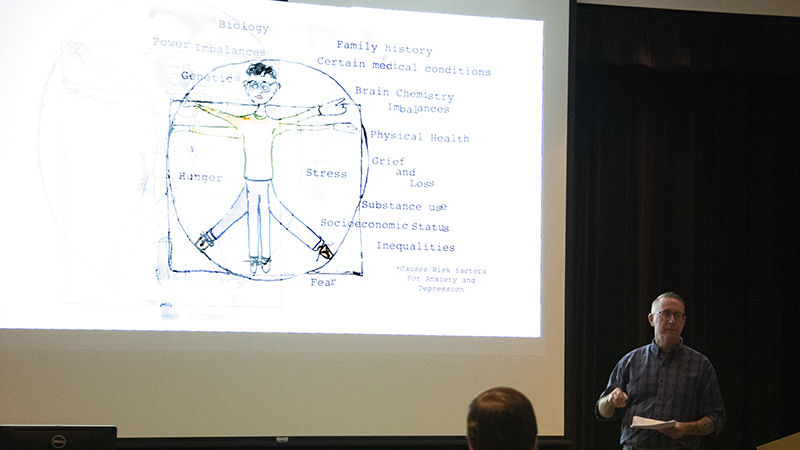 LEMONT FURNACE, Pa. — William J. Doan, the 2019-20 Penn State Laureate, presented "The Anxiety Project: An Artist's Look at Mental Health and Wellness" at Penn State Fayette, The Eberly Campus on March 3.
"The Anxiety Project" explores the experience of anxiety and depression using a combination of personal experience and research into the complex world of mental health. The project includes over 400 original drawings, several graphic medicine publications in the Annals of Internal Medicine, and a live performance.
"The intersections of art, science, and health are where I make creative work informed by research and scholarship," said Doan. "It is in these spaces where important questions of aesthetics, ethics, and representation lead to sustained collaborations with other artists, scientists, health care professionals, and audiences."
Doan is a professor of theater in the College of Arts and Architecture and artist-in-residence in the College of Nursing. He is a past president of the Association for Theatre in Higher Education and a fellow in the College of Fellows of The American Theatre. He has co-authored three books and has written several plays and scholarly articles.
He shared a series of original, impressionistic drawings from his life as a sufferer of depression and anxiety, along with a spirited message of hope -- achieved through understanding, vulnerability, and community.
"We have to stay connected to each other if we want to help," he said. "Learning to be all of who you are may well be what it means to be human."
Each academic year, the University designates a full-time faculty member as Penn State Laureate to travel the commonwealth and bring greater visibility to the arts, humanities, and the University, as well as to his or her own work.