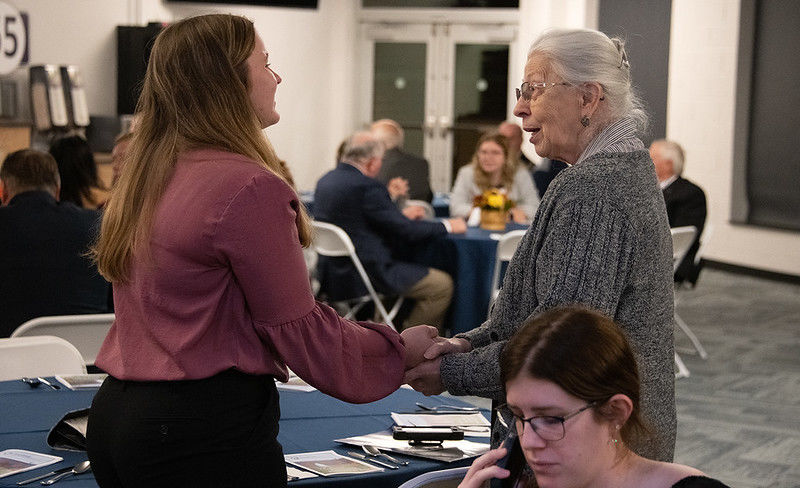 LEMONT FURNACE, Pa. — Penn State Fayette, The Eberly Campus hosted its 13th annual Scholarship Donor Dinner on Nov. 16. The annual event is an opportunity for scholarship donors to meet student beneficiaries and their families.
Terry E. McMillen Sr., president and principal engineer of McMillen Engineering and benefactor of the Terry E. and Denise E. McMillen Trustee Scholarship, delivered the invocation. Lori Omatick, director of development at Penn State Fayette, welcomed an audience of sponsors and students and their families for a celebratory dinner and short program.
Charles E. Hunnell, U.S. Navy veteran and Penn State alumnus, spoke on behalf of the donors.
"Anyone who has the ability and desire should have the opportunity to further their education," said Hunnell, who recently established the Florence Vernon Hunnell Scholarship, in honor of his mother, at Penn State Fayette. He also established the Charles E. Hunnell Open Doors Scholarship for the campus in 2018.
Joshua Simon, a fourth-year corporate communication student, is a recipient of the Alumni Society of the Fayette Campus Scholarship.
"I've spent my entire life in southwestern Pennsylvania, and it's my hope that after graduation I can use my education to uplift the communities I've found myself a part of," said Simon. "These donors fund our research projects, allow us to invest more time into student organizations and even take an occasional mental health day. We are forever thankful."
Simon serves as vice president of the Student Government Association, as well as managing editor of the student newspaper, The Roaring Lion. He works as a marketing communications intern at Fayette LaunchBox powered by Penn State, and he completed an internship in Penn State's Office of Planning, Assessment, and Institutional Research. He also received the 2021–22 Dennis Hippo Memorial Award.
More than 90% of Penn State Fayette students receive some form of financial aid, and the campus awards over 50 scholarships. For more information, visit fayette.psu.edu/tuition-and-financial-aid.
"The generous support of this community, reflected here this evening, is for many students the margin for accessibility to Penn State," said Charles Patrick, chancellor and chief academic officer. "In no small part, your generosity is the reason many students can afford to attend Penn State. For that we say a heartfelt 'thank you.'"
With the record-breaking success of "A Greater Penn State for 21st Century Excellence," which raised $2.2 billion from 2016 to 2022, philanthropy is helping to sustain the University's mission of education, research and service to communities across the commonwealth and around the globe. Scholarships enable Penn State to open doors and welcome students from every background, support for transformative experiences allows students and faculty to fulfill their vast potential for leadership, and gifts toward discovery and excellence help serve and impact the world. To learn more about the impact of giving and the continuing need for support, please visit raise.psu.edu.