Finalists Keyli Portillo and Kerstin Nutt display insightful research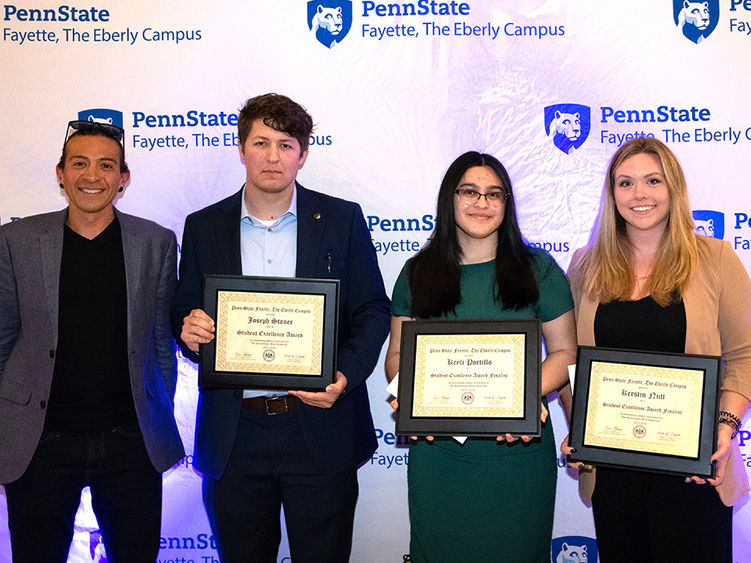 LEMONT FURNACE, Pa. — Penn State Fayette, The Eberly Campus has named Joseph Stoner as the winner of the 2023 Student Excellence Award. The prestigious award not only recognizes exceptional talent among students but also highlights the campus' dedication to providing financial support and making education accessible to all.
Hailing from Scottdale, Pennsylvania, Stoner is a second-year student set to graduate this spring with an associate degree in electrical engineering technology. He earned the prestigious honor for his undergraduate research project, titled "Reverse Engineering Silicone Microchips." As part of the award, Stoner will receive a $1,000 cash prize, and his name will be engraved on a permanent plaque on campus.
Stoner's academic journey will continue at Penn State Fayette as he pursues a bachelor of science in electro-mechanical engineering technology.
Other outstanding finalists for the 2023 Student Excellence Award include Kerstin Nutt, for her insightful research on "How Family Experiences from Childhood are Related to Individual Development of Self-Esteem," and Keyli Portillo, for her thought-provoking study on "Fringe Cases and the Psychology of a Lone Wolf." Each finalist received a cash award of $500.
The Penn State Fayette Student Excellence Award was established to encourage scholastic excellence and recognize the remarkable achievements of Fayette campus students. Administered by the Chancellor's Office, the award is a testament to the campus' ongoing commitment to affordable education and student success.
To be eligible for the award, students must have completed at least 30 credit hours at the Fayette campus within the past four academic years and achieved a cumulative GPA of at least 3.67. Students may receive the award only once in their academic career.
A rigorous selection process ensures that only the most deserving students are recognized. Submitted papers are assigned a point value, ranging from 0.00 to 4.00. The authors of the three highest-scoring papers advance to the colloquium, where they are similarly scored for the quality of their presentations. The finalist with the highest overall score is then chosen as the winner.