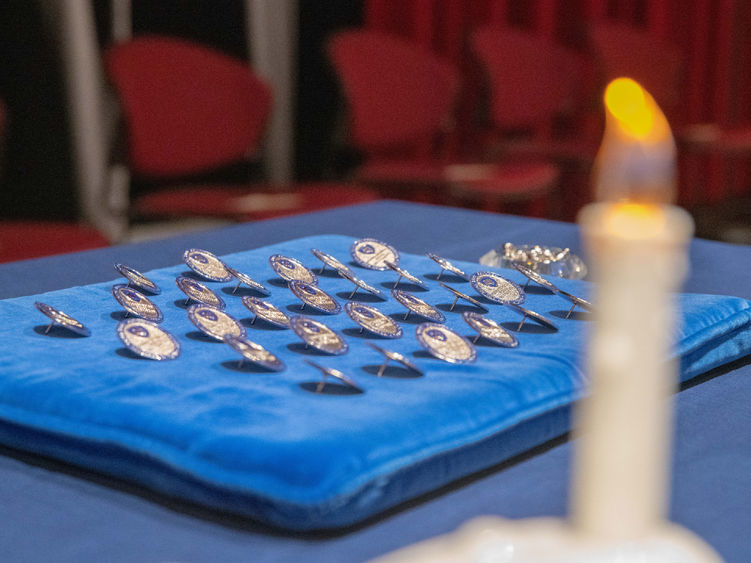 LEMONT FURNACE, Pa. — Penn State Fayette, The Eberly Campus honored 30 nursing students graduating with a bachelor of science degree in nursing during their annual pinning ceremony on May 5.
With respect and integrity, those attending the ceremony recited words from the International Council of Nurses' Pledge, vowing to keep their professional knowledge and skill at the highest level and refrain from any action which might endanger the life of another. The pledge reads: "In the full knowledge of the obligation I am undertaking, I promise to care for the sick with all the skill and understanding I possess, without regard to race, creed, color, politics, or social status, sparing no effort to conserve life, to alleviate suffering, and to promote health."
The pinning ceremony, a time-honored tradition in the nursing profession, symbolizes the transition from nursing student to graduate nurse. It is an opportunity for faculty, family and friends to recognize and honor the achievements of these dedicated individuals as they embark on their new journey.
During the ceremony, each graduate was presented with a nursing pin, a distinctive emblem that serves as a visible reminder of their commitment to the nursing profession. The pins were placed on the graduates by a special person in their life — such as a parent, grandparent, spouse, child or friend — while Nursing Undergraduate Program Director Melissa Miner read aloud the students' personal and rather emotional statement of thanks.
"The pinning ceremony is a wonderful opportunity to celebrate the accomplishment of completing a nursing program and becoming a nurse with family, friends, and faculty," said Miner, who is associate teaching professor in the Ross and Carol Nese College of Nursing.
Following the pinning and graduation ceremony, all students are then expected to apply for and take the National Council Licensure Examination to become a registered nurse.
Participants included
Madelyn Albright
Megan Barron
Madalyn Bartholomai
Rachel Beaumariage
Nicole Bevard
Abigail Bradley-Rash
Cassidi Butler
Brittany Drew
Taylor Eagle
Kayle Eutsey
Sadie Foster
Virginia Haines
Megan Harkins
Bianna Kuhn
Ashley Matheny
Taylor McCormick
Hanna Miller
Priscilla Petitte
Josue Phillips
Brooke Poling
Kalianna Rager
Gabriella Rivero
Megan Roche
Shaelyn Shipley
Michael Standish
Joshua Sterbutzel
Tristin Szabo
Haylee Williams
Benjamin Witt
Torren Yauger
Penn State Fayette's nursing program is renowned for its top-notch education and rigorous training, equipping graduates with the skills and knowledge necessary to excel in their careers.
As a testament to the program's quality, many of these graduates have already secured job offers in various health care settings. With a strong foundation from Penn State Fayette's nursing program, these newly minted professionals are poised to make a significant impact in the healthcare industry and improve the lives of countless individuals in their care.
For more information about the nursing program at Penn State Fayette, visit the program's website or call 724-430-4130 to schedule a campus visit.