Gina Marie Watts and Ronald M. Sheba named award recipients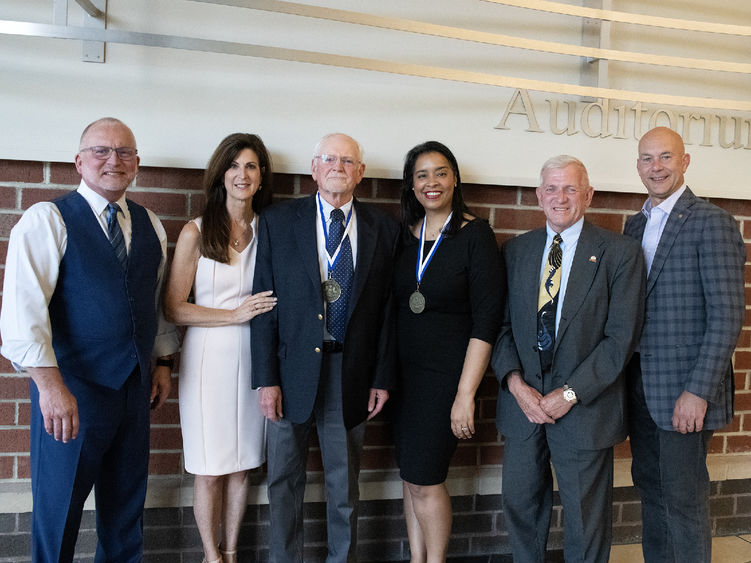 LEMONT FURNACE, Pa. — The Advisory Board of Penn State Fayette has named Gina Marie Watts and Ronald M. Sheba, respectively, as the 2023 recipients of the Outstanding Alumna and Outstanding Fellow awards, presented at the board's annual meeting on May 18 at the campus Community Center in honor of their professional achievements.
Comprised of 32 dedicated individuals, the Advisory Board serves as a vital resource, providing guidance and support to the campus administration. Representing a diverse range of backgrounds and expertise, board members contribute their knowledge and experience to help shape the strategic direction of Penn State Fayette, The Eberly Campus.
Each year, the Advisory Board comes together to honor and celebrate the professional achievements of former students of the campus whose subsequent professional achievement warrants special recognition by their alma mater.
2023 Outstanding Alumna Recipient: Gina Marie Watts
The board bestowed the 39th Outstanding Alumna Award to Gina Marie Watts,who graduated from Penn State Fayette in 2002 with a bachelor of science in human development and family studies (HDFS).
Upon graduation, Watts engaged in service as an AmeriCorps VISTA at Penn State Fayette, where she developed community partnerships and managed significant grants. She furthered her education at the University of Pittsburgh, earning dual master's degrees focusing on social work and public administration.
Watts has held leadership roles on over 20 boards, founded three nonprofit organizations, and has worked with Goodwill Industries of Pittsburgh and various local nonprofits. She returned to Penn State Fayette as a faculty member in the Human Development and Family Studies (HDFS) department and helped develop the Student Success Center.
In 2017, Watts charted a new course as the first global director and faculty for youth programs within the Maxwell Leadership Certified Team. She helped to breathe life into the Global Youth Initiative, touching the lives of over 1.5 million young people across 100 countries.
Presently, Watts stands at the helm of the Vineyard Community Center and Missions Ministry at Vineyard Columbus. Despite her move to Columbus, she continues to extend her hand back to Fayette County, serving on its advisory board and co-creating Lillian's Legacy Fund, which has provided 10 scholarships to Fayette County students since its inception in 2015.
Watts' remarkable dedication to service, leadership and her community led to her receiving the Outstanding Alumna Award.
"It's truly a pleasure to be home, and I'm especially grateful to my entourage for joining me this evening. To my family, I want you to know how much I love you," said Watts upon receiving her award. "You know, I thought that I was transitioning to a life less full when I moved to Columbus. I told the Lord that I would never be a teacher or work for a church, and then I did both. I am so humbled by this honor."
With a smile, Watts turned her attention to the night's other recipient, Ronald M. Sheba. "And to be honored the same night as my buddy, Dr. Sheba. We did a lot together before I transitioned to Columbus. You always showed up for me, from whatever board I was on to whatever project I was doing in the community. You were always there for me, and I will never forget that. Thank you."
2023 Outstanding Fellow Award Recipient: Ronald M. Sheba
Each year, the Advisory Board comes together to honor community leaders whose support of the campus had been so exemplary as to warrant special recognition.
This year, the board selected Ronald M. Sheba for the Outstanding Fellow award. A graduate of California University and the University of Pittsburgh, Sheba's educational accomplishments include a bachelor's degree, a master's in education, and a doctorate in education.
Upon completing his education, Sheba accepted a role with Connellsville Career Technical School, subsequently held a position with the United States Steel Corporation, and later returned to serve as the director of vocational education and superintendent of the Laurel Highlands School District. Post-retirement, he became the director of manpower development at Fay-Penn Economic Development Council.
Sheba's leadership in support of community organizations includes serving on the Penn State Fayette Advisory Board since 2002, St. Vincent de Paul Uniontown Area and Greensburg Council, and numerous other local nonprofits. Currently, in addition to his active role in his local parish, he serves on the Fayette Chamber of Commerce board.
In the sphere of personal life, Sheba shares a strong bond with his wife, Patricia A. Rabatin, and their four sons, all Penn State Fayette alumni. With their nine grandchildren, they uphold a vibrant legacy of community engagement and academic achievement in their hometown.
"Gina, as you had mentioned, we've been partners on many things over the years and I couldn't be happier being recognized for something I love to do with you tonight," said Sheba upon receiving his award.
"I'm honored to be here and to be recognized with so many wonderful past recipients," he added. "It's easy to fall in love with this campus because it is a gem. Some of us take it for granted. Not only does it provide employment for our very solid faculty, it provides opportunities and economic benefits for first-generation students that live and go here."