Dominic Boring reflects on undergraduate and athletic success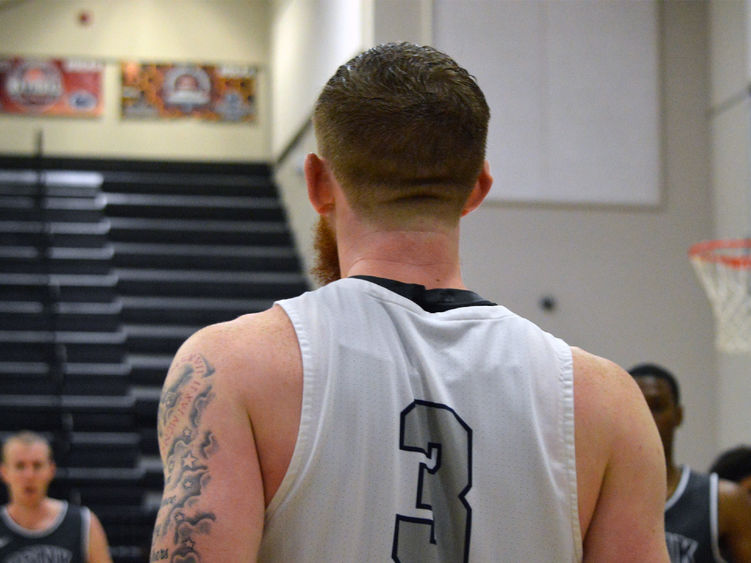 LEMONT FURNACE, Pa. — Dominic Boring, from Lancaster, Ohio, has made quite the name for himself at Penn State Fayette, The Eberly Campus. Having recently graduated, Boring has navigated the journey of higher education with exceptional prowess, earning two baccalaureate degrees in business while also distinguishing himself as a student athlete, earning the All-American Award as an undergraduate. Now, as he gears up to pursue a master's degree in sports management at Pennsylvania Western University, he reflects on the lessons, triumphs and growth from his experience at Penn State Fayette.
Becoming the first in his house to earn a baccalaureate degree was no easy feat. Boring learned to shirk the temptations of procrastination, acclimate to a life far from home and stay committed to his athletic pursuit of basketball through three different coaches.
"There was an adjustment period every year except for the last two," Boring said, recounting his experience on the court. "Every coach runs their system differently. [There are] new defensive schemes and offensive plays to learn."
However, he was quick at making the best out of a tricky situation.
"I think it was good for me," Boring said. "Everything happens for a reason, and this was a great learning experience. College basketball was the main reason I came to Penn State Fayette, so I wouldn't have wanted it any other way."
His resilience was honored by the United States Collegiate Athletic Association (USCAA) earlier this year when Boring received the All-American Award for maintaining a grade point average of 3.5 or higher as a student athlete.
Boring rounded out his fifth year of college with 14 wins under his belt and 950 points total, playing the forward position and serving as the captain on court. Captaincy prepared him for life post-graduation, he said, especially as he looks forward to his journey at Pennsylvania Western University.
"I'm a competitive guy," admitted Boring when asked about his decision to earn a master's degree in sports management. "Staying involved with sports is important to me, whether it's baseball, basketball or football."
Having recently accepted a graduate assistantship with the USCAA, Boring will have the opportunity to apply his passion for sports to the workforce. His role will involve working with the marketing and event planning team, focusing on the execution of numerous championships and ensuring the success of high-profile events.
Although no longer an undergraduate student at Penn State Fayette, Boring acknowledged that the support and guidance he received from staff members such as Samantha Swetz, assistant athletic director, played a crucial role in his success.
"Sam has been like a second mother to me," Boring said. "Whenever I need to talk to somebody or just need advice, I would go down and sit in her office. She also went for the same master's degree that I'm going for, so she's been a lot of help as I go through these steps."
Swetz, reflecting on Boring's journey, expressed her profound pride in his achievements during his time at Fayette. She witnessed firsthand how he persevered through numerous transitions within the men's basketball team over the course of five years and marveled at his remarkable personal growth.
"He went from a student athlete who only cared about basketball and where he could go professionally overseas to a student athlete who took academics seriously," Swetz said. "He found a new opportunity through his experiences at Penn State Fayette."
Swetz said she found a beautiful parallel between her own narrative and Boring's. She credited guidance from Stephen Oberly, the athletic director of Penn State Fayette, for pushing her to take a significant step forward by deciding to pursue a master's degree in sports management from California University of Pennsylvania.
"I felt it was my turn to pay it forward, and I truly believe Dominic will do big things in the athletic career field, and I feel blessed to have been a page in his book," Swetz said.
As Boring transitions to the next chapter of his academic journey, he said he looks forward to further honing his skills and knowledge in sports management. According to Boring, he hopes his competitive nature and passion for sports will fuel his drive to make a significant impact in the industry as a graduate of Penn State Fayette.
Home of a variety of intercollegiate men's and women's sports, Penn State Fayette is home to a variety of intercollegiate men and women's sports. For more information about the athletic programs, visit psfathletics.com or call 724-430-4130.