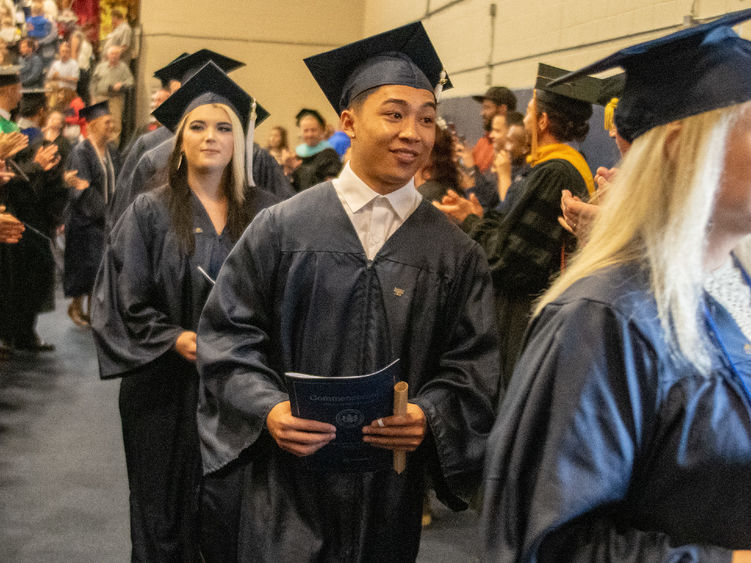 LEMONT FURNACE, Pa. — Unprecedented wildfires, fueled by dry conditions and the southern influence of Hurricane Dora, have ravaged Maui's Lahaina, causing at least 115 deaths and leaving 385 residents missing. Among those affected is Marvin Sidon, a Penn State Fayette, The Eberly Campus alumnus, who has been assisting in community recovery efforts. The wildfires destroyed more than 2,000 buildings and caused an estimated financial impact of up to $6 billion.
Sidon, who graduated with a degree in business marketing from Penn State Fayette, is a current resident of Maui. While he and his family felt prepared for Hurricane Dora, they had not expected such a devastating wildfire.
"The first couple of weeks were tough. We had no electricity and had to go into survival mode," Sidon said. "My childhood home is gone and only the mailbox is left, but I have a 2-year-old daughter who puts a smile on my face. I'm just grateful to see her and that my family's all accounted for."
In the aftermath of the wildfires, Sidon has been helping Maui's local Filipino community navigate the recovery process. Many members of this community face language barriers, which become more pronounced during emergencies.
"I've helped translate for them and directed people toward various hubs for essential supplies like toiletries, baby food and water," Sidon said.
The language barrier is a significant issue, particularly given that many FEMA volunteers and other relief agency staff are primarily English speakers. Sidon's translation services have made it easier for non-English-speaking Filipino residents to understand essential updates from local and federal agencies, keeping them informed about available aid and crucial safety measures.
By guiding families to distribution hubs, Sidon also has helped to expedite their access to essential supplies. This timely assistance is critical, especially when delays could exacerbate the already challenging conditions these families face.
Despite the strides made in short-term recovery, concerns loom as a hurdle in the path forward. The wildfire's impact on the economy of Maui, which relies heavily on tourism, has left many of Lahaina's residents unemployed. Adding another layer to the crisis is the issue of debris removal.
"It's unhealthy for us to stay here; the process of how they're going to let us rebuild is not clear and they haven't even started plowing debris yet," Sidon said. "We had considered moving because we do have family in Oregon and Washington, but right now we're sitting back to see what happens."
Sidon said he appreciates the support he's received from the Penn State community, a network that has influenced his own efforts to give back. While thousands of miles away from his alma mater, the values of community service and outreach he acquired there are being applied directly to his current relief work on Maui.