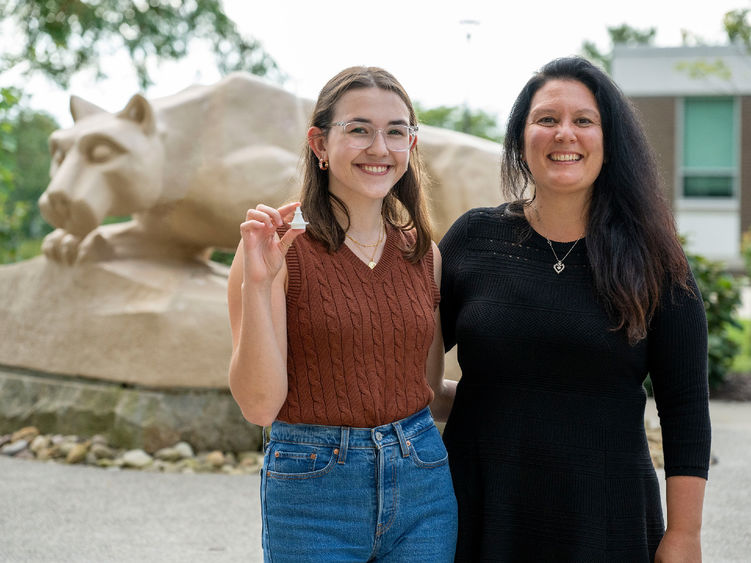 LEMONT FURNACE, Pa. — This summer, Penn State Fayette, The Eberly Campus, had four students participate in the fourth-annual mentorship program at Fayette LaunchBox.
Fayette LaunchBox, a no-cost business accelerator, is a joint venture between Penn State and the Fay-Penn Economic Development Council. Operating under the Invent Penn State initiative, the facility is one of 21 similar spaces aimed at fostering entrepreneurship throughout Pennsylvania.
"The goal of the cohort is to develop products or services for the marketplace. This year was exceptional because the prototypes the students developed were functional and high quality," said Rachel Kaplan, an assistant teaching professor in corporate communication who co-directs the Fayette LaunchBox with Barbara Koffler, director of outreach and continuing education.
"This year our trainings were fantastic. We organized several meetings with different organizations. Innovation Works provided entrepreneurial information to the students. This year was the first year that the UP Legal Clinic provided a training. The students learned about patents, copyright, and the myriad of services the UP Legal Clinic can offer new entrepreneurs," Kaplan added.
Noah Fike, a third-year student majoring in electro-mechanical engineering technology (EMET) from Uniontown, Pennsylvania, developed an automated guitar designed to serve as a teaching aid. The project incorporates a user-friendly touchscreen interface while offering advanced learning capabilities.
"It can make it easier for individuals on tight schedules to learn how to play the guitar," Fike said. "It's suitable for educational settings, providing more intimate learning experiences."
Working under the mentorship of Rasoul Milasi, assistant professor of electrical engineering, Fike sees the project as a substantial undertaking. "We want to make it more advanced than initially intended," Fike said. "It's not just a robot that plays the blues, it's an educational tool with great potential."
Kenadi Erdely, a fourth-year student majoring in business accounting from Perryopolis, Pennsylvania, focused her efforts on revolutionizing a common medical tool — the otoscope speculum.
"My idea is an updated version of the otoscope speculum. An otoscope is the tool medical professionals use to examine your ear, and the disposable piece that actually goes into your ear is the speculum. The idea hasn't been updated since the 1970s and I decided to update it during a project for my engineering design course," Erdely said. "The new version has an ovular stopper that inhibits the tip from going too deep into the ear, in addition to an adhesive that holds the speculum on the otoscope itself. This improves the comfort of the patient, while providing a better experience for the physician, as well."
Erdely acknowledged the crucial role of mentorship in her project's development, particularly praising Rachel Kaplan.
"I worked with Dr. Rachel Kaplan, who has been a tremendous asset to me from the time I brought my project to the 'Shark Tank' event to my time spent with the research cohort," Erdely added.
The mentorship program's grant funding enabled Erdely to delve deeper into aspects like the patenting process, competitive landscape, and material considerations, enriching her project's feasibility and impact.
"The grant allowed me to set a great deal of time aside to work on my project in more ways than one. I was able to spend time researching the patenting process, potential competitors, materials, and other aspects of the product that I just wasn't able to explore before this summer," she said.
Erdely said she envisions her innovation not just as a product, but as a means to improve healthcare experiences across the board.
"This product could improve the lives of patients, doctors, nurses, and various medical professionals. While the idea may be simple, obvious even, it is something that just hasn't been developed. Doctor visits can be frightening for people of all ages, and providing care to those in need can be a daunting endeavor, but if this product can improve the experiences of even a few, it has been worth every issue, bout of frustration, and moment spent developing it," Erdely said.