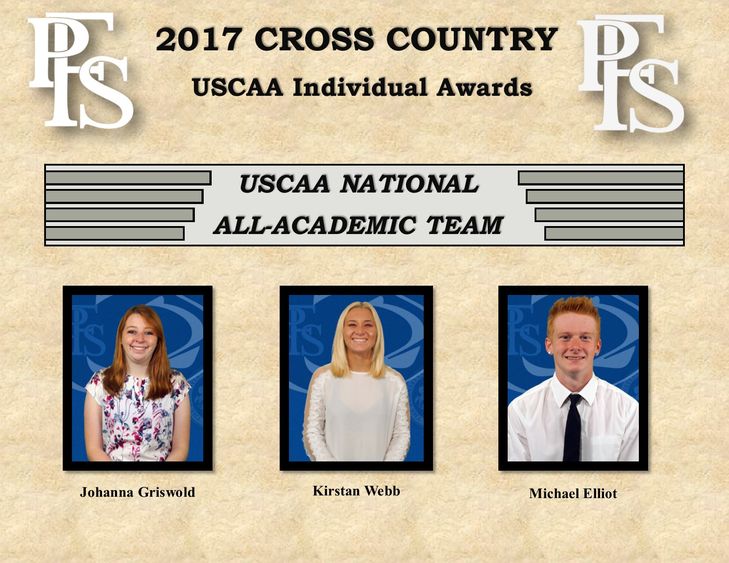 LEMONT FURNACE, Pa. — Penn State Fayette, The Eberly Campus sent the cross-country and volleyball teams to the 2017 United States Collegiate Athletic Association (USCAA) national championships in Virginia Beach last week.
The men's cross-country team, led by Head Coach Joe Carei and Assistant Coach Violet Kern, ran the 8K race on Nov. 10, finishing eighth overall. This marks the first top-10 finish at the national level for the team.
Hot off a recent conference championship win in the Pennsylvania State University Athletic Conference (PSUAC), the men's cross-country team saw three runners finish in the top four: sophomore Devin Pisarski (Connellsville High School), freshman Nyoah Marteny (Frazier High School), and freshman Aaron Mylan (Jefferson Morgan High School), who placed first, second and third, respectively. Sophomore Michael Elliot (Bethlehem-Center High School) and freshman Ty Hunker (Susquehannock High School) finished in ninth and 10th place, respectively.
Sophomore Johanna Griswold (Warwick High School) and senior Kirstan Webb (California High School) joined the 2017 Women's Cross Country National All-Academic Team, and Michael Elliot joined the 2017 Men's Cross Country National All-Academic Team.
Coach Carei was awarded the 2017 USCAA Coach of the Year honor for men's cross-country. Carei has led his team to back-to-back PSUAC titles, and he received the 2016 Coach of the Year title in the PSUAC.
"Coach Joe has worked so hard to resurrect the Penn State Fayette cross-country team over the last three years," said Louis Zadecky, athletic director. "His dedication to his student athletes and our campus is highlighted with this award."
"It gives you a snapshot of what's happening at Penn State Fayette. We recognize athletics as a large part of the academic experience," said Carei. He credits the support of his wife, Stacy, and his children. "They've sacrificed a lot. I'm away with the team every Saturday. But it pays off."
Despite a loss to Penn State Brandywine at the USCAA championships, the women's volleyball team, lead by Head Coach Samantha Swetz and Assistant Coach Janelle Cooper, finished the regular season with a record of 23-7. The team was undefeated at the campus Community Center gymnasium. Sophomore Siteri Tale (Laurel Highlands High School) joined the Second Team, All-American.
For more information, visit www.goroaringlions.com.