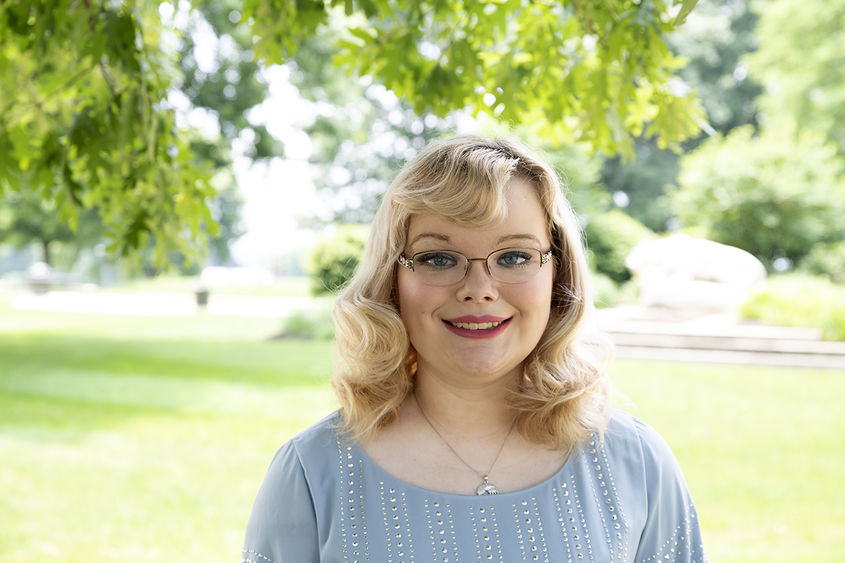 LEMONT FURNACE, Pa. — Bethany Coldren, a former student in the inaugural cohort of the Pathway to Success Summer Start (PaSSS) program at Penn State Fayette, The Eberly Campus, has completed a bachelor of science degree in just three years.
Now in its fourth year of operation across the Penn State system, PaSSS invites eligible incoming freshmen to complete six credits during the summer before their first semester. Participants receive a scholarship of up to $1,500, a book stipend of $400, guaranteed on-campus employment and peer mentorship throughout the academic year.
A student who successfully completes his or her first year may enroll in 12 additional credits during the following summer with a scholarship of up to $3,000. Returning PaSSS students serve as student-mentors to the incoming class.
Fifty percent of Penn State Fayette's students are the first of their families to attend college, for whom the transition from high school to a university setting can be challenging. PaSSS, an initiative by Penn State President Eric Barron, is designed to equip students with a support system, resource literacy and a head start on degree completion.
Bethany Coldren was invited to enroll in PaSSS after graduating from Connellsville High School in 2015. "That summer, I took a mythology course at Penn State Fayette, and it was the first time I got to engage in college-level discussions," she said.
To satisfy her on-campus employment, she worked closely with Cheryl Tkacs, instructional designer, to make academic documents and media accessible to people with visual and hearing impairments.
In the fall, she returned to campus to begin her freshman year in the Human Development and Family Studies program. "I felt ahead of the curve. I was able to help my peers find their way around campus and navigate the format of college classes," said Coldren. "PaSSS gave me the skills to study and think at a higher level. I was able to build on that foundation as classes got harder, as I started my career."
Coldren's new confidence translated to community engagement. She held leadership positions in the Christian Club, winner of 2018 Club of the Year, as well as the Community Interactions Association, known for the annual Community Day event. She was a member of the campus theater group, Lion Players, and the undergraduate honor program. She also presented undergraduate research at the biannual Learning Fair.
She returned to the PaSSS program during the summer before her sophomore year. She worked in the Student Success Center assisting Mary Budinsky, teaching and learning coordinator, and she served as a PaSSS mentor to incoming students.
"Summer PaSSS students stand out in the fall—they are the ones that stop by and say hello to staff members and check in about their experience. They become the experts on campus," said Budinsky. "It was exciting to watch Bethany evolve from a timid freshman into a confident mentor. She helped PaSSS students in subsequent summers understand that is possible to balance academic and extracurricular interests."
Coldren credits Budinsky, along with her Human Development and Family Studies professors, Jo Ann Jankoski and Elaine Barry, with inspiring her to someday pursue a career in higher education.
"Students from the PaSSS program are always welcome additions to my classroom," said Barry. "Bethany was the kind of student that reminds the faculty of why we come to work every day."
Data suggests measurably positive outcomes for PaSSS students compared to traditional incoming freshmen. During their first semester, PaSSS students were more likely to score above a C and successfully complete their credits and less likely to drop a class.
Due to her credit completion in the PaSSS program, Coldren was able to graduate in May 2018, one year ahead of her class. Today, she is a case worker at Fayette County Community Action in Uniontown, working to connect economically disadvantaged individuals with resources. She plans to pursue a master's degree in social work.
"Penn State Fayette was the best place for me to grow because of the family atmosphere," she said. "I want to thank the faculty and staff, and specifically Gwen Shoaf, campus minister, for giving me the support and space to grow. I want to thank my dad, too, for driving me to campus every day. My parents are so grateful for the opportunity I've had to be successful and to give back."
PaSSS is part of the Open Doors campaign, which works to ensure that each student, regardless of heritage, individual characteristics or financial well-being, has access to a timely degree. The program is supported in part by generous donor contributions. For more information about PaSSS, an invitation-only program, visit summerstart.psu.edu.