Now in its second year, PaSSS is offered at nine Penn State campuses as part of president's Plan4 model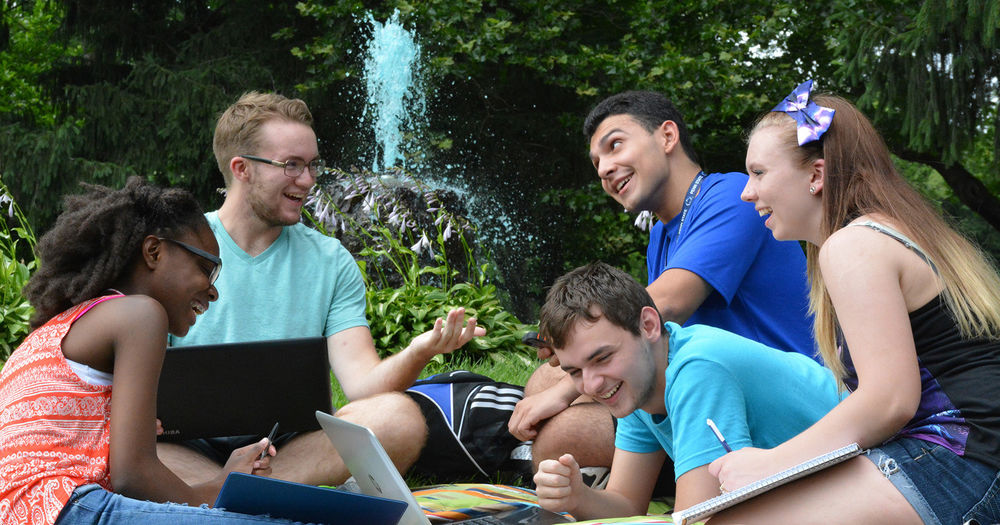 UNIVERSITY PARK, Pa. — This summer, selected students at Penn State's Altoona and York campuses will have the opportunity to get a head start on their first or second years of college by taking summer classes through the Pathway to Success: Summer Start (PaSSS) pilot program.
Now in its second year, PaSSS is offered at nine Penn State campuses and is an important element in Penn State President Eric Barron's program, known as Plan4, aimed at increasing retention and graduation; decreasing the total cost of a degree; decreasing the rate of borrowing and decreasing attrition due to the need for additional money to attend.
PaSSS supports students with unmet financial need by providing a scholarship, a $400 book stipend, mentoring, social activities and on-campus employment. First-year students receive a $1,500 scholarship and take six credits during the summer. Returning students receive a $3,000 scholarship to take from 6-12 credits during the summer, and they may also serve as peer mentors to first-time students.
Darcy Medica, director of academic affairs at Penn State Schuylkill, said that participation in the Schuylkill campus PaSSS program will allow some students to complete their degrees sooner than expected, because they can transfer to the campus where they will graduate sooner.
"This second year of PaSSS is going to give me the required credit limit for my major to transfer to University Park this fall," said sophomore Mitchell Hornberger. "Even though it may seem like you are 'giving up your summer,' I couldn't be happier to have done the PaSSS program."
Medica noted that many program participants have become student leaders.
"Feeling connected to the campus through their summer in PaSSS helped with their overall satisfaction with their first-year experience," she said. "The participant group remains a close-knit one, and they continue to help each other."
Sophomore Jecel Ramossexton said that she was the only freshman at the Schuylkill campus who was president of two student clubs and secretary of another in the fall semester following her PaSSS experience.
"I became a connection for many freshmen once they learned that I knew an abundance of information about campus resources," she said.
"During PaSSS, I was encouraged to 'go outside my comfort zone,' and that's exactly what I did," said sophomore Maddie Vetter, who attends Penn State Hazleton. "During my first year, I started dance club, became the member relations captain for THON, joined the Lion Ambassadors, Student Government Association, Photography Club, and also worked two jobs while being a full-time student and having a great social life."
When Elizabeth Wright, director of academic affairs at the Hazleton campus, asked PaSSS program graduates what advice they would give to this summer's cohort, they said, "go to class, use the library, talk to faculty, manage time wisely, ask for help and believe in yourself."
PaSSS was launched as part of President Eric Barron's access and affordability initiative. The nine campuses that are offering PaSSS this summer are: Altoona, Beaver, Berks, Brandywine, Fayette, Hazleton, Schuylkill, Shenango and York.
"We want to help out the students that have a financial need for this opportunity and may not have another option," said David Christiansen, associate vice president for Commonwealth Campuses and senior associate dean for academic programs.
"Our goal is to increase the likelihood that students graduate and earn their degree on time, potentially saving thousands of dollars in tuition and fees," said Christiansen.
The summer 2015 program served 135 students at six Commonwealth campuses, and preliminary data show positive outcomes:
Students participating in PaSSS were more likely to complete the fall 2015 semester than those who didn't (93.3 percent vs. 83.9 percent).
Students participating in PaSSS were much less likely to drop a fall 2015 class than students who did not participate in the program (11.9 percent vs. 24.2 percent).
Students participating in PaSSS were more likely to have no grade lower than a C in the fall 2015 semester than students who didn't participate in the program (64.3 percent vs. 60.5 percent).
This summer, the program is expected to include 240 first-time students and 68 returning students. Christiansen indicated that the pilot sites were chosen to include unique campus settings — urban, rural, commuter and residential locations are included. Two campuses, Hazleton and York, have enrolled a full cohort and have created a waiting list.
For more information about PaSSS, visit http://summerstart.psu.edu/.