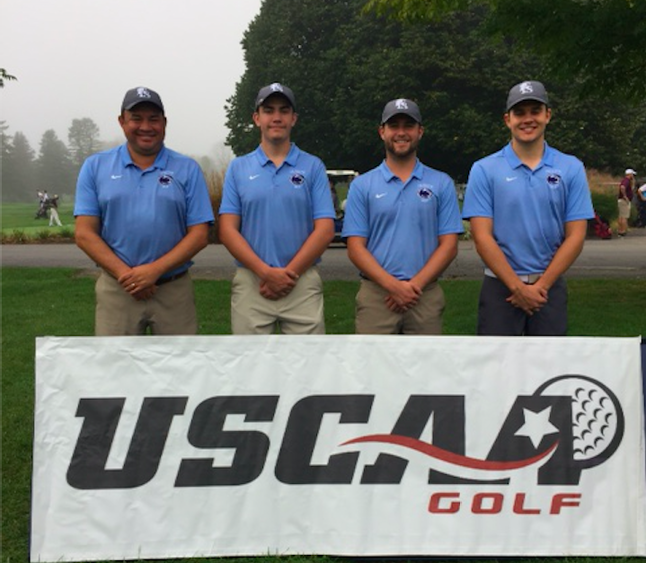 LEMONT FURNACE, Pa. — The golf team at Penn State Fayette, The Eberly Campus, ended the season strong, competing in the United State Collegiate Athletic Association/Penn State University Athletic Conference championship tournament Oct. 8-9 at the Blue Course in State College.
Penn State Fayette led all PSUAC teams after play on day one with a team score of 325 and was tied for ninth place in the USCAA national tournament. Lou Gonzales (Calhoun High School) shot 72, Ryan Gesso (Laurel Highlands High School) shot 77, Noah House (Southmoreland High School) shot 82, and Eric Silbaugh (Uniontown High School) shot 94. Freshman golfers Liam Reshenberg (Geibel Catholic High School) and Pablo Gudiel (Woodrow Wilson High School) provided support during the two-day tournament.
Day two of the tournament resulted in slightly higher scores for Gonzales, Gesso and House (83, 85, and 87 respectively). Silbaugh lowered his score to 89, bringing the team's second day score to 344, and its two-day total to 669.
The Fayette team placed fourth in the PSUAC and 13th in the USCAA national tournament, continuing to improve each year since the golf program was restarted in 2015.
Two players received medals for their two day total scores: Lou Gonzales (155) finished in third place and Ryan Gesso (162) finished in eighth place in the PSUAC Golf Championship.
Fayette held an in-house competition this season called "The Race for the PSF Cup." Points were awarded based on the place each golfer finished at each competition. Gonzales became the first winner of the competition and received a trophy and one dozen golf balls after scoring 390 points throughout the season.
"Our team of seven golfers is committed to play next year, and I hope to add additional players through recruiting," said Dave Gumbert, head coach. "I, along with assistant coaches Al Crawford and Rita Gumbert, look forward to continuing our goal to be number one."