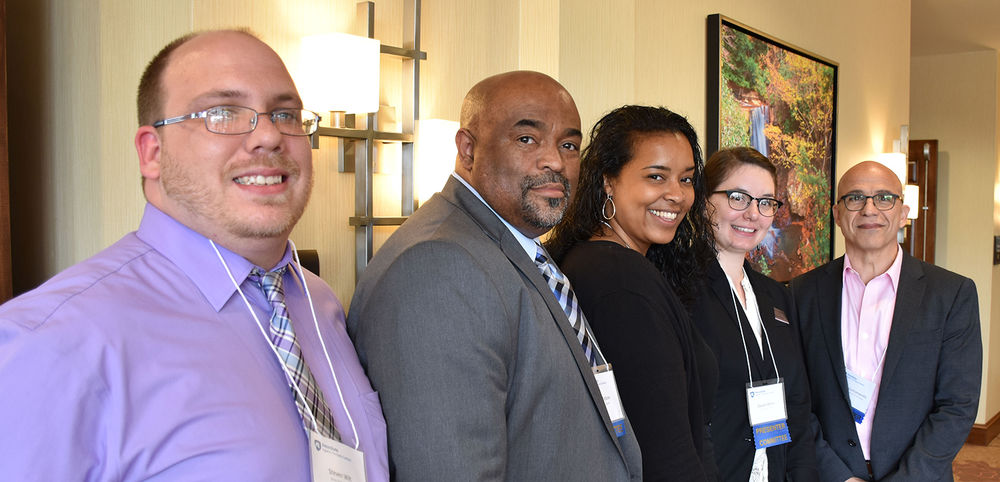 LEMONT FURNACE, Pa. — Nearly 70 college and university administrators attended the Student Success Institute June 2 and 3 at Penn State Fayette, The Eberly Campus, where they networked, learned about resources, and got tangible ideas about how their institutions can help students to become more successful.
Penn State Fayette Chancellor and Chief Academic Officer Charles Patrick was "thrilled" by the turnout for the regional conference. "We've got 18 institutions represented here, with Penn State being just one of them," said Patrick, who noted that employees from eight Penn State campuses attended the event.
The chancellor was particularly impressed by the group of attendees. "I sense the tremendous energy of people who are clearly very interested to know what they can do to make it better at their institutions," he said.
Keynote speaker Manny Contomanolis, senior associate vice president and director of the Rochester Institute of Technology's Office of Career Services and Cooperative Education, spoke about re-imagining student success and the challenges and opportunities facing institutions. He emphasized the importance of collecting and analyzing data, as well as a need to provide students with competencies that will help them to become successful in the global world.
The conference also featured interactive workshops facilitated by leaders from established student success programs at California University of Pennsylvania, Edinboro University, Penn State Mont Alto, and Virginia Commonwealth University, which was represented by Shajuana Payne, who said the Student Success Institute was well organized. She added, "It was engaging and invigorating, and I appreciate that as a participant and as a presenter."
Patrick's emphasis on student success ultimately led to the conference, according to one of its organizers, Gina Jones, career services coordinator at Penn State Fayette. After the chancellor arrived at the Fayette campus in 2014, she and her colleagues began to question whether they were really helping students to reach their goals.
Jones said the topic of student success is trendy, but it is not defined. "Nobody is in agreement with what student success looks like," she said.
"We decided to have a training session where people would come together from the region to share ideas," explained Jones. "But we would identify best practices and people who are doing what we need — and we would bring them together."
Many of those who attended the conference had positive comments at the conclusion of the two-day event.
"I think all the presenters challenged us to do better, whether we fully agreed, or didn't agree, or agreed," noted Marcellus Taylor, assistant director of student activities at Penn State Harrisburg.
The smaller size and the ability to interact with colleagues in the field, as well as with presenters, was what Shannon Musgrove of Bloomsburg University found most appealing about the Student Success Institute.
"For me," Musgrove said, "just connecting and having peer conversations with other professionals gives me an opportunity to utilize some of the key points that I am hearing — not only in the presentations — but actually having those conversations is helping me connect how I am going to use that back at my campus."
Promoting that sort of communication was one of the conference organizers' goals, according to Jones, who is hopeful that Penn State Fayette's Student Success Institute will lead to a greater understanding and ultimately will benefit students and institutions. She said, "I think out of this conference that conversation will continue and we will come up with a true strategy on how to serve students."
According to Patrick, that conversation will continue at the Fayette campus next year and in years to come. He said the campus "loves" hosting this kind of regional event.
"When we say `first annual,' we really mean it, because we're going to do this on an ongoing basis," said Patrick. "Obviously, there is a lot of interest in student success."