Westmoreland Fayette Council awards `Distinguished Citizen' to Charles Patrick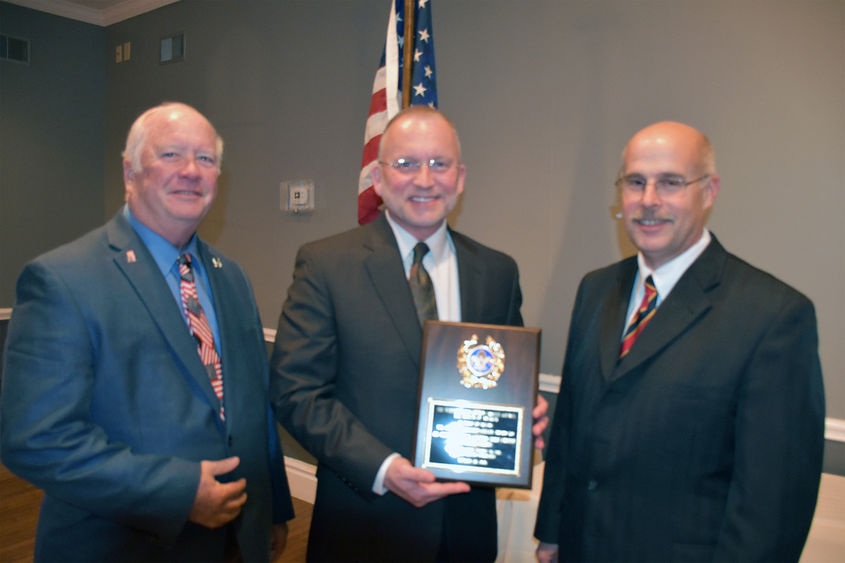 LEMONT FURNACE, Pa. — Scouting has played a significant role in the life of Charles Patrick, chancellor and chief academic officer of Penn State Fayette, The Eberly Campus — from his youth, when he was a Cub Scout and a Boy Scout, to adulthood, when his two sons began Scouting and he served as a leader. So, it was very fitting that the Westmoreland Fayette Council of the Boy Scouts of America chose to honor Patrick at its annual Distinguished Citizen Dinner, held Oct. 27 at the Historic Stone House restaurant.
Patrick's longtime involvement with the organization, surprisingly, did not play a part in his receiving the award because the Distinguished Citizen Award is not actually about Scouting. According to Kristen Eagle, the Council's senior district executive and a member of the award committee, the organization recognizes individuals who have the attributes of a Boy Scout — courteous, kind, brave, reverent, cheerful and friendly.
"We wanted to choose someone who has done a lot for the community," said Eagle, "so we picked Dr. Patrick for what he has done through Penn State Fayette, reaching out to everyone."
Eagle's colleague and fellow committee member, Scout Executive Martin Barbie III, added that the Council looks for nominees associated with organizations that are enduring. He said that selecting Patrick as this year's Distinguished Citizen "was a pretty easy decision, actually," given Penn State Fayette's 51-year influence in southwestern Pennsylvania and beyond.
"We try to pick the person who's making the community a better place," said Barbie.
After being presented with a plaque, Patrick said how honored and thankful he was for being selected. His remarks included warm memories of his days as a Scout, which were filled with laughter, but also with work toward earning merit badges and winning pinewood derbies.
For Patrick, Scouting was as much a part of life as going to church. It was a lifelong affiliation, too, after again becoming involved in the Scouts with his sons. He said that even though the activities were the same — hiking, camping, earning badges, etc. — he saw things from a different perspective as an adult, especially with regard to learning loyalty to God and country and to one another, working toward goals, being proud of what you accomplished and who you are, and respecting others, no matter their background.
Patrick noted that he was too young to fully understand the importance of what the Scouts taught him early in life, but was very glad to realize it later as he watched the organization's effect on his own sons.
"These lessons have stayed with me my entire life and have set a successful path for me," he said. "For years now, I've said that it was college that opened so many doors in my life. And that is absolutely true for my career in higher education as a faculty member and administrator. But the stage for my success in college, earning undergraduate and graduate degrees, was, at least partially, set very early during my Scouting years and the lessons learned."