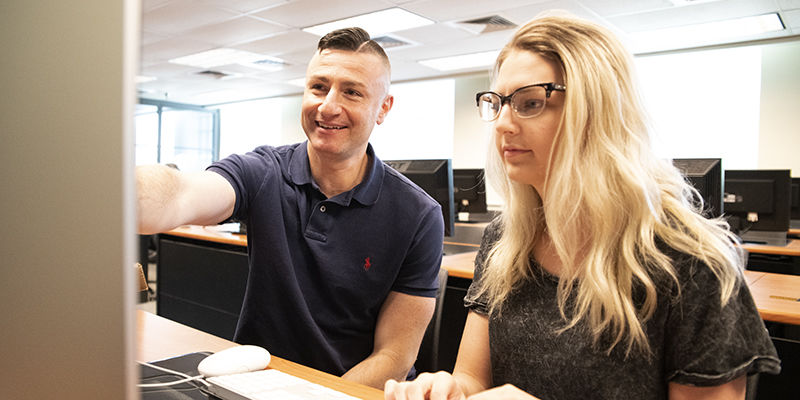 LEMONT FURNACE, Pa. — Kaylee Aaron, a student at Penn State Fayette, The Eberly Campus, has received a 2019 Erickson Discovery Grant awarded by the Office of Undergraduate Education at University Park.
Aaron will receive $3,500 to support her proposed research project, the topic of which will remain undisclosed until completion to preserve research subject naivety in the campus community.
A total of 208 proposals were submitted for an Erickson Discovery Grant, and 78 students across the Penn State system were selected to receive funding. The grant enables students to complete research across disciplines by relieving the burden of living expenses and project costs, such as supplies, software and travel. The proposal process includes conceptualization of a research topic, proposal writing, identification and implementation of research methods, and intended communication of results.
"Kaylee is the third psychology student to win this grant in recent years, indicating that our students are competitive with undergraduate researchers across the Commonwealth Campuses," said Aris Karagiorgakis, assistant teaching professor of psychology at Penn State Fayette. "I'm happy to see this recognition. Our students will do great things."
Aaron will work independently under the supervision of Karagiorgakis during the fall 2019 semester.
"It was very helpful having Dr. Karagiorgakis by my side to answer any questions that I had about the grant proposal process," said Aaron. "Through my research, I'm most looking forward to expanding my knowledge on factors that affect mental health so I can apply it to my future career. "
Aaron is from Rillton, Pennsylvania, and attended Yough Senior High School. She has served as Student Affairs chair, a member of the Student Government Association and Student Activities Committee, an orientation team leader, a peer tutor and resident assistant, and a member of the Fayette THON team. She is a recipient of the 2019 Dennis Hippo Memorial award. She is expected to graduate in 2021 with a bachelor of science in psychology. After graduation, she plans to obtain a master's degree in counseling.
Learn more about undergraduate education at undergrad.psu.edu.