Sarah and Emily Franks made early progress on their degrees through the Penn State's Pathways to Success Summer Start (PaSSS) program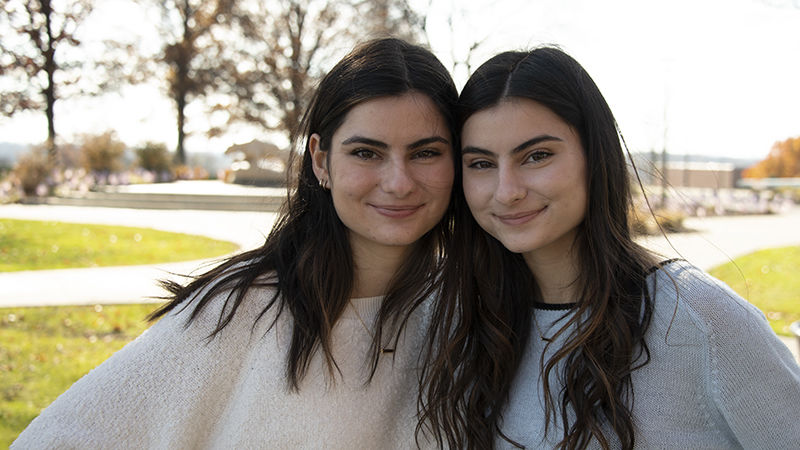 LEMONT FURNACE, Pa. — Twin sisters Sarah and Emily Franks will graduate a semester early from Penn State Fayette, The Eberly Campus this December after participating in accelerated learning opportunities offered by the Pathways to Success Summer Start program (PaSSS).
Pathways to Success Summer Start program (PaSSS)
The PaSSS program, now in its eighth year of operation across the Penn State system, invites eligible incoming first-year students to complete six credits during the summer before their first semester. Participants receive a scholarship of up to $1,500, a book stipend of $400, guaranteed on-campus employment and peer mentorship throughout the academic year.
Students who successfully complete the first year may enroll in 12 additional credits during the following summer with a scholarship of up to $3,000. Returning PaSSS students serve as student-mentors to the incoming class.
Sarah and Emily graduated from Connellsville Area High School in 2018. Though their grandparents studied at Penn State Fayette, they are considered first-generation college students, part of the 50% of Penn State Fayette's student population for whom the transition from high school to a university setting can be challenging. PaSSS, an initiative by Penn State President Eric Barron, is designed to equip students with a support system, resource literacy and a head start on degree completion.
Sarah Franks
Sarah will graduate with a bachelor of science in psychology. She hopes to work as an applied behavioral analysis (ABA) therapist before starting graduate school to become a child psychologist. In addition to peer mentoring in the PaSSS program, she participates in THON, tutors other students, and holds a work-study position in the Student Success Center.
"By joining the PaSSS program, I was able to learn time management and study tips. It allowed me to see how college courses differ from high school courses. This gave me an advantage over my peers because I knew what to expect going into my fall semester and was better prepared because of my time in the program," Sarah said. "PaSSS also helped me with forming relationships with faculty and staff on campus, which helped me move into my first year on campus."
Sarah has completed several undergraduate research projects under the mentorship of Fayette professors. Her recent work on the corporate social responsibility of Disney, with Rachel Kaplan, assistant teaching professor in corporate communication, will be submitted to the Butler Journal of Undergraduate Research. Sarah will present her research, "How behavioral science majors view mental health compared to nonbehavioral science majors," completed under the supervision of Aris Karagiorgakis, assistant teaching professor of psychology, at the Fall 2021 Learning Fair.
"What makes Sarah such a great student and researcher are her intangibles — she is humble, she loves learning, she knows what she doesn't know and she is one of the most teachable students I've had in the last few years," said Karagiorgakis. "She welcomes feedback and thrives from mentorship. I've seen her evolve and develop over the semesters into someone who is going to be successful no matter what she chooses to do in the next step of her future."
Emily Franks
Emily will graduate with a bachelor of science in human development and family studies (HDFS). She plans to pursue a graduate degree and become a child life specialist after working in the field for a year.
"I have always had a passion for working with children and this career will allow me to do that," Emily said. "I can't picture myself in another degree program here at Penn State Fayette. HDFS has allowed me to grow personally and academically."
Like her sister, Emily participates in THON, tutoring, and work-study employment at the Student Success Center. She is the recipient of a 2019–20 second-place Excellence in Informational Literacy award, presented by the Penn State University Libraries. In 2021, she received the Human Development Student of the Year award and the Dennis Hippo Memorial Award.
"I am able to graduate a semester early because I participated in the PaSSS program. I could not recommend this program enough to incoming students. It has really shaped my success on campus and defined what being a student of Penn State Fayette means to me," Emily said.
Emily's undergraduate research, "How Does School Shooting Preparation Affect Students Anxiety and Feelings of Safety in School?," completed with fellow student Joelle Rosky and Maureen Ittig, assistant teaching professor of HDFS, earned second place in the Spring 2020 Learning Fair. Her research with Elaine Barry, associate professor of HDFS, titled "How is Social Media a Mediator in Adolescent Sleep Pattern?" was submitted for the Student Excellence Award.
"Emily exudes a calm, steady leadership among her peers," said Ittig. "She is compassionate and persistent in ways that inspire and lift those around her, including me."
Brandy Burke, administrative support assistant, has served as a supervisor and mentor to the twins, along with Mary Budinsky, learning strategies coordinator.
"Sarah and Emily are amazing ladies. I will miss them tremendously, but I am so excited to see them move on to the next chapter of their lives," said Burke. "I have watched them both grow so much. They now have more confidence in themselves. They are selfless, caring and intelligent, and they're always willing to go out of their way to help others while maintaining high GPAs for their entire college careers. They have been pure assets to the campus. The world is a better place because Sarah and Emily are in it."
For more information about the PaSSS program at Penn State Fayette, visit https://fayette.psu.edu/PaSSS.
"I am able to graduate a semester early because I participated in the PaSSS program. I could not recommend this program enough to incoming students. It has really shaped my success on campus and defined what being a student of Penn State Fayette means to me,."

—Emily Franks , HDFS Student