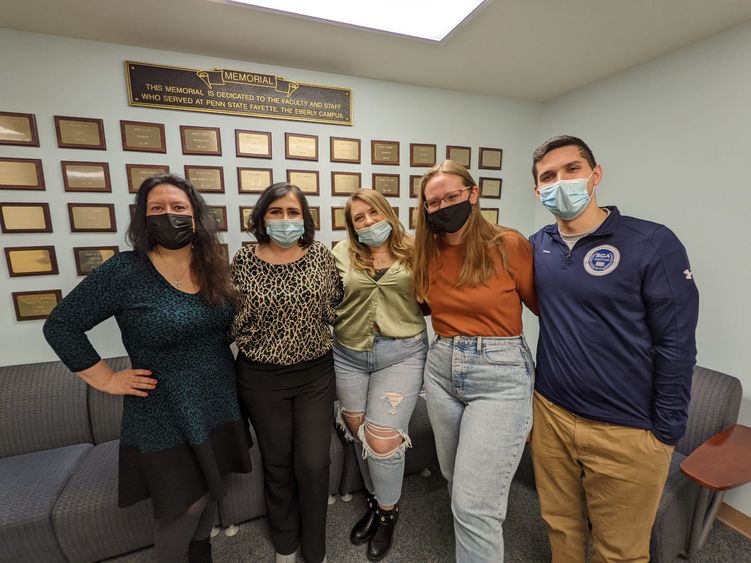 LEMONT FURNACE, Pa. — Recent graduates of the four-year Corporate Communication (B.A.) program at Penn State Fayette, The Eberly Campus, have leveraged undergraduate research, internships and extracurricular activities to secure meaningful employment.
"Corporate communication is a versatile, exciting major that prepares students for careers in public relations, sales, corporate management, human resources, media relations, special events planning, speechwriting, government affairs, and the list goes on," said Melissa Robinson, assistant professor. "We combine theoretical and practical lessons where students craft communication campaigns for real organizations that they'll include in a portfolio, which can help them get an exciting internship experience and future career."
Joshua Hankins, class of 2021
Joshua Hankins, from Phoenix, Arizona, graduated from Penn State Fayette in 2021. While at Fayette, he competed on the men's basketball team and received the 2021 John Fritz Sportsmanship Award from the Pennsylvania State University Athletic Conference.
"The Corporate Communication program prepared me by teaching me the back end of businesses and showing me that it's not only about the education but also the connections you make," Hankins said. "The mentors and connections I have made throughout my Penn State career will help me tremendously moving forward in life."
Today, Hankins works at Cemex, global leader in the building materials industry, where he interned as a student. He serves as a training development professional, which allows him to complete rotations across multiple departments to determine his preferred position.
"Joshua is a bright, energetic, and confident person. He was consistently a leader in class — always well-prepared and willing to participate," said Robinson. "With these skills, Josh was able to land a great internship which translated into a job."
Carlie Durst, class of 2021
Carlie Durst, from Uniontown, Pennsylvania, graduated in 2021 from the Corporate Communication program with a minor in business. As a senior, she received the Corporate Communication Student of the Year award and completed a yearlong internship in the campus' Strategic Communications department. She was also a member of the Lion Players, Lion Ambassadors and Student Government Association.
"Carlie has a high degree of emotional intelligence and is willing to push limits to learn new things. She was highly involved on campus and created numerous projects that she was able to highlight in her digital portfolio after graduation," said Rachel Kaplan, assistant teaching professor in corporate communication.
Carlie now serves as a human resource manager at Home Instead Senior Care in Uniontown, where she recruits, hires and manages caregivers. In February, she visited campus to speak to current students about her success. She plans to pursue a master's degree in corporate communication.
"Dr. Rachel Kaplan was my closest mentor at Penn State Fayette. She taught me so much about the workforce and taught me how to be a successful communication practitioner," said Durst. "At Penn State Fayette, I learned how to be successful in public relations, human resources, social media, and advertising. I feel prepared to follow any job path in my field of expertise."
Noah House, class of 2021
Noah House, from Mount Pleasant, Pennsylvania, graduated from the Corporate Communication program in 2021 with a minor in business management. He was the recipient of several scholarships and a member of the Pi Sigma Phi Honorary Society, the THON team, the Student-Initiated Fee committee, the Student-Athlete Advisory Council and the theater club.
In 2021, he was awarded first place in the inaugural LaunchBox Shark Tank competition for his business plan to develop an educational golf app. He also competed on the golf and track and field teams.
"Noah is skilled at creating presentations and captures the attention of the audience. He is high-energy, engaging, and a hard worker. I believe his strengths have allowed him to be successful in his career," said Kaplan.
House now serves as an account executive at Ford Office Technologies. In the future, he hopes to own his own successful business.
"I drive to help businesses thrive by delivering cutting-edge office technology, solutions and unparalleled customer experiences. I love waking up with the mindset that I get to help people and better myself day in and out," said House. "Penn State Fayette helped me refine my skills, added discipline and structure to my life, and surrounded me with great people that cared about my success."
For more information about the Corporate Communication (B.A.) program at Penn State Fayette, visit the program's website or call 724-430-4130 to schedule a campus visit.