Thanks to art class volunteers, canvas of Washington's grist mill is renewed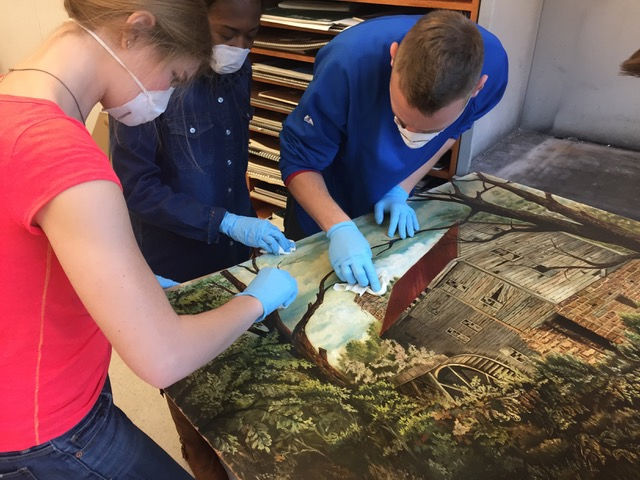 LEMONT FURNACE, Pa. — A 1964 painting of George Washington's local grist mill that had long been displayed inside the Fayette County Courthouse recently got a much-needed touch-up, courtesy of some student volunteers from Patrick Daugherty's ART 010 class at Penn State Fayette, The Eberly Campus.
The acrylic painting on board, which measures 48 by 36 inches, was completed by area artist Frank Zaykosky. It depicts the mill, which was built near Perryopolis from 1774 to 1776 at the behest of Washington. The original mill was rebuilt after it collapsed, and the building now there was dedicated in 1999.
Zaykosky's painting is based on a photograph taken in 1906. Gordon and Carol Getz, and Steve and Shanon Leskinen, all of Georges Township, donated this work to the county.
Daughtery had already been restoring another painting at the Uniontown courthouse when Leskinen, a judge in the Fayette County Court of Common Pleas, asked if he would also clean Zaykosky's grist mill rendering. After taking a look, Daugherty agreed the artwork clearly was in need of cleaning. It later occurred to him that this would be a good project for his Art 010 class, "Introduction to Visual Studies; Pictorial Space and the Principles of Visual Organization."
Responding to their instructor's request were five volunteers: Anna Tale, Ryan Gesso, Mary Wallace, Kori Whitehead and John Yohman. The students used face masks, gloves, cotton cloth and a picture-cleaning solvent, in a room that was properly ventilated for paint fumes, in accordance with a safety data sheet issued by the Penn State Department of Environmental Health and Safety.
"We took every precaution to protect the students from any risk relative to the materials used," noted Daugherty, who said that because there was potential to damage the painting, they had to pay special attention to the color on the cloth used to apply the cleaning solvent.
"If the cleaning cloth starts to look like the color in the painting, then you have gone too far," he explained. "This is what happened to the Mona Lisa's eyebrows — an overzealous restorer cleaned them right off!"
Student John Yohman expressed the restorers' guiding principle: "It is not only what you do; it is what you do not do." Working ever so carefully, the students removed ugly darkened yellow varnish, eventually revealing the rich colors and a bright blue sky as the artist had painted them. Looking over the newly freshened painting, Daugherty said he thought the group from Penn State Fayette did "an outstanding job" on what was a tricky project.
Leskinen is also appreciative of the "fine work" done by Daugherty's class. The judge said, "The Courthouse has a number of historic paintings reflecting Fayette County's rich history, and especially George Washington's many local ties. Washington traveled to or through Fayette County at least five times during the French and Indian War, and returned later on two occasions to manage his substantial western Pennsylvania land holdings — and to scout a commercial route from the eastern states to the western territories."
Once the painting gets a new frame, Leskinen plans to display it either in a jury room or a courtroom. He said, "The grist mill Washington owned in Perryopolis reflects his entrepreneurial spirit and is an important historical site that needs to be preserved for future generations. The painting of the grist mill likewise deserves to be properly cared for and properly exhibited, and the expert labor contributed by Professor Daugherty's art class is critical to that effort."